Welcome to the home of Vegetarian Recipes!
Dear Readers,
Valentine's Day is celebrated on 14th February all around the world in the honor of St. Valentine. In the USA Valentine's Day is celebrated in a grand way: it is a day meant not only for couples and lovers, but also for everyone. Indeed, people choose this day to express their love, feelings, respect and gratitude to their parents, teachers, friends, or to anyone close to them. While youngsters and couples go for dance parties/dinner/ pub, parties are also thrown in schools, and even kids exchange valentine cards with their class mates and teachers. Lots of fun filled activities are organized for kids. Pink and Red are the main colors of Valentine day celebrations. On this special day let us make something new and special……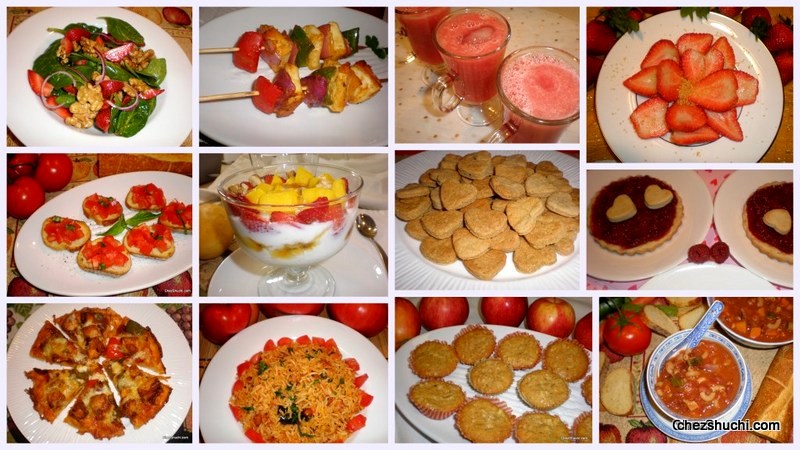 Happy Valentine's Day,
Shuchi
Diabetes is a disease characterized by high blood glucose levels that result from a reduced ability of the body to produce and/or use insulin. This disease can be kept under control by healthy living and good eating habits. On this page, I am outlining some good eating practices and recipes that I have gathered over the years.
In the last few months I have received a lot of queries about diabetic diets. I have replied to many of my readers by mail, but it is time to write in the site about this worldwide problem. Usually doctors make a healthy meal food chart for their diabetic patients. Diabetics are asked to cut on carbohydrates, sugar, refined food etc in their daily diets. Doctors also often suggest that diabetics should eat 5-6 small portions of food, rather than 3 big meals.
Some healthy recipes for diabetics
Dear readers, growing vegetables at home is becoming popular these days. There are plenty of reasons as to why people like to grow things in their own garden....Some people worry about the use of chemicals/ pesticides in vegetables and fruits, while others like to be close to nature, and find it relaxing to work in the garden. Some enthusiasts also grow rare and hard to find vegetables.... Whatever may be your reasons for thinking about growing your own vegetables; it should be fun for you, and not a chore...
Enjoy Gardening,
Shuchi
Vegetable Gardening ideas-
---