Home of Ayurvedic and Vegetarian Recipes!
Makar Sankantri is celebrated all over India in various forms (on or about 14th January) like, Lohri In Punjab, Pongal in South India, and Khichdi in North India. Makar Sankranti marks the transition of Sun into Makar rashi (Capricorn). This is also one of the harvest festivals. Many people also go for bathing in Holy river Ganga.
In North India, on this auspicious day, it is considered holy to donate a mix of Lentils (split moong dal) and rice called as Khichdi, desserts made with white and black sesame, ghee, jaggery etc. In North India the festival itself is known as Khichdi. There is also a tradition to donate/exchange 14 things by married women. It could be anything, like clothes, food, cosmetics, utensils or whatever comes in your budget.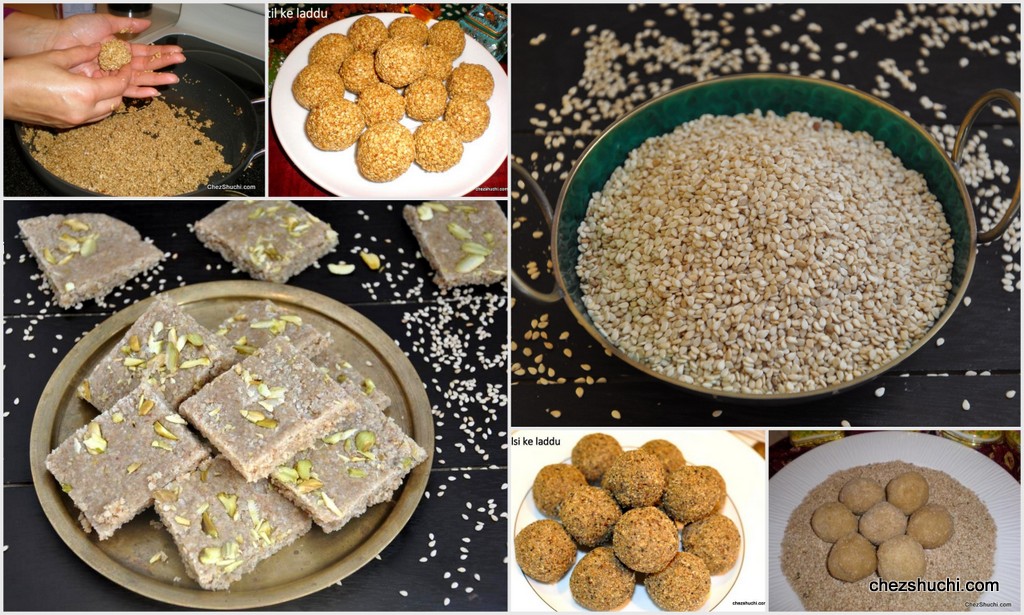 While most of the other Indian festivals are based on lunar calender, this festival seems to be an exception - it is usual to celebrate Sankranti on 14 January.
As is usually the case, for this festival also, the food is based on the weather. Sankranti falls in the Hindi month Magh (माघ) , which is the coldest time of the year. The food/ grains used for this festival are warm in tendency like, sesame, black til, jaggery, flax seed, etc. Try out some of these traditional, festive, dishes.
Read more about Makar Sankranti
Happy Makar Sankranti,
Shuchi
The most traditional and delicious Indian Mithai made with mainly wheat flour, ghee (clarified butter) and sugar without using any artificial ingredients. Try making Atte ke Laddu, Shakarpare, Aate ka halwa, and Choorma!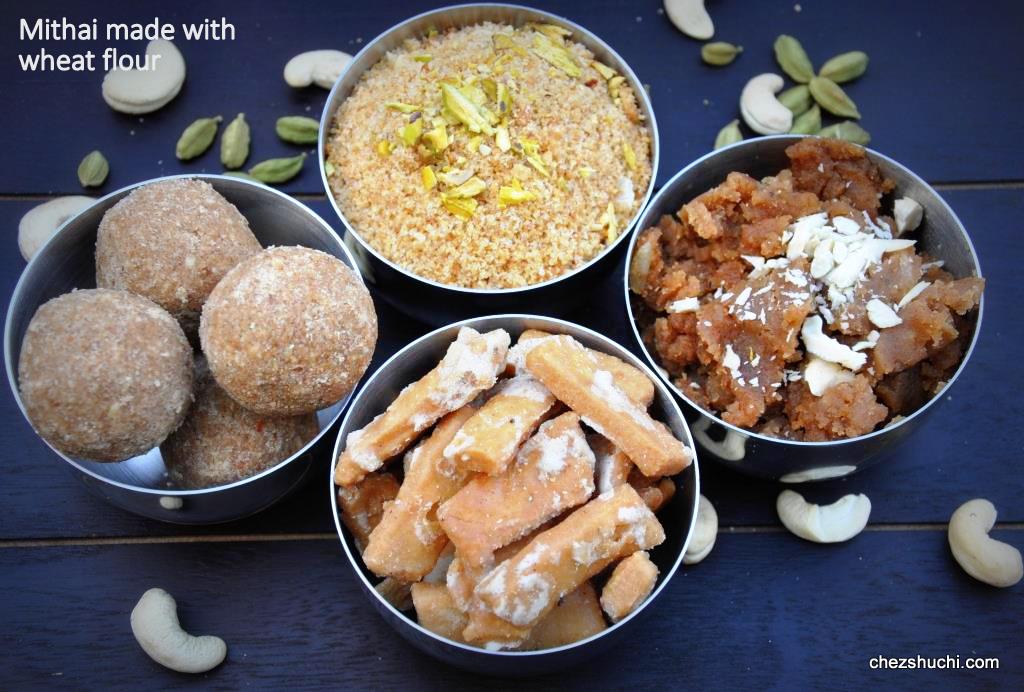 Sesame
Sesame seeds are extremely nutritious. Sesame seeds come in white, black or light brown varieties. Black sesame seeds are considered as more nutritious, but the white variety is more popular. Unhulled (with outer skin) seeds are more nutritious than the hulled seeds since they can have upto two times calcium than that in the hulled seeds. Sesame seeds are rich in calcium, phosphorus, magnesium, potassium, and a variety of vitamins. The picture shows unhulled white sesame.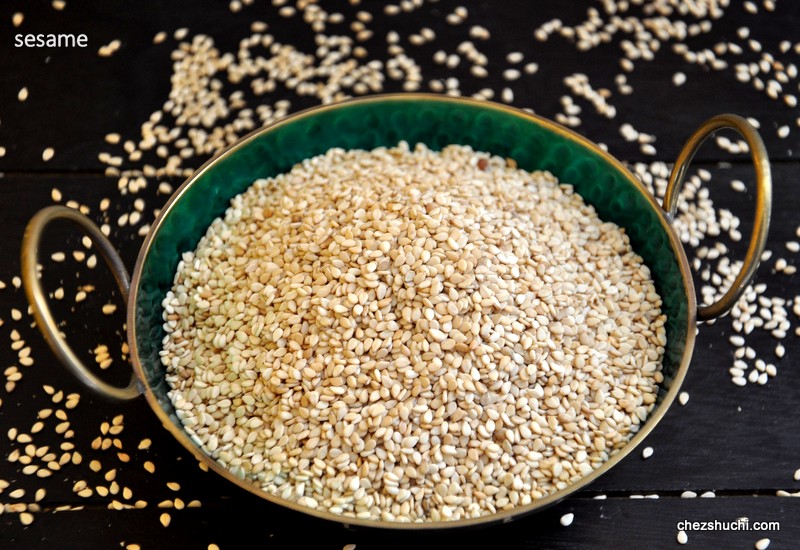 Vaishnav refers to one who is related with Lord Vishnu. As per mythology, Vaishnav food is that which is loved by gods. There are three main categories of food-
Satvik
Rajsik
Tamsik
Vaishnav food is considered as Satvik food. A satvik diet is based on fruits, dairy products if the cow is fed and milked in the right conditions, nuts, seeds, vegetables, legumes, whole grains etc.
Vaishnav food is vegetarian but does not include onion and garlic. In India, in most of the states, food which is prepared for offering to gods does not have onion and garlic.
There are several stories behind this exclusion. One version is that at one time fruits and vegetables were being served to gods. However, onion and garlic were left underground and were not the part of offering. From that time on they are not considered as auspicious.
Happy cooking,
Shuchi
---
---
---
Dear readers, growing vegetables at home is becoming popular these days. There are plenty of reasons as to why people like to grow things in their own garden....Some people worry about the use of chemicals/ pesticides in vegetables and fruits, while others like to be close to nature, and find it relaxing to work in the garden. Some enthusiasts also grow rare and hard to find vegetables.... Whatever may be your reasons for thinking about growing your own vegetables; it should be fun for you, and not a chore...
Enjoy Gardening,
Shuchi
Vegetable Gardening ideas-
---