Home of Ayurvedic and Vegetarian Recipes!
Pineapple Curry
Protein is one of the most talked about topics these days. People are often concerned about their protein intake. Many people think that vegetarians don't get enough protein. Specially, those who have recently quit meat and moved over to a vegetarian diet have concerns about their protein intake.
What is protein?
Protein is a macro-nutrient which plays a critical role in the body and is essential for our health. It is required for growth of muscles, tissues, bones etc. It is also required for the healthy growth of nails and hair. Protein is made of a chain of ~20 different amino acids. While our body synthesizes some of these amino acids, it cannot synthesize nine amino acids; these 9 are classified as essential amino acids - and these are what we need from our diet. Protein is present in meat, milk, eggs as well as plant-based diets.
Three categories of protein
1. Foods having complete protein - are foods which have all the essential (i.e., nine) amino acids. Most meats, poultry, eggs and milk (dairy products) have complete protein. Soybean also has complete protein.
2. Foods having incomplete proteins- are those which have one or more than one amino acid missing from the protein. Most lentils, beans, nuts etc. are sources of incomplete protein.
3. Foods having complementary proteins- when two or more than two foods having incomplete proteins are eaten together, they compensate for each other's missing amino acids and together provide all the 9 essential amino acids. Such a combination is categorized as having complementary protein. Some examples are rice and beans, wheat bread with peanut butter, lentils with bread etc.
In Indian food there is a whole range of food items eaten in combinations which provide complementary proteins. For example- daal chawal, rajma chawal, chole chawal, idli sambhar, badam ka doodh (milk with almonds) , raita, roti with lentils, roti with mangaudi ki sbaji etc. The list is long!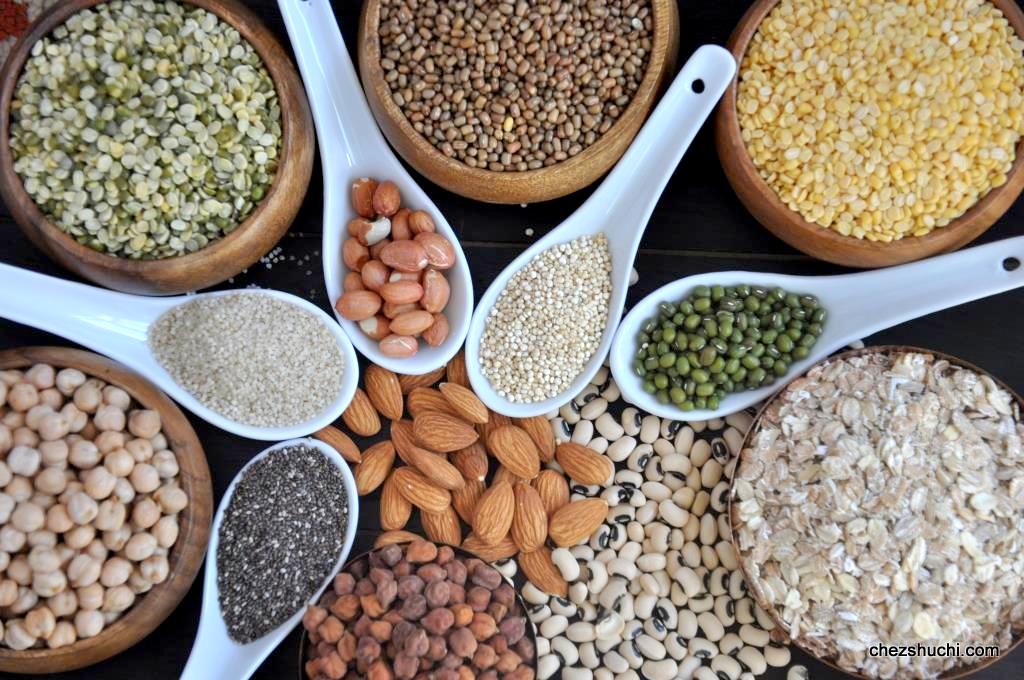 Read more about Vegetarian and Vegan Protein
---
Sesame
Sesame seeds are extremely nutritious. Sesame seeds come in white, black or light brown varieties. Black sesame seeds are considered as more nutritious, but the white variety is more popular. Unhulled (with outer skin) seeds are more nutritious than the hulled seeds since they can have upto two times calcium than that in the hulled seeds. Sesame seeds are rich in calcium, phosphorus, magnesium, potassium, and a variety of vitamins. The picture shows unhulled white sesame.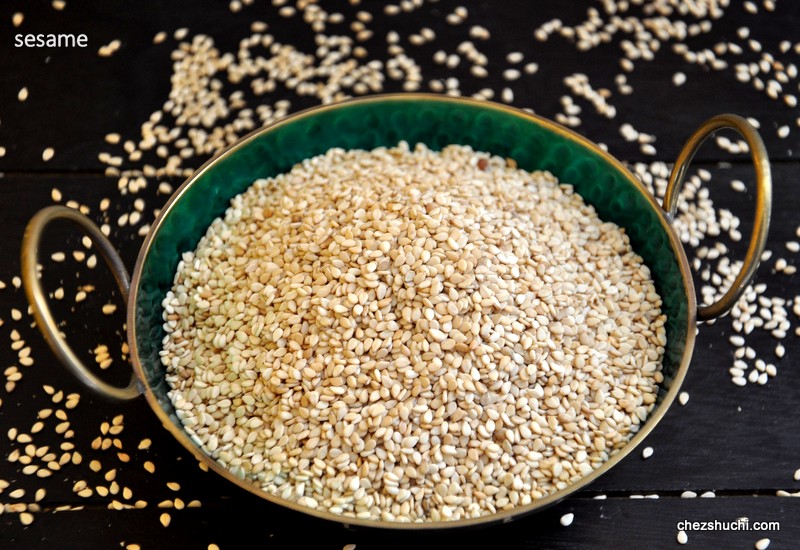 New Book in Hindi - "स्वाद सेहत और शाकाहार"
The book can be ordered from following sites-
Regards,
Shuchi
---
The most traditional and delicious Indian Mithai made with mainly wheat flour, ghee (clarified butter) and sugar without using any artificial ingredients. Try making Atte ke Laddu, Shakarpare, Aate ka halwa, and Choorma!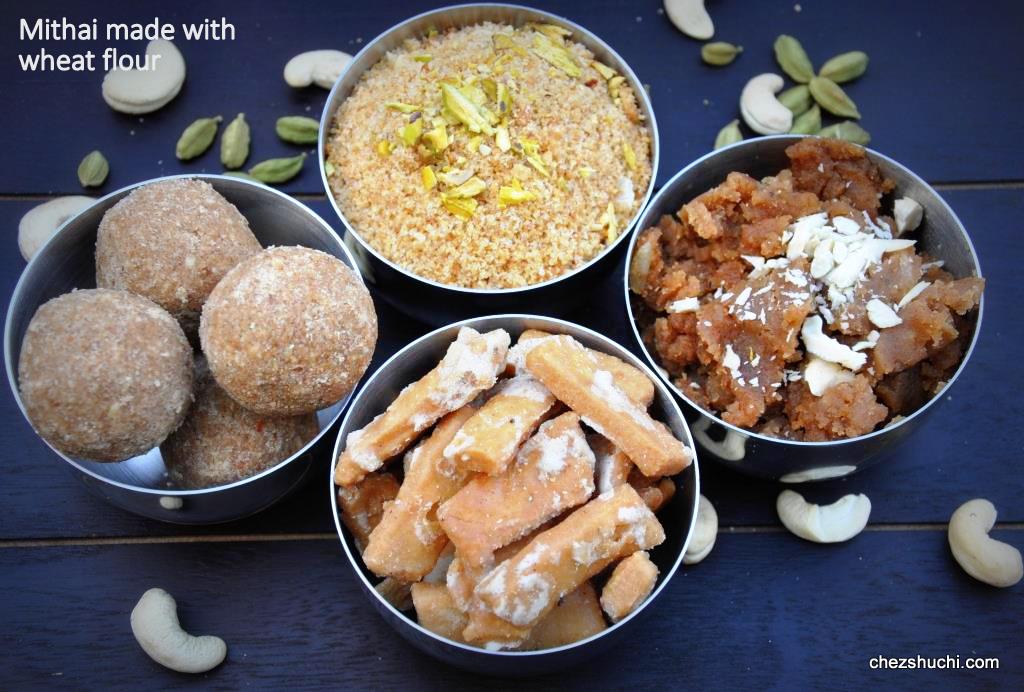 Vaishnav refers to one who is related with Lord Vishnu. As per mythology, Vaishnav food is that which is loved by gods. There are three main categories of food-
Satvik
Rajsik
Tamsik
Vaishnav food is considered as Satvik food. A satvik diet is based on fruits, dairy products if the cow is fed and milked in the right conditions, nuts, seeds, vegetables, legumes, whole grains etc.
Vaishnav food is vegetarian but does not include onion and garlic. In India, in most of the states, food which is prepared for offering to gods does not have onion and garlic.
There are several stories behind this exclusion. One version is that at one time fruits and vegetables were being served to gods. However, onion and garlic were left underground and were not the part of offering. From that time on they are not considered as auspicious.
Happy cooking,
Shuchi
---
---
---
Dear readers, growing vegetables at home is becoming popular these days. There are plenty of reasons as to why people like to grow things in their own garden....Some people worry about the use of chemicals/ pesticides in vegetables and fruits, while others like to be close to nature, and find it relaxing to work in the garden. Some enthusiasts also grow rare and hard to find vegetables.... Whatever may be your reasons for thinking about growing your own vegetables; it should be fun for you, and not a chore...
Enjoy Gardening,
Shuchi
Vegetable Gardening ideas-
---