Many people who fast for eight days break their fast on this auspicious day of Navami (ninth day of the navratri pooja) after the prayers people feed nine small girls. For the navami pooja mostly sooji ka halwa (semolina porridge) and kale chane (black gram) are made to offer to the god. Onion and garlic is not used for the pooja's (prayer) food. Usually one or two dry vegetables, vegetable in curry (without onion and garlic), one yogurt preparation (raita) , and poori and kachauri are made for the feast (kanya bhoj). The entire food is first offered to god and then to young girls and then the family eats. Let's take a look at some of our favorite dishes for this auspicious day.. You can choose dishes for pooja feast as per your budget, taste and time....

Dear Readers,
Sharad Navratri is the nine days long sacred festival.The word Navratri means nine nights in Sanskrit. Sharad Navratri falls in Kawar/Ashwina month according to Hindi Lunar calender.This year Sharad Navratri is starting from October 17th.

Padeva/1st day of Navratri is on October 17th
Ashthami is on October 24th
Navami is on October 25th
Dussehra/ Vijavdashmi is on October 26th
Many people keep fast (or VRAT) for eight days (from Parva to Ashthami) and eat only falahari dishes (fruits, vegetables, and dishes made with specific ingredients for fasting days). They break their fast on Navami after ceremony and prayers.
Others who can not fast for eight days continuously, observe fast on the first day (beginning of the navratri) and the last day (ashthami or eighth day) of Navratri.
Sharad Navratri is passionately celebrated throughout India. Dussehra / Vijaydashmi is celebrated on the 10th day after Navratri.
For this Navratri fasting let's make some special delicacies....
Happy Navratri !!
Shuchi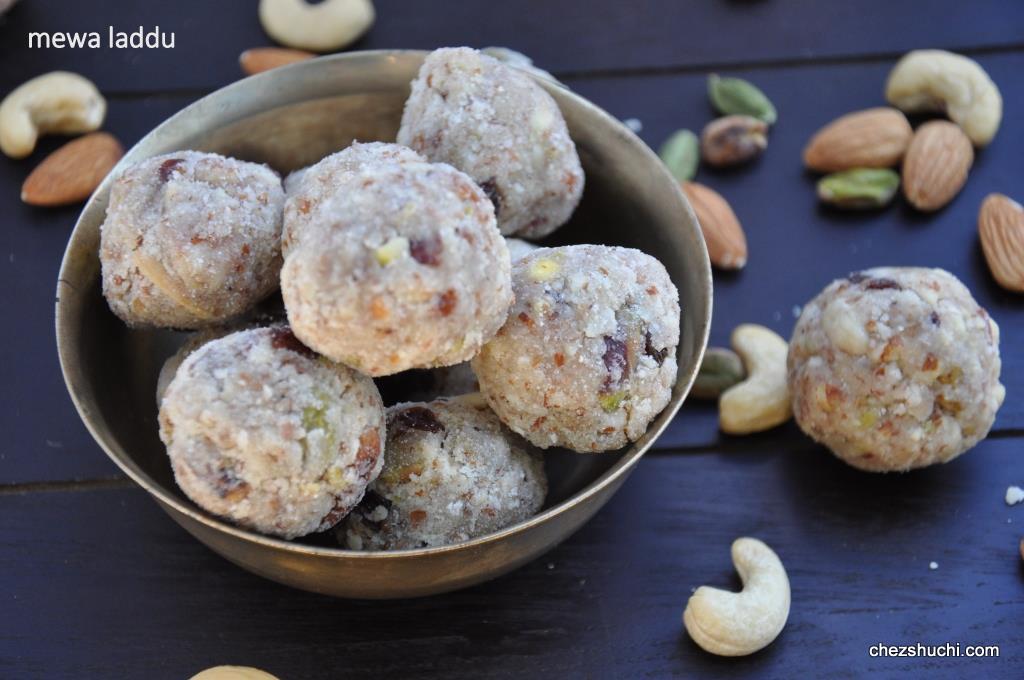 The most traditional and delicious Indian Mithai made with mainly wheat flour, ghee (clarified butter) and sugar without using any artificial ingredients. Try making Atte ke Laddu, Shakarpare, Aate ka halwa, and Choorma!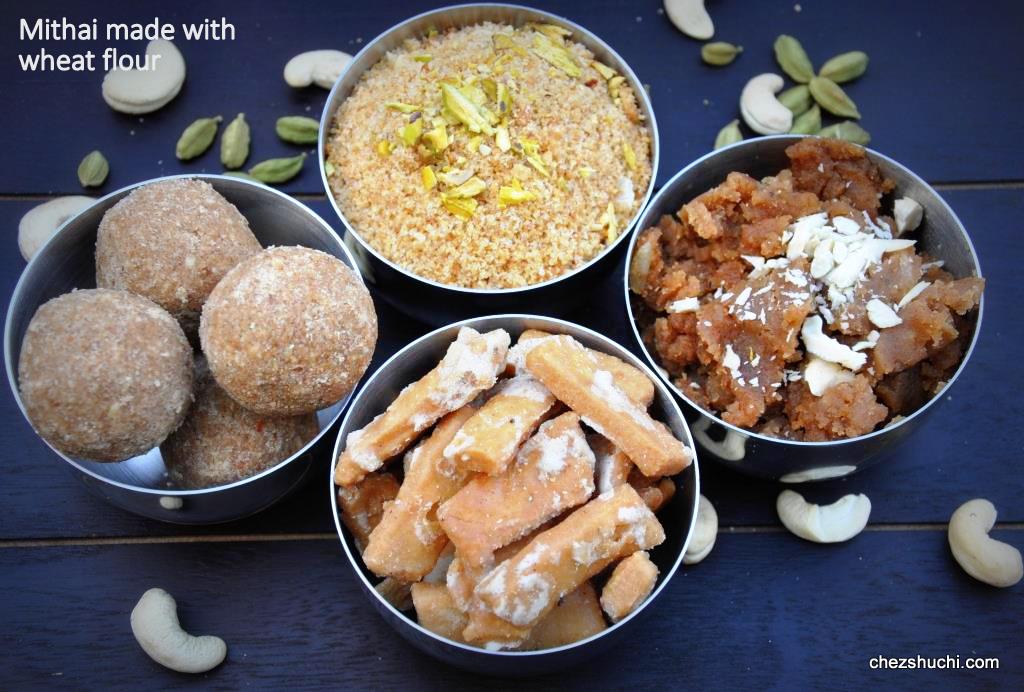 Sesame
Sesame seeds are extremely nutritious. Sesame seeds come in white, black or light brown varieties. Black sesame seeds are considered as more nutritious, but the white variety is more popular. Unhulled (with outer skin) seeds are more nutritious than the hulled seeds since they can have upto two times calcium than that in the hulled seeds. Sesame seeds are rich in calcium, phosphorus, magnesium, potassium, and a variety of vitamins. The picture shows unhulled white sesame.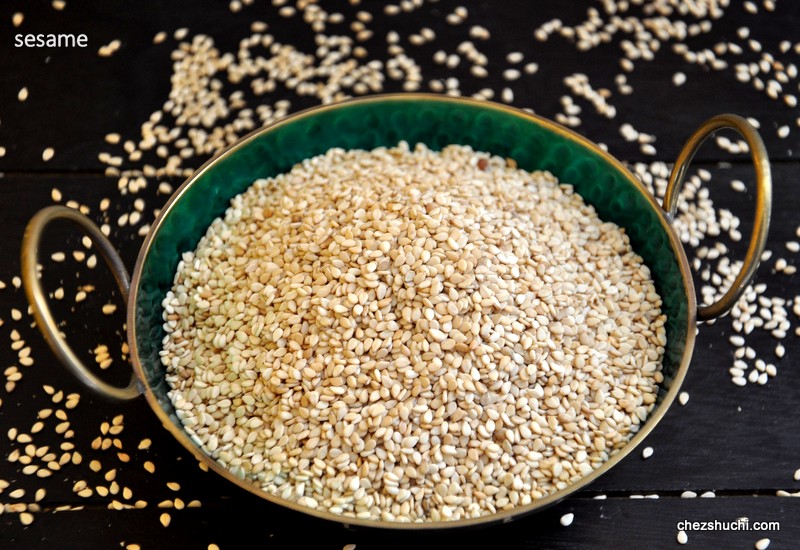 Vaishnav refers to one who is related with Lord Vishnu. As per mythology, Vaishnav food is that which is loved by gods. There are three main categories of food-
Satvik
Rajsik
Tamsik
Vaishnav food is considered as Satvik food. A satvik diet is based on fruits, dairy products if the cow is fed and milked in the right conditions, nuts, seeds, vegetables, legumes, whole grains etc.
Vaishnav food is vegetarian but does not include onion and garlic. In India, in most of the states, food which is prepared for offering to gods does not have onion and garlic.
There are several stories behind this exclusion. One version is that at one time fruits and vegetables were being served to gods. However, onion and garlic were left underground and were not the part of offering. From that time on they are not considered as auspicious.
Happy cooking,
Shuchi
---
---
---
Dear readers, growing vegetables at home is becoming popular these days. There are plenty of reasons as to why people like to grow things in their own garden....Some people worry about the use of chemicals/ pesticides in vegetables and fruits, while others like to be close to nature, and find it relaxing to work in the garden. Some enthusiasts also grow rare and hard to find vegetables.... Whatever may be your reasons for thinking about growing your own vegetables; it should be fun for you, and not a chore...
Enjoy Gardening,
Shuchi
Vegetable Gardening ideas-
---