Homegrown Lauki (Bottle Gourd)!
हिन्दी में पढ़ें.
Dear Readers, growing vegetables at home is becoming more popular these days. There are plenty of reasons as to why people like to grow vegetables, herbs, fruits, etc. in their own garden.Some people worry about the use of chemicals/ pesticides in the vegetables and fruits, while others like to be close to nature, and find it relaxing to work in the garden. Some enthusiasts also grow rare vegetables which are hard to find in the supermarkets. Whatever may be the reasons for thinking about growing your own vegetables; it should be fun for you, and not a chore.

Home Grown Lauki hanging in the kitchen garden
Lauki, Ghiya, Doodhi, Bottle Gourd and here in America it is also called as Squash. One vegetable and so many different names. I will use lauki name in this page as I grew up calling it lauki. Lauki contains about 96% water. They are rich in dietary fibers, and are also a good source of vitamin B and contain iron as well. Lauki is one of the lightest vegetable and it is very easy to digest.

Home Grown Lauki hanging in the kitchen garden
Lauki can be easily find all over India. Outside India it can be found in Indian stores and also in some Chinese stores. Now a day, a variety of lauki can be seen in the Asian section of some of the American supermarkets as well. However, they travel a long distance and are not as fresh as you expect. I like to grow lauki (bottle gourd) at home garden. Homegrown lauki are so fresh and delicious in taste. Homegrown lauki are raw and they get cooked in minutes. Lauki is a tropical plant so it loves heat. It belongs to the family Cucurbitaceae like bitter gourd, pumpkin, cucumber etc. Lauki is a vine which grown very fast in hot climate.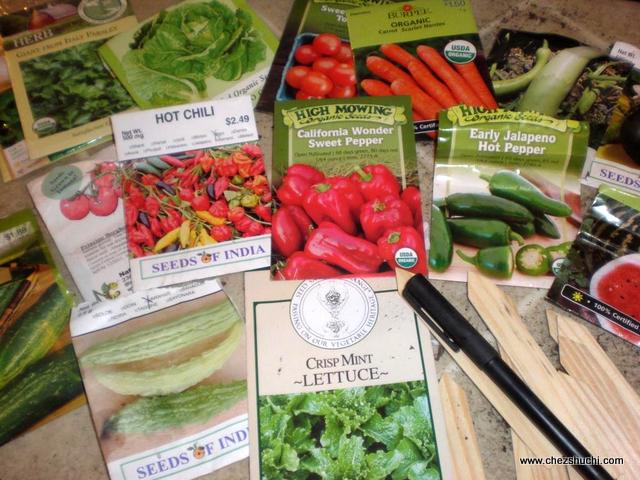 Lauki can be easily grown in the ground or in a big (about 10-12 inch) pot/container. This climber / vine loves hot and sunny weather. So, if you have even a small area where you get about 8 hours of direct sun light, you can easily grow this non-attention seeker vine. I start growing lauki from its seeds. If you live outside India, you can order lauki seeds online. You can also make your own seeds, for this let one lauki ripen in the vine. When lauki is hard from outside it means it has ripened. You can cut carefully and remove the seeds. Dry these seeds and store it for future planting.
I live in a cold country where winters are very long. We have freezing weather in even March. I usually start germinating seeds indoor in April. I have planted Lauki seeds in the small pots, so I can easily move them out when weather is nice and warm and move them in when it is cold in the evening. In May when weather is warm and there will not be any danger of the frost I will transfer the plants to the garden soil. 2 lauki plants are more than sufficient for the family of four. In summers lauki grows very fast. I usually germinate 4 lauki seeds just in case. If all the 4 seeds germinate I donate a couple of them to a friend.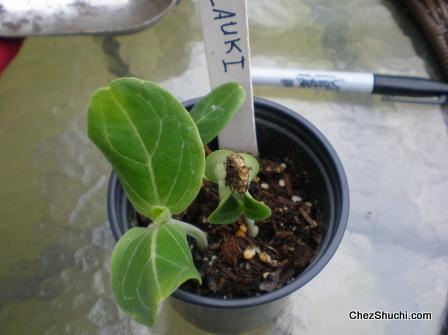 Lauki seeds showing the growth after 9 days.
Lauki plants grow very fast in warm weather. Usually you will see flowers coming in the plant in about 45 days. And very soon after the flowers you will see fruits.If weather is warn you may have your first lauki in 60 days after planting.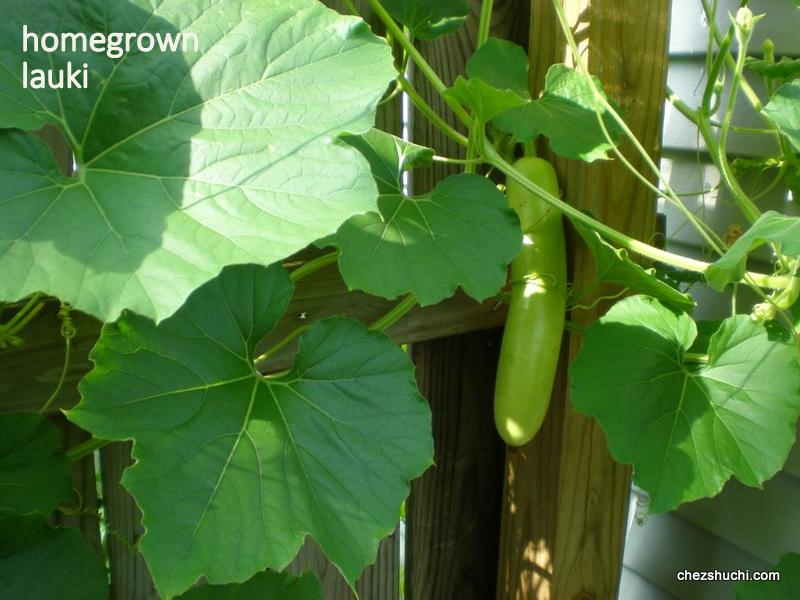 It is extremely satisfactory to harvest your own vegetables. They are pure, tastier and healthier....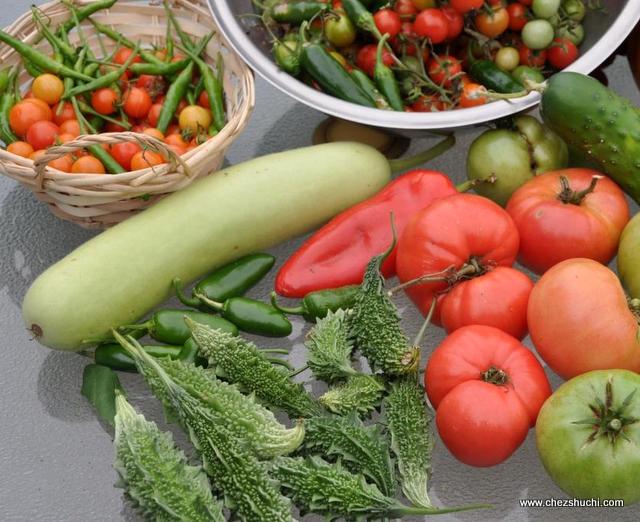 A bunch of vegetables harvested from our itchen garden
Happy Gardening,
Shuchi
---