Hariyali Teej!!
July 20th -2012
Dear Readers,
Hariyali Teej is an Indian festival celebrated in the month of Saavan. This year the Teej festival is on Sunday, July 22nd. My mother called from India to talk about the Teej festival and I could not resist to write about it !.... This festival is a monsoon festival and is inspired by the greenery... ....On this day girls dress up in green and swing on beautifully decorated swings (hanging on the trees). It is also customary to wear heena/ mehndi designs on hands.
Our small kitchen garden is green and loaded with veggies. I thought it would be good to share some pictures with you....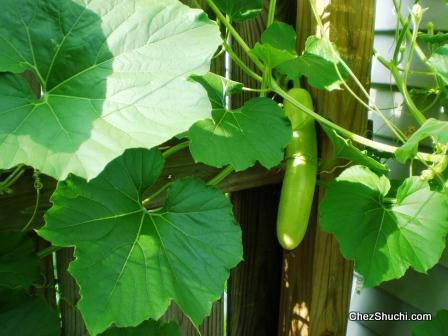 Home grown lauki hanging on the fence
I have made lauki (doodhi/ghiya/bottle gourd/ squash) ka halwa with this home grown lauki.. Here is the recipe...
Happy Teej,
Shuchi
---
---
Saavan's Last Monday!
July 29th -2012
Dear Readers,
Saavan is the fifth month of the Indian lunar calender. This month is considered as a holy month and on Mondays many people fast and pray to Lord Shiva. Tomorrow the July 30th is the last Monday of Saavan month. There are some ideas to plan the fasting feast on Saavan month's last Monday.
Saavan celebrations will conclude on Aug 2nd with the Raksha Bandhan festival. Raksha Bandhan is a Hindi word which means the bond of protection. This festival is also known as Rakhi. On this auspicious day sisters tie a sacred thread on their brothers' wrist and brothers vow to protect their sisters. I will be posting some recipes on this special festival. Stay tuned !!!

With best wishes,
Shuchi
---
Some other delicacies for Fasts
some photos for and party organization/ bulk cooking.