Lauki Ki Lauj/Burfi
हिन्दी में पढ़ें
Lauki or bottle gourd is a vegetable which is eaten in many of the families in the days of fasting. Lauki ki lauj is a dessert made with lauki and milk. This is a traditional dessert made all over India. Here I am writing my version of recipe of Lauki ki Lauj which is very yummy in taste and perfect offering to God.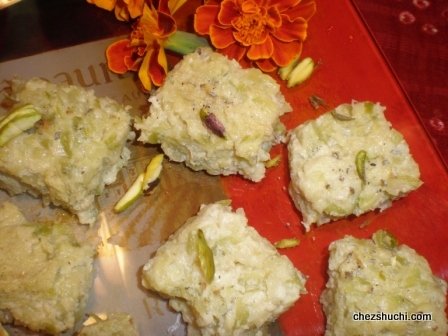 Ingredients

(makes 8)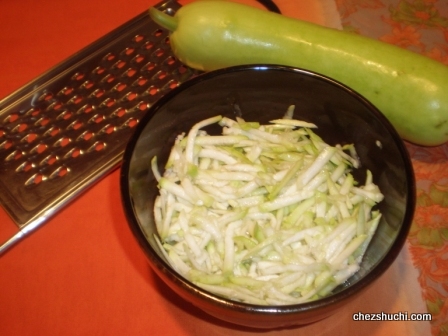 Grated Lauki(bottle gourd) 2 cup

Milk 2 cups 500 ml

Sugar 4 tbsp
Green cardamoms 2
Ghee 2 tsp
Pistachio, slivered 2 tsp


Method of preparation
Remove the outer green cover of the cardamoms and grind them in the mortar.
Grease a small tray or back of the plate or thali.
In a heavy bottom pan boil milk . After the first boil reduce the heat let the milk boil for minutes.
In the other wok heat about 1 tsp ghee. Add grated lauki and fry on medium heat for 2-4 minutes.
Add fried lauki in the boiling milk and cook until lauki absorbs the entire milk. Stir in every 2-3 minutes.The total process takes about  25 minutes.
view of grated lauki in the milk grated lauki and milk after 10 mins of boiling
Add sugar and mix well. At this point stir continuously to avoid the burning of the mixture. Cook for another 4-5 minutes. Now turn off the heat.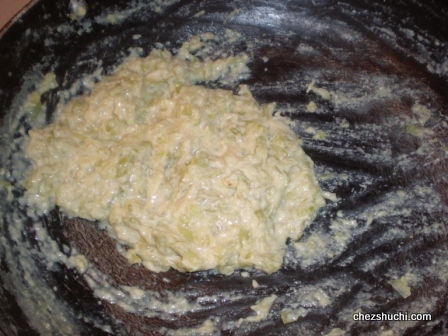 after mixing the sugar in
Now add cardamom powder. Spread out the mixture on the greased tray. Let it set for 20 minutes.
Cut square shape pieces. There isn't any hard and fast rule for the shape and size of the lauj/burfi. Garnish with slivered pistachio.
Delicious lauki ki lauj is ready to offer to god, then to serve.
Tips/ Some Suggestions
Do not use very fine grater to avoid the complete blending of bottle gourd in the milk. I have shown the grater in the side picture for your convenience .
You can also use fresh half and half cream ( it has half cream) instead of milk to save cooking time. For 2 cups of grated lauki you will be needin about 1 cup of half and half .
---