इस पन्ने को हिन्दी में पढ़ें
Raksha Bandhan/ Rakhi !
July-31st-2020
Raksha Bandhan is a Hindi word which means the bond of protection. This festival is also known as the Rakhi festival. On this auspicious day sisters tie a sacred thread on their brothers wrist and brothers vow to protect their sisters. This festival is celebrated all over India. As per Indian lunar calender the festival is celebrated on Poornima of Saavan month. This year Raksha Bandhan is on Aug 3rd.
Sweets are an integral part of any festival. For this special occasion we usually make delicacies as per family's traditions and tastes. I remember when we were all kids, my buaji (father's sister) used to bring Rosogulla for us. My brother loves Rasmalai. My mom used to make her special Dahi Vade for Mamaji ( mom's brother/ maternal uncle). My son loves typical desi mithai (sweets) like Balushahi, Shahi Toasts, Jalebi etc...Along with sweets we can also make snacks, a full meal or whatever the brothers and sisters like..
Make your brothers favorite food and celebrate Rakhi fesival.
Happy Raksha Bandhan ,
Shuchi
A special thali for Raksha Bandhan!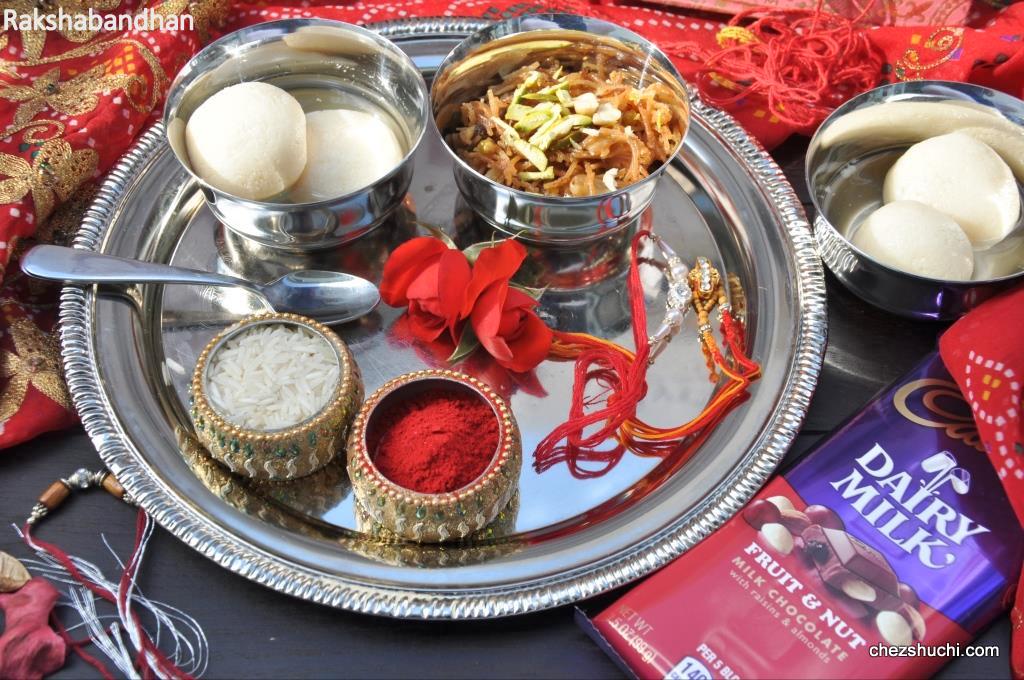 Here are some Sweets for Raksha Bandhan:
some photos for party planning and party organization/ bulk cooking!
---