Gulab Jamun
हिन्दी में पढ़ें
Gulab Jamun is one of the most popular traditional Indian desserts. This rich dessert delicacy is traditionally made with milk solids. Milk solid is known as mawa/khoya is prepared by boiling full-fat milk for a long time, until all the water content has evaporated. Mawa or Khoya can be easily found in Indian markets, still, you can make it at home. For gulab jamun, the milk solid is kneaded into a dough with a little flour. The balls are made from the khoya dough and deep dried at a very low heat in pure ghee. Traditionally all the desserts are made in ghee but feel free to replace it with oil if you wish. These fried gulab jamun balls are soaked in sugar syrup. And delicious Gulab Jamuns are ready.
There are some other recipes to make gulab jamun but this is the most traditional one. So this Diwali lets make gulab jamun with mawa. Try this delicious sweet dish and please share your comments. Happy cooking and happy Diwali, Shuchi
Preparation Time: 10 minutes
cooking time: 30 minutes
Approximately 150 calories in each gulab jamun
Ingredients (makes 14 pieces)
Khoya 200 gms
All purpose flour 2½ tbsp
Milk 2 tbsp
Green cardamom powder ¼ tsp
Baking Soda ¼ tsp
Ghee to deep fry
Ingredients For Filling:
Ingredients for sugar syrup:
Sugar 1½ cup/ 300 gms
Water 1½ cup
Rose water 1 tsp
Groung green cardamom 

¼

tsp
Saffron threads 5-6
Method of preparation
Grate the khoya/mawa.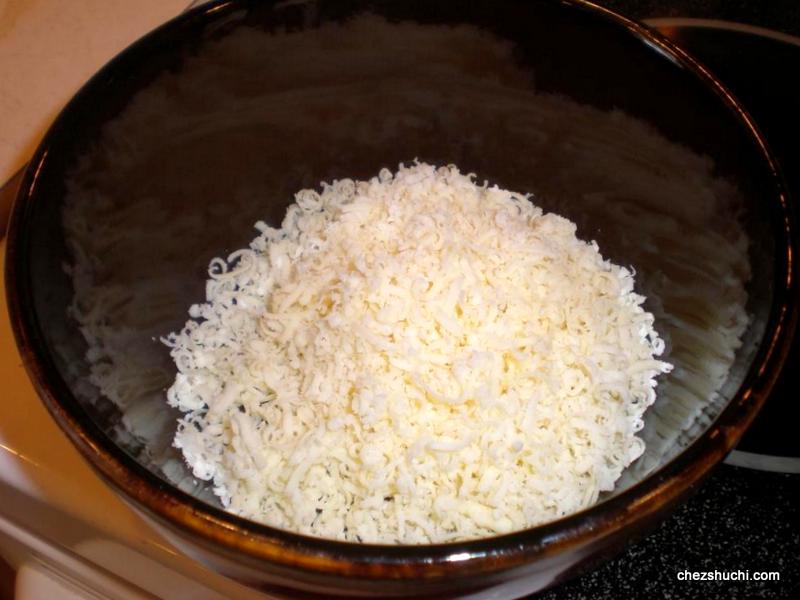 In a bowl take grated khoya, all purpose flour, cardamom powder, and baking soda. Mix all the ingredients well. Now add lukewarm milk little by little and make a soft dough.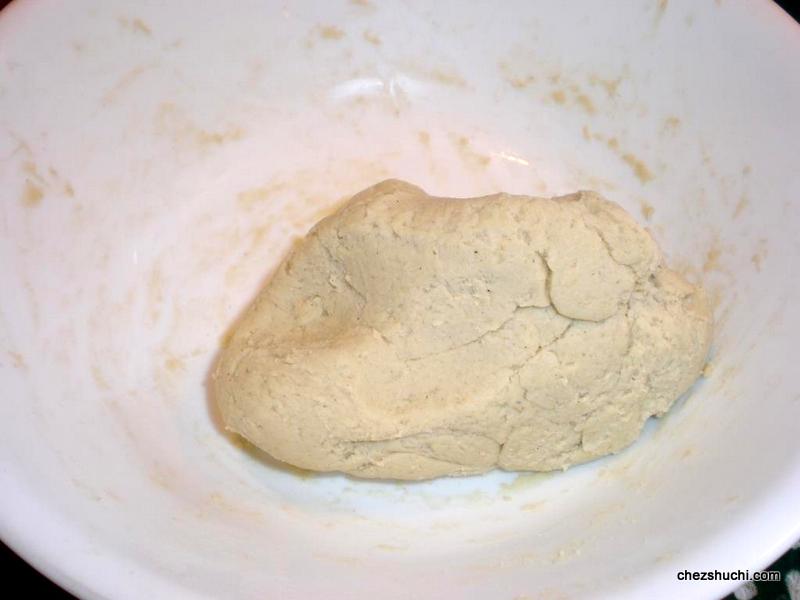 Dough for gulab jamun
Knead the dough back and forth to make it smooth.
Now divide the dough into 14 portions. Make a round ball of each portion. Cover them with a damp cloth.
Now take one round ball, flatten it and put a saffron thread, a small piece of cashew/ chiraunji and also an ilayachidana/ mishri ( sugar solid) in the center as shown below.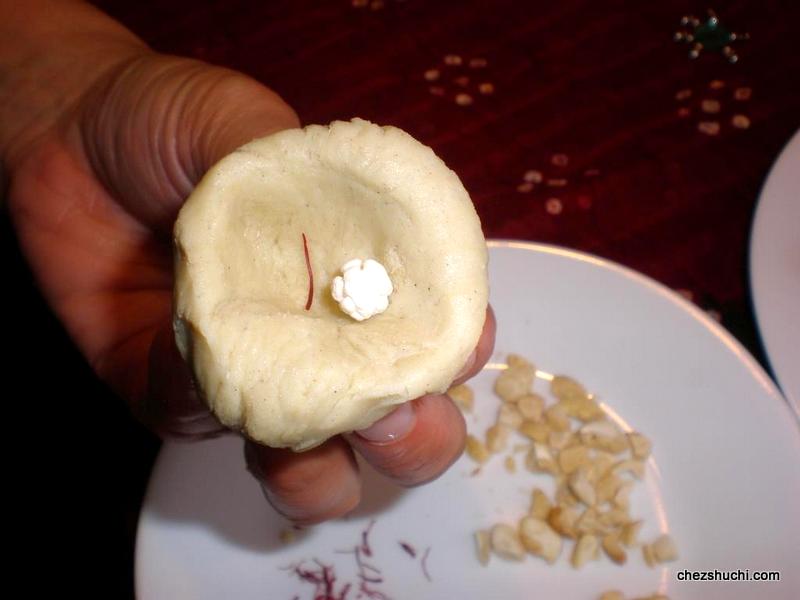 Now bring the sides in the middle and make a perfect round. Roll the round in your hand to remove any cracks in the ball.
Make all the gulab jamun balls in the same way.
Heat ghee in a pan on low heat ( 160°F/ 70°C ). Now put some balls in the ghee. With the help of ladle, keep putting some hot ghee on the balls and keep moving them. The reason we are doing this is to give the jamuns nice uniform golden brown color from all the sides. Deep fry them on low heat from all the sides until the get nice golden brown color. It takes about 10-12 minutes to deep fry the gulab jamun.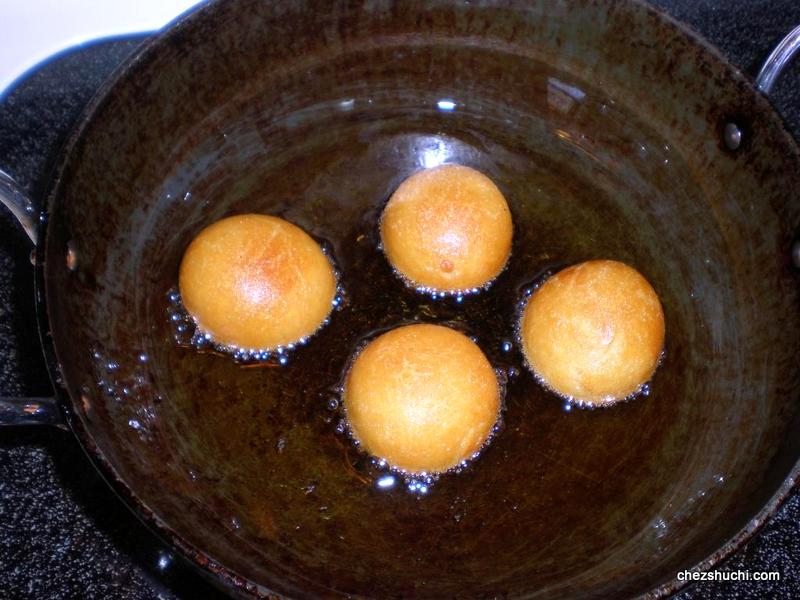 Drain out the gulab jamuns on the kitchen paper. Keep aside.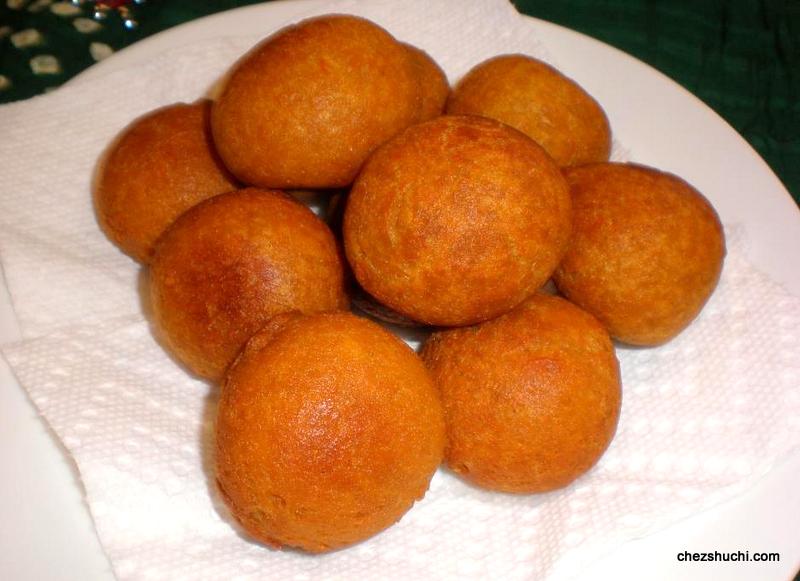 Fried Gulab jamuns
In another pan boil sugar and water to make sugar syrup. After the first boil, reduce the heat and let the syrup boil for 4-5 minutes. Add ground cardamoms, rose water, and saffron threads in the sugar syrup. Keep aside.
When Gulab jamuns are lukewarm pour them in sugar syrup. Cover them with sugar syrup thoroughly. Leave them in sugar syrup for at least 20 minutes before serving. Warm up the sugar syrup if required.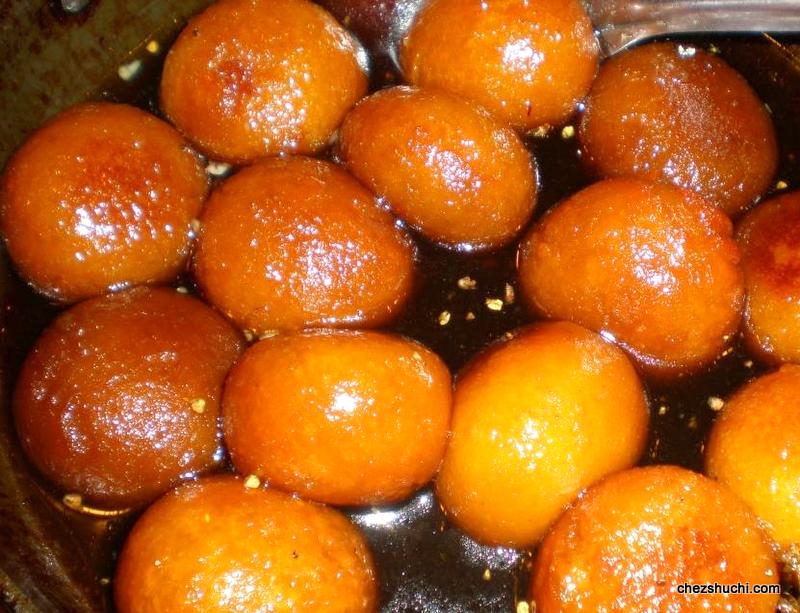 gulab jamun soaked in sugar syrup
All time favorite Gulab Jamuns are ready to serve. In summers, You can also serve hot gulab jamuns with cold vanilla icecream.
Some Tips and Suggestions
I have used organic light brown sugar that is why the color of syrup is a bit dark. If you use white sugar the color may vary.
Gulab Jamun should be deep fried in low heat, it helps to cook them well from inside. To check the right temperature of ghee, deep fry one Gulab Jamun first.It takes about 10 minutes to deep fry each round of gulab jamun.
I Like to use pure ghee for dessert preparations but if you have any dietary restrictions you can also use vegetable oil for the deep frying of Gulab Jamun.
Gulab jamun should be absoultel light after deep fring.
I like to put a samll mishri/ ilaychidana or something inside the gulab jamun balls.
---