हिन्दी में पढ़ें
Nan Khatai
Nan Khatai is a very traditional Indian sweet. These are an Indian aromatic version of Shortbread cookies. Traditionally Nan khatais are made with all-purpose flour, besan, semolina, pure ghee (clarified butter) and sugar. These cookies, flavored with cardamom powder and pistachios, are extremely delicious and it is hard to stop with one…but they are loaded with calories so they are high in fat content…..You can replace ghee with oil if you wish to. A very close fried of mine makes these cookies with oil as her daughter is allergic to milk and she says they taste awesome. This is a very easy to follow recipe of Nan Khatai. On the occasion of Diwali try this traditional sweet and please do share your comments and suggestions about the recipe..... .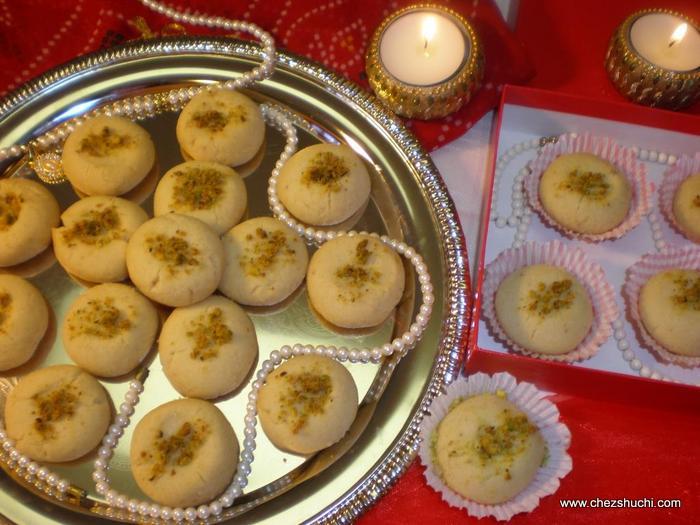 Ingredients
(Makes about 30 nan khatai)
All purpose flour 1 cup
Besan (gram flour) 1 tbsp
Semolina (sooji) 1 tbsp
Ghee (Clarified Butter) ½ cup
Fine sugar (powdered sugar) a little less than ½ cup
Baking soda 1 pinch
Green cardamoms 4
Pistachio 1 tbsp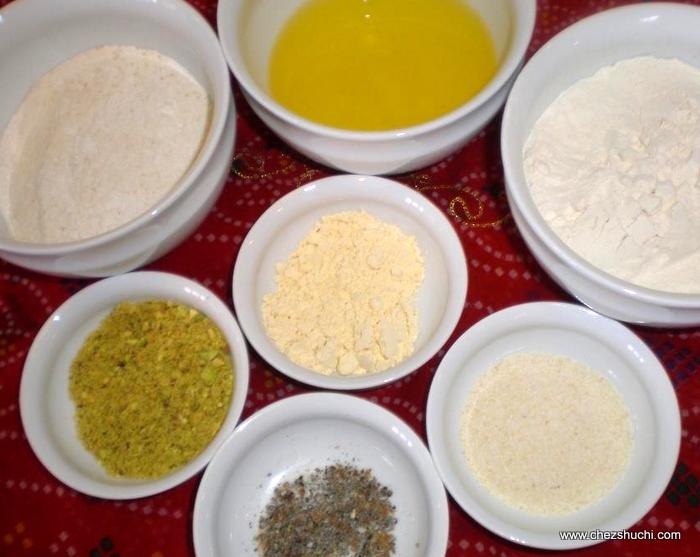 Method of preparation:
Preheat oven at 350°F.

Remove the skin of the green cardamoms and grind them in the mortar.

Coarsely grind pistachios and keep aside.

Take ghee in a bowl. Add powdered sugar and mix well until light.
Sieve together all purpose flour (maida), besan, semilina, and baking soda. Add a little bit of powdered cardamoms. Save some cardamom powder for garnishing.
Add Flour mix in the ghee and sugar mix and make dough. Dough should not be very soft. If the dough is very soft and is hard to handle add a little bit of flour. Make it smooth. Do not over knead the dough. Let the dough rest fo 5-7 minutes.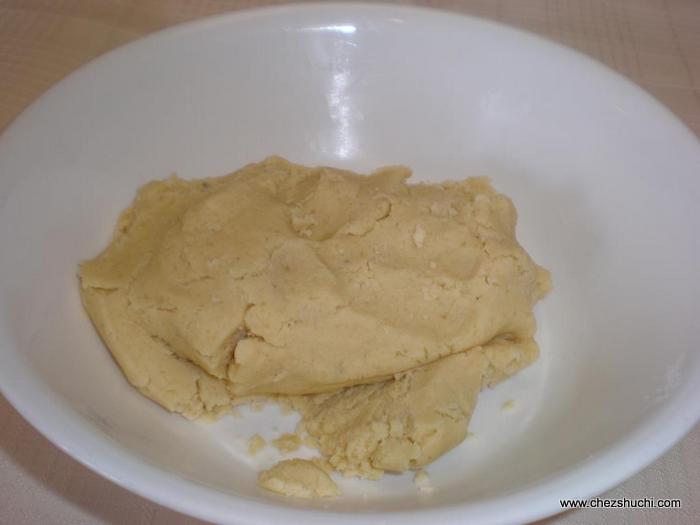 Divide the dough into 30 portions and make rounds. Press gently and make a thumb impression in the middle.
Arrange the nan khatai in the cookie try. Leave some space between two nan khatai.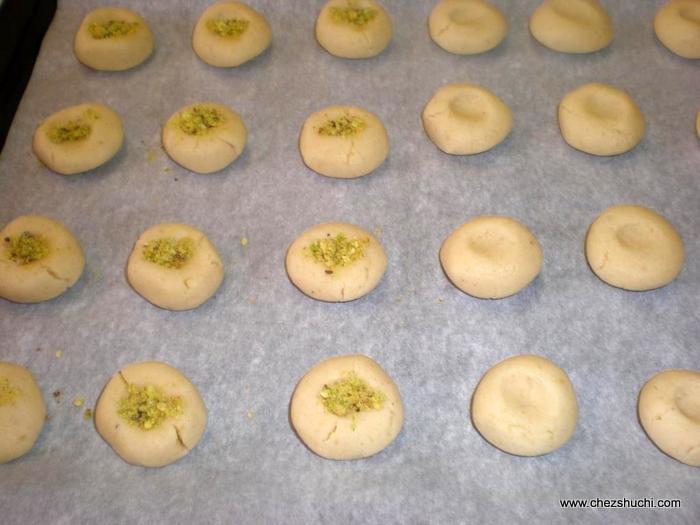 Put a little bit of corsely ground pistachio in the center of each nan khatai.
Put the cookie tray in the pre heated oven and bake for about 18-20 minutes.
Nan Khatai are usually light yellow in color so do not over bake.
Let the Nan Khataicool down completely before you serve them. Remaining Nan Khatai can be stored in airtight containers.
This can be an ideal gift for Diwali.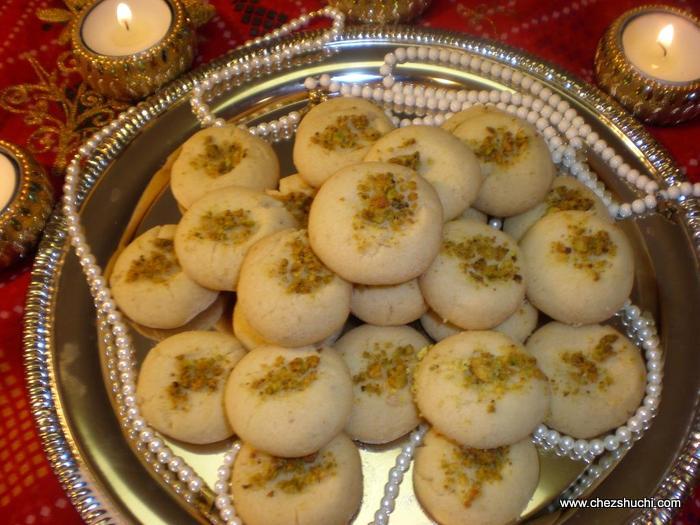 Some Tips/ Suggestions:
I like small nan khatais but you can make them bigger and of different shapes as well.
You can also use butter in place of ghee.
Use fine sugar or grind the sugar well.
Do not overwork with the dough.
Do not overbake the Nan Khatai.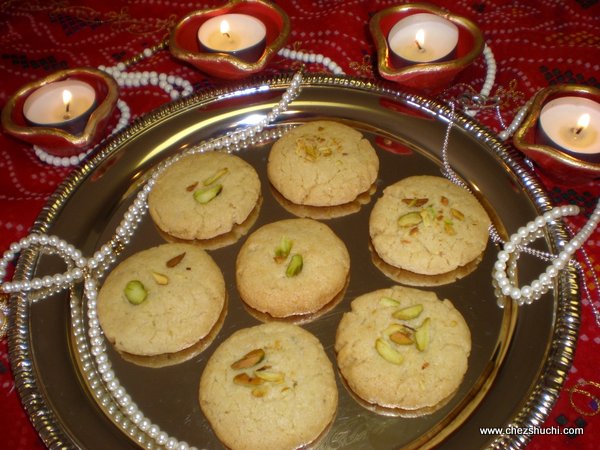 ---
Some other cookies :
---