हिन्दी में पढ़ें
Shortbread Cookies
Shortbread is a very famous Scottish cookie made with all-purpose flour, butter and sugar. These cookies are also very popular in England, Denmark, France, and some other European countries with different names and in different versions. These cookies are extremely delicious and it is hard to stop after one…but they are loaded with butter so they are high in fat content…..This is a very easy to follow recipe of shortbread cookies. Please do share your comments and suggestions about the recipe.....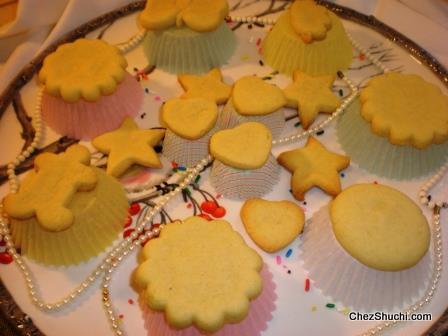 Ingredients
(Makes about 2 dozen cookies)
All purpose flour 1 cup
Butter -a little more than ½ cups
Fine sugar 1/3 cup
Salt 2 pinces
Method of preparation:
Preheat oven at 325°F.
Sieve together all purpose flour (maida) and salt a couple of times.
Take butter in a mixing bowl. Butter should be soft but not melted. Add sugar in the butter and beat them in one direction until light and fluffy.
Add Flour in the butter and sugar mix and make dough. Dough should not be very soft. If the dough is very soft and is hard to handle add a little bit of flour. Make it smooth. Do not over knead the dough.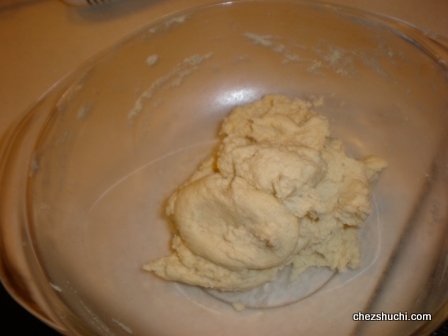 Divide the dough into four portions and make rounds. Dust the work surface with the all purpose flour. Roll a ball into about 1/4 inch thick circle.
With the help of cookie cutters cut different shape cookies.
Arrange the cookies in the cookie try. Leave some space between two cookies.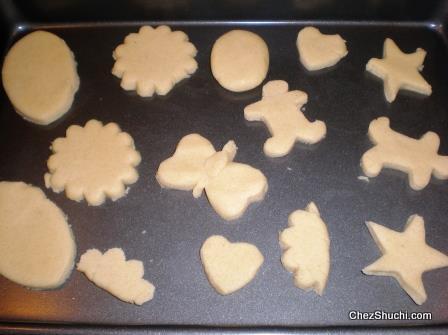 shortbread cookies cut into different shapes
Collect the remaining dough, make a ball and roll it again, making more cookies until the entire dough is used.
Put the cookie tray in the pre heated oven and bake for about 15-18 minutes.
These cookies are usually light yellow in color so do not over bake.
Let the cookies cool down completely before you serve them.
These cookies can be stored in airtight containers.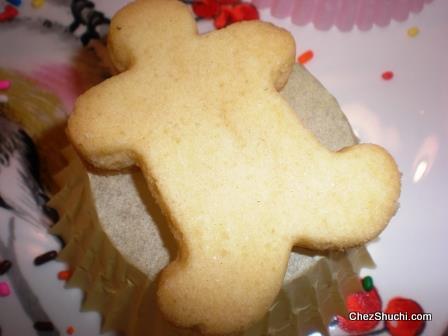 Some Tips/ Suggestions:
These cookies are very easy to make! Most of the cookie designs have been made by my 11 year old daughter.
In case you don't have a cookie cutter, use a small lid/ bowl to make round cookies.
Do not overbake these cookies.
---
Some other cookies and cakes:
---