Black Forest Cake
हिन्दी में पढ़ें
Black Forest is a very popular variety of German cake. In France it is known as "La Forêt-Noire" and is everyone's favorite. Typically, black forest cake comprises layers of chocolate cake, whipped cream and cherries. Finally it is decorated with more cherries, and dark chocolate curls. You can makejust two layer black forest cake or several layered black forest cake as per taste. This is an easy to follow eggless and liquor less recipe of black forest cake. Please try this recipe and do share your comments. Happy baking, Shuchi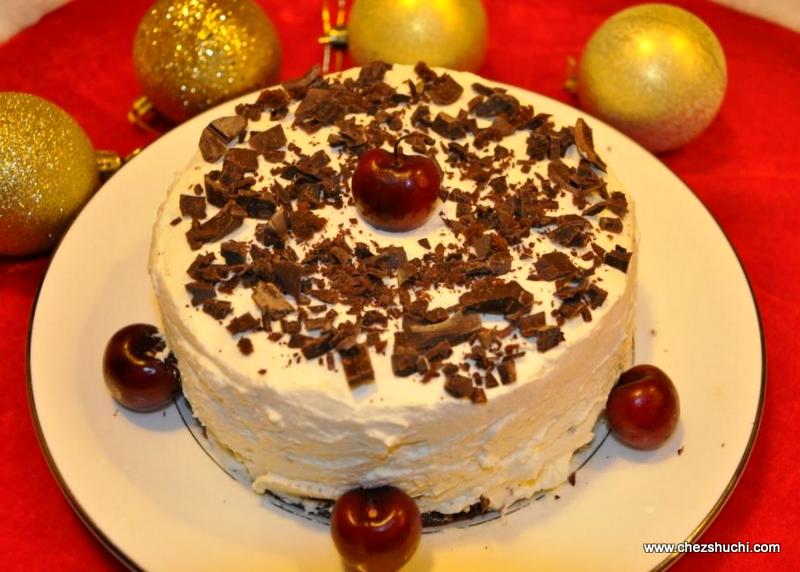 Preparation Time: 20 minutes
Baking time: 35-45 minutes
cooling time: 1 hour
Approximately 170 calories in each serving
Ingredients For Chocolate Cake (serves 6-8)
Butter ½ cups
Condensed milk ½ cup
Sugar 2 tbsp
All purpose flour/maida 1 cup
Unsweetened cocoa powder ¼ cup
Baking powder 1 tsp
Baking soda ¼ tsp
Vanilla essence 1 tsp
Water/milk 2-3 tbsp
Ingredients For Cherry syrup
Cherries ¼ cups
Sugar 1 tbsp
Water 2 tbsp
Ingredients For Icing
Chopped cherries ¼ cup
Heavy whipping cream 1 cup
Powdered sugar 2 tbsp
Vanilla essence 1 tsp
Ingredients For Decoration
Cherries 6-7
Dark chocolate curls as per taste
Method of preparation
Preheat oven to 350°F.
Grease a 6 inch baking sheet. keep aside.
Ingredients of the choclate cake are shown in the following picture.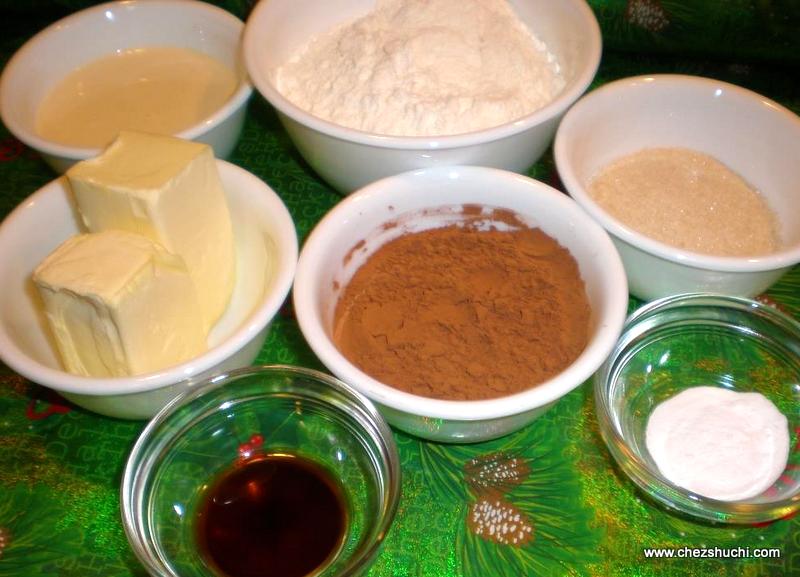 Ingredients for chocolate cake
Sift all purpose flour, cocoa powder, baking powder, and baking soda together.
In a mixing bowl take butter and sugar. Ground/ powdered sugar would be ideal for cake. Make a cream of butter and sugar by using hand blender till the mixture is light and fluffy. (You can also use a traditional whisker)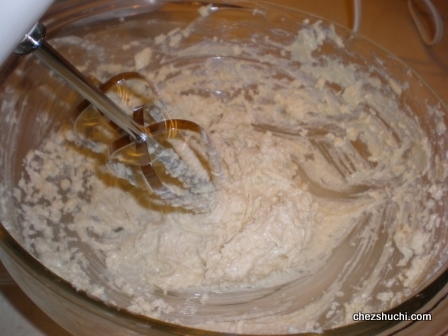 blending of butter and sugar by hand blender
Add condensed milk and vanilla essence and blend again for about 30 seconds.
Add sifted flour mix in creamy butter a little by little and blend . If the batter is too thick add a little water in the batter to ger right consistency. Make sure to beat the batter in one direction. The batter shoul be easy flowing.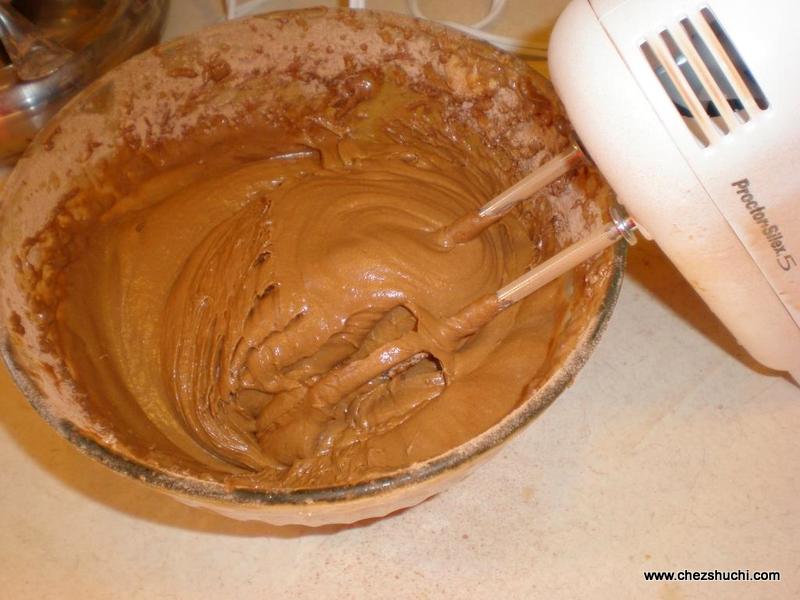 blending of flour, and cocoa power mixture by hand blender
Now pour the cake batter in the greased baking dish. Keep the dish in the oven and bake it for about 35 minutes.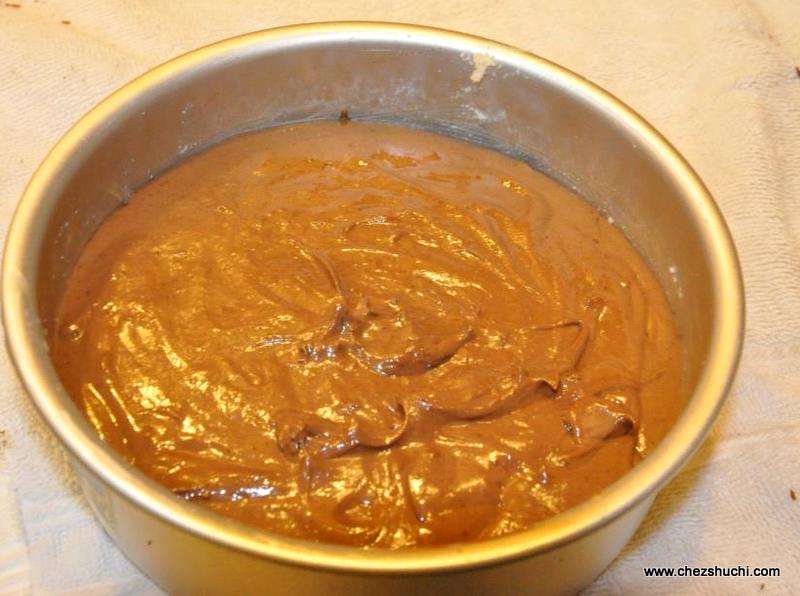 batter poured in baking dish
To check if the cake is ready : Insert a knife in the side of the cake , if it comes out clean, then it means the cake is ready. If the knife is not clean, we need to bake it more.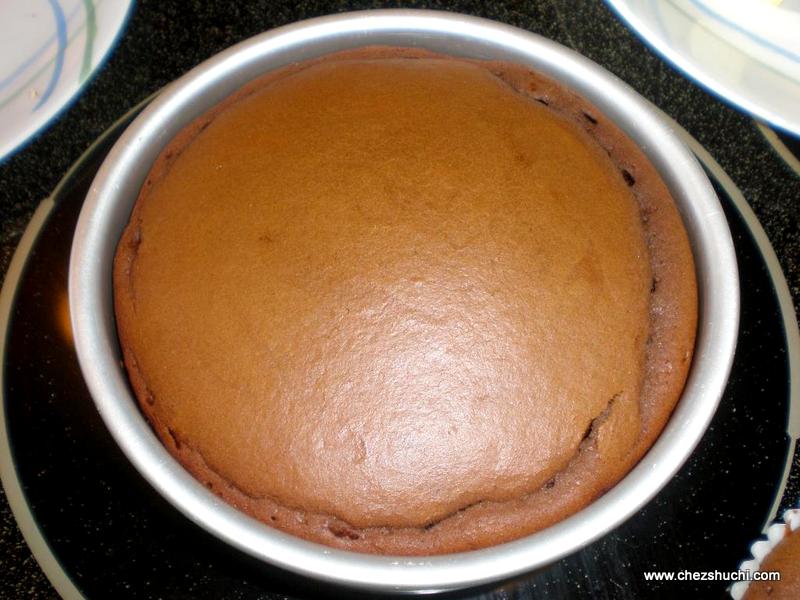 Chocolate cake is ready
Basic Chocolate cake is ready. Let the cake cool down completely.
Method of preparation for Black Forest Cake
Take chilled whipping cream, powdered sugar, and vanilla essence in a mixing bowl. With a hand blender, whisk the cream for a couple minutes. The cream will be thick and will look like the picture below. Keep the whipped cream in the refrigerator until you are ready to use it.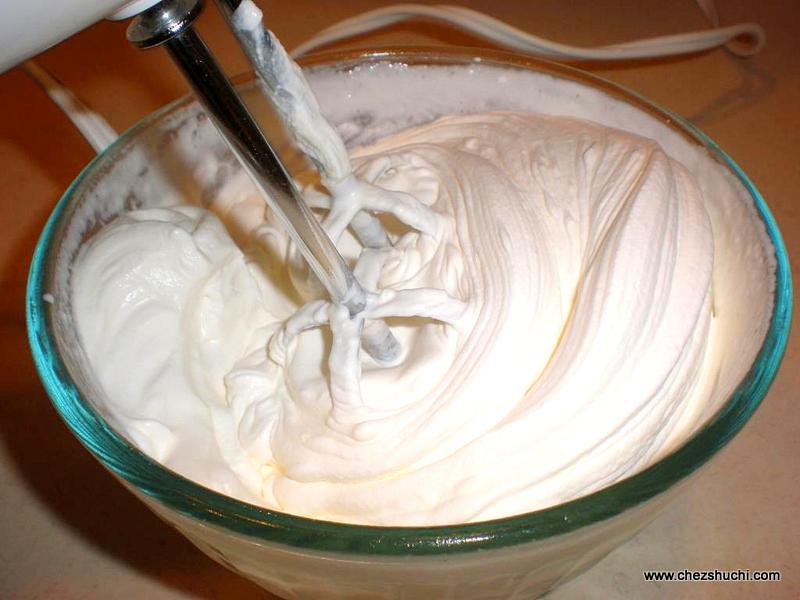 Whipped cream
Cut the chocolate horizantaly into two portions. Set the two slices of cake on the working area.
Blend the cherries, sugar and water together in the blender to make cherry syrup.
Now apply a layer of cherry syrup on the cake slices.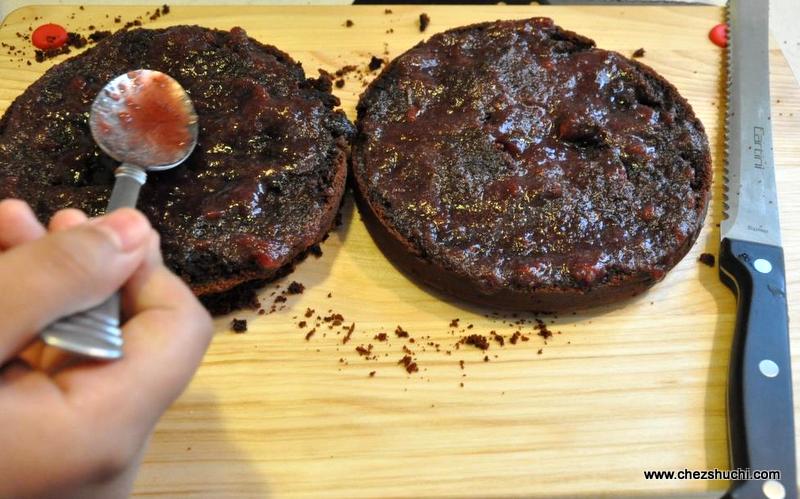 horizantally cut slices of cake
Transfer one slice of cake in the dish you are going to serve the cake.
Apply a layer of whisked cream on it and spread some chopped cherries on it and cover it with the other slice of cake.
Cover the cake generously with whipped cream from all sides. Also cover the top of the cake with cream.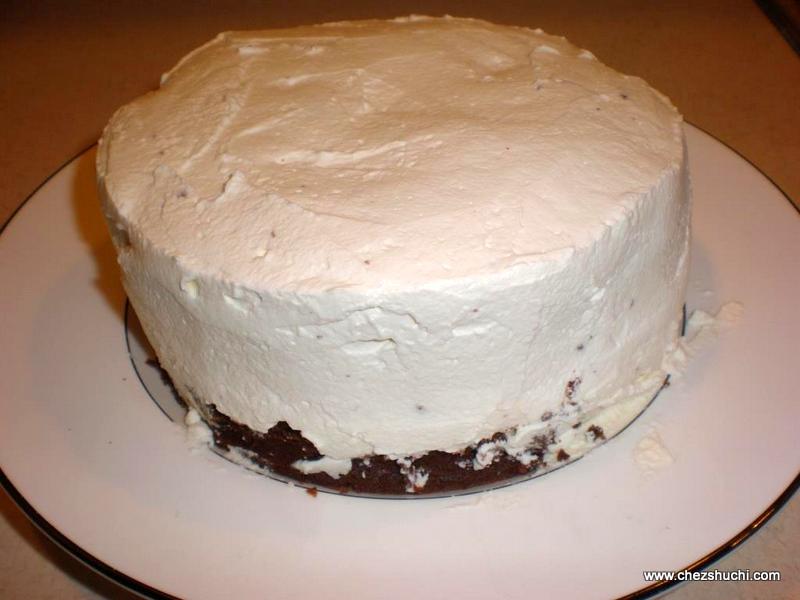 cake is covered with whipped cream
Now decorate the cake with dark chocolate curls ( you can use any chocolate to make curls). Top it with cherries.
Delicious, eggless Black forest cake is ready. Make these cakes with your kids for New year party, Christmas, birthday parties or whenever you feel like making it.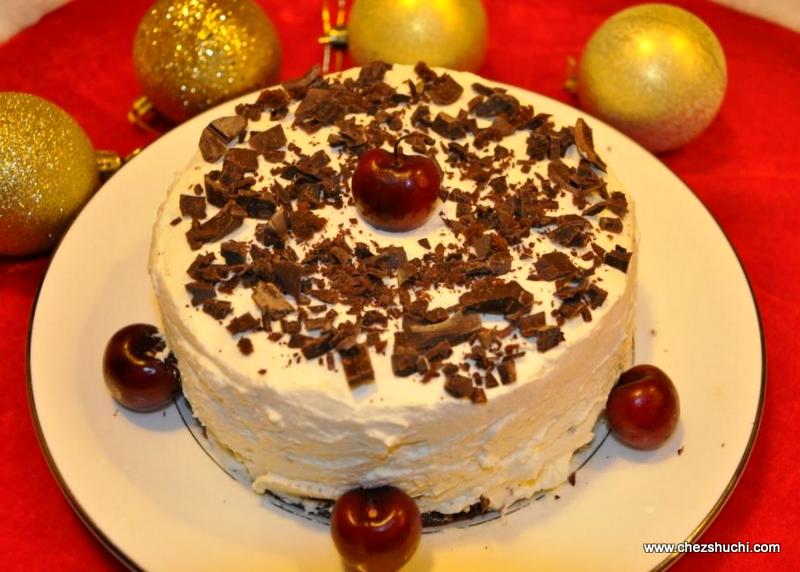 Tips/ Suggestions:
If you don't have oven, make chocolate cake in pressure cooker.
You can also fill a cone with whipped cream and make designs in this cake.
Make sure that the cream is absolutely chilled before you start whipping it.
---