Chocolate Cake in Pressure Cooker
हिन्दी में पढ़ें
In the past few months I have had numerous queries, requests, and mails regarding baking without oven. Since I have an oven I had never tried to make cake in pressure cooker before. On my readers' special requests I did some experiments to make cake in the pressure cooker. The output was wonderful. While I have written personally about how to make cake in pressure cooker to many of you, I thought it would be better to explain it on the website, since a lot of demand exists! There are two different ways in which one can make a cake in the pressure cooker:
Baking- Baking is a term used for food cooked by dry heat. Traditionally baking is done in clay ovens. Now-a-days we use electric or gas ovens. Cakes are usually always baked. We can use pressure cooker as a pseudo oven and bake our cakes.
Steaming- Steaming is a process of cooking in which food is cooked in the steam produced by boiling the water. You can also make a cake by this procedure in the pressure cooker. In this case cake will be more moist but equally delicious. I will write more about this process later on.
I have tried to make cakes in the pressure cooker by baking as well as by steaming. Baking is a better option to make a cake in the cooker. In simulating the baking process in a cooker, dry heat is produced and the cake turns out pretty good. Just make sure to cook the cake on low heat. I have electric stove which works slower than a gas stove. So, your cake's cooking time may be different from that in my recipes. Click the link below for the recipe with detailed pictures and description of making a cake in the pressure cooker. Please feel free to write to me with your comments. Happy baking, Shuchi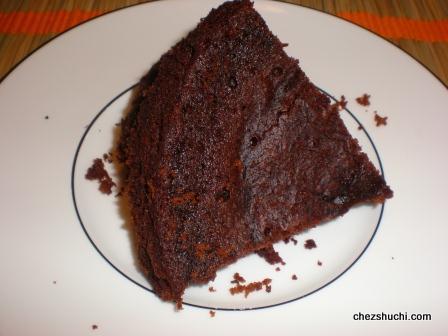 Preparation Time: 10 minutes
Baking time: 25 minutes
Approximately 130 calories in each serving
Ingredients
Butter ½ cups
Condensed milk ½ cup
Sugar 2 tbsp
All purpose flour 1 cup
Unsweetened cocoa powder 4 tbsp
Baking powder 1 tsp
Baking soda ¼ tsp
Vanilla essence 1 tsp
Method of preparation
Grease a 6 inch baking sheet. keep aside.
Ingredients of the choclate cake are showing in the following picture.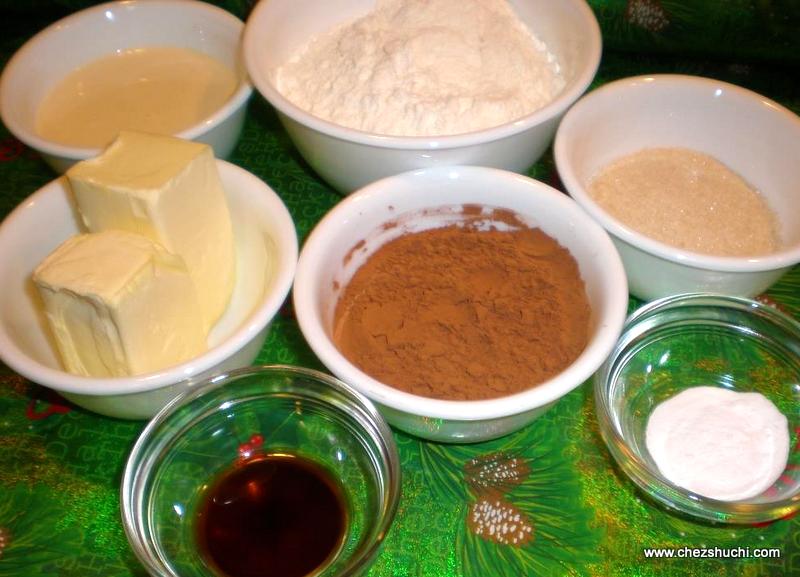 Ingredients for chocolate cake
Sift all purpose flour, cocoa powder, and baking powder together.
In a mixing bowl take butter and sugar. Ground/ powdered sugar would be ideal for cake. Make a cream of butter and sugar by using hand blender till the mixture is light and fluffy. (You can also do this step by using a whisker in  traditional way.)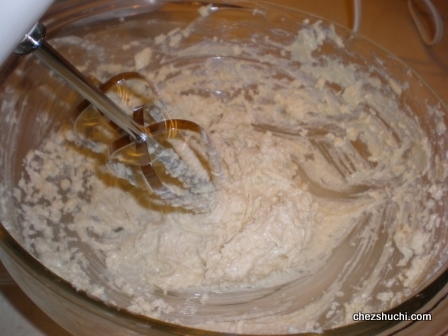 blending of butter and sugar by hand blender
Add condensed milk and vanilla essence and blend again for about 30 seconds.
Add sifted flour mix in creamy butter a little by little and blend . If the batter is too thick add a little water in the batter to ger right consistency. Make sure to beat the batter in one direction. The batter shoul be easy flowing.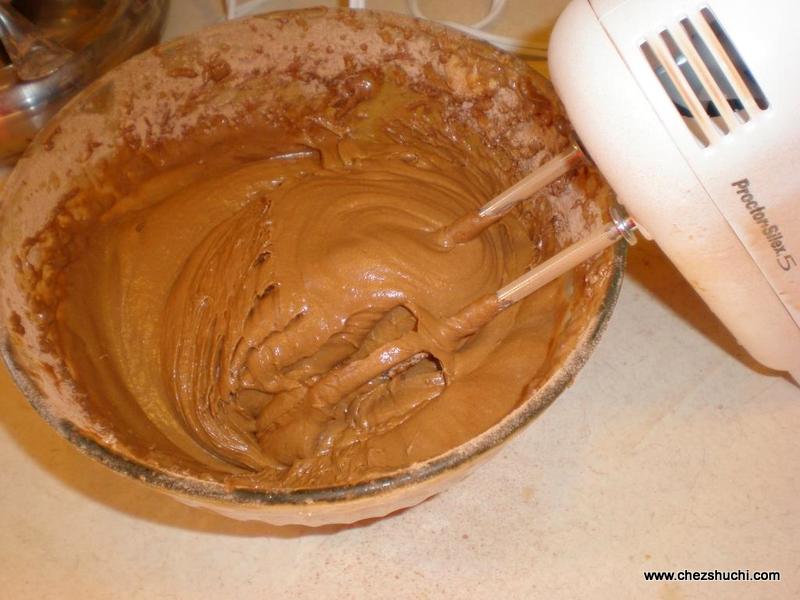 blending of flour, and cocoa power mixture by hand blender
Heat a pressure cooker on medium heat for about 2-3 minutes. Do NOT FILL WATER IN THE COOKER. Put a layer of salt in the cooker. Set a lid/ separator ( separator is an accessory that comes with the cooker).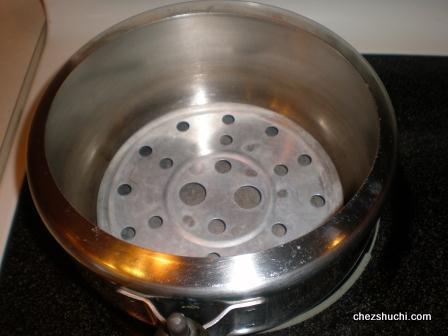 Now pour the cake batter in the greased baking dish. Keep the dish in the pressure cooker. Remove the whistle and cover cooker's lid.
Now cook it on medium heat for 3-4 minutes and than reduce the heat and cook for about 20-25 minutes on sim/low heat. Please check the cooking time on Gas stove, as it may be less or more than my timimg because I have an ELECTRIC stove.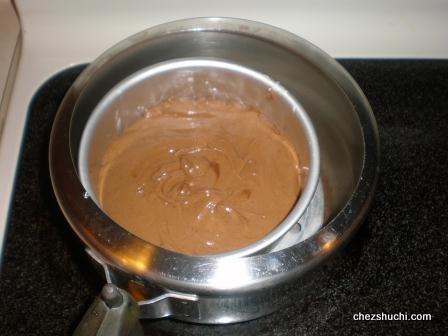 To check if the cake is ready : Insert a knife in the side of the cake , if it comes out clean, then it means the cake is ready. If the knife is not clean, we need to cook it more.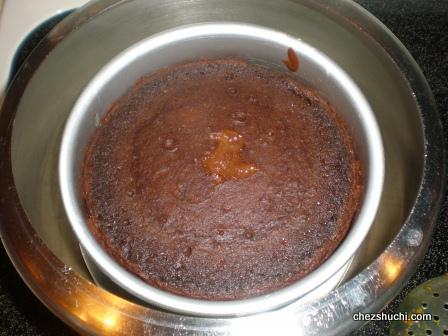 Chocolate cake is ready
Let the cake cool down a bit before cutting it.
Delicious chocolate cake is ready. Make these cakes for Christmas, birthday parties or if you can't resist why not now…….
Tips/ Suggestions:
I had divided the batter into two portions, one for cooker and another one for oven to compare the taste and texture. To my surprise there wasn't any difference. Both the cakes were equally good and delicious!
Make sure to beat the batter in one direction.
If you do not find unsweetened condensed milk, use the regular one. In that case cut the amount of sugar.
---
---