Raspberry Pie
हिन्दी में पढ़ें
Last week, my daughter and I were checking out some books at the local library. I noticed a book about Mini Pies written by Christy Beaver and Morgan Greenseth. I picked up the book, turned the pages, liked the book and thought to give the recipes a trial. I always like to make "mini" stuffs, they look nice and are easy to serve. Valentine is a goodtime to experiment! I have made some changes in the original recipe ..the small hands you see in the pictures are those of my daughter. She loves to try new things: So here we are with mini raspberry pie, in case if you do not get raspberries use strawberries...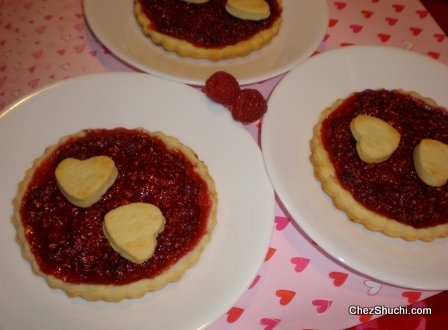 Ingredients

(Makes 6 small pies)
All purpose flour 1½ cup
Butter ½ cups
Ground Sugar 2 ½ tbsp
Water 3 tbsp chilled
For filling
Raspberry 200 gms
Sugar 3-4 tbsp
Others
4 Pie stands of 4 inch diameter
Method of preparation
Cut the butter into quarter inch pieces and put them in the freezer for 15 minutes.
In a bowl sift all purpose flour, salt, and sugar.
Now add butter pieces 1 by one and crumble them in the flour. You can also make the dough in the food processor. Mix all the pieces.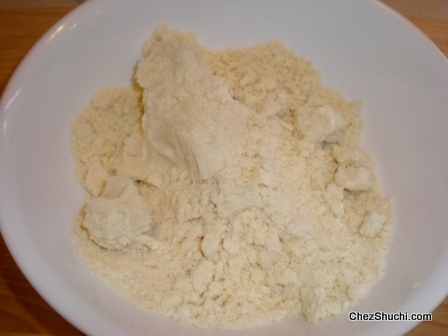 after butter is crumbled in flour
Now add 1tbsp chilled water at a time and make a stiff dough. It takes about 2-4 tbsp of water to make this dough.
Now wrap the dough in a plastic film and keep it in the refrigerator for about 30 minutes.
For raspberry filling:
Cut the raspberry into halves. In a bowl mix the raspberry halves and sugar.
Baking the pie
Preheat oven to 350°F.
Grease the pie stand by using oil or butter.
Divide the dough into 4 portions and make balls.
Dust the work surface with flour. Take a ball, flatten it, and roll it into a 4 inch circle of about 1/4 inch thickness.
Use the pie cutter to give the shape. Crimp the extra dough after cutting it.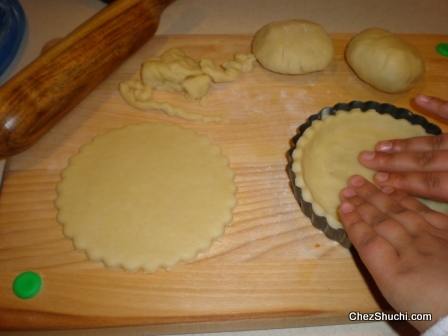 Now carefully place the shaped circle in the pie stand. Set it properly by pressing it gently.
Fill with abour 2-3 tbsp of raspberry mixture. Do not overfill as the filling will boil.
Now place the pie stands in the preheated oven. Bake the pies for about 30 minutes or till the crust is golden brown.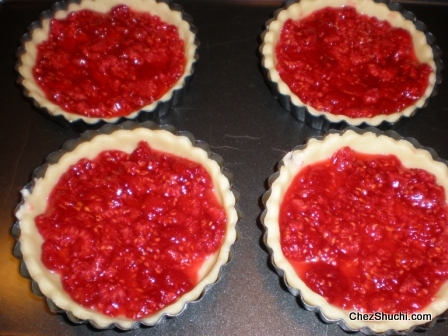 Muffins are ready
Now take out the pies and leave them on wire rack to let them cool completely .
Pies are ready to serve. Raspberry pies can be stored in airtight containers for a few days in the refrigerator..
You can make heart shape cookies with the remainig dough and decorate the pie tops.
Delicious raspberry pies are ready to serve. You can also decorate the pies with whipped cream.
You can make the dough in advance and refrigerate it for a couple of days. The filling can be altered as per taste.
---