हिन्दी में पढ़ें
Oat-n-Date Laddoo
Sankranti is on January 14th. In Northern India there is a tradition to make different kinds of laddoos on Sankranti. Lets make some delicious and healthy laddoos. These laddoos are made with healthy stuff like dates, almonds, edible gum, old style rolled oats, and honey etc….I have also cut the amount of ghee (clarified butter) to make them less fatty. They are still very delicious ……Try these yummy laddoos and don't forget to share your valuable comments…..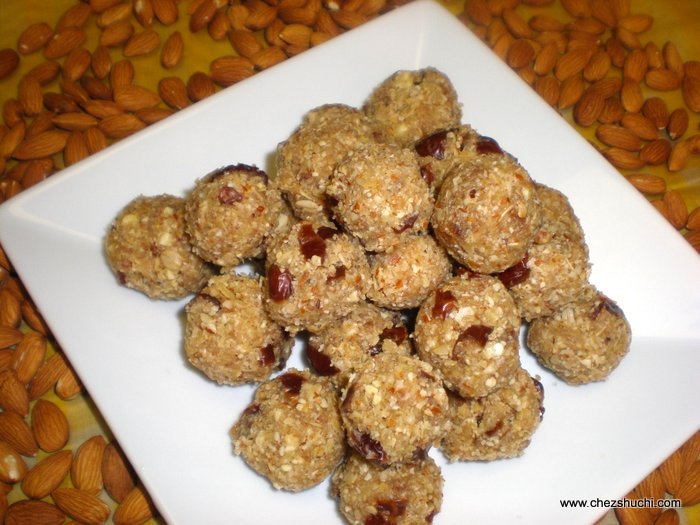 Ingredients
(Makes about 14 laddoos)
Rolled oats 1 cups
Almonds ½ cup
Edible gum 2 tbsp
Dates 1 cup
Honey ½ cup
Ghee about 1/3 cup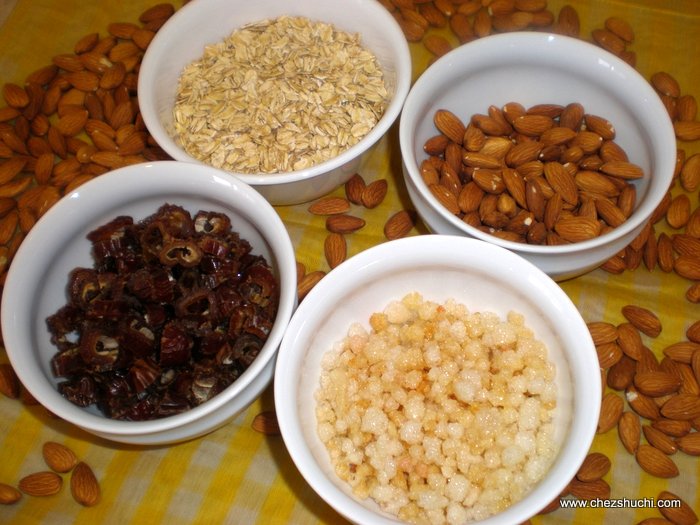 Rolled oats, almonds, dates, and fried edible gum
Method of preparation:
Heat a wok. Dry roast almonds on medium heat for 4-5 minutes. Turn off the heat and keep almonds aside to cool down.
Dry roast rolled oats until aromatic. Keep aside to cool down. Now grind oats coarsely in the grinder.
Heat ghee in the wok on medium heat. Deep fry the edible gums until completely puffed up. Take the fried gums out and keep aside.
Coarsely grind almonds.
Grind the fried edible gums in the grinder or in the mortar.
Deseed the dates, and cut them into small pieces.
Now in a clean wok fry dates on medium heat. Dates will start melting in a couple of minutes. When dates are melted, add coarsely ground almonds, coarsely ground oats, and ground edible gums. Mix well and stir for a couple of minutes. Add the remaining ghee leftover after frying edible gum. Mix well.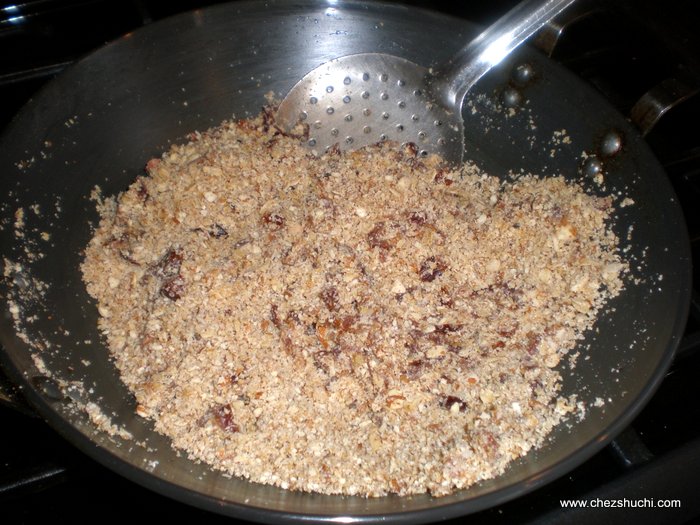 Let the mixure cool a little.
Add honey. Make laddoos (balls).
Delicious and healthy laddoos are ready. You can store them in a container for a couple of weeks.
Some Tips/ Suggestions:
After deep frying gums become double in size.
You can also use some other dried fruits and nuts as per taste.
Instead of honey you can also use sugar syrup to make these laddoos.
You can increase the amount of ghee if you wish to.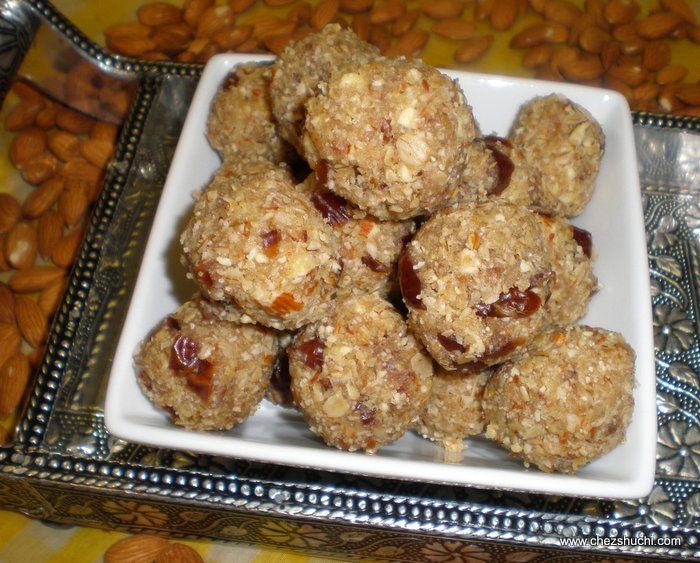 ---
Some other related recipes-
Til Kuta Flaxseed Laddoo Til Twists