Flaxseeds dessert | Alsi ke laddu
हिन्दी में पढ़ें
Alsi is a Hindi word for Flaxseeds. These days, flaxseeds are known as super food t These seeds are very rich in omega 3 fatty acids and dietary fibers and are also a very good source of magnesium and many minerals. Alsi is a medicinal seeds and is a very good digestive and suppose to help to fight with constipation.
This is a very traditional laddoos recipe made with flaxseeds, black sesame, poppy seeds etc. Black sesame seeds, and poppy seeds are also a very good source of minerals. These laddoos are highly nutritious. Thanks to my aunt who shared this recipe with me. These laddus are especially made in winter season in India. Try this this winter special alsi ke laddu and please do share your comments. Happy and healthy cooking, Shuchi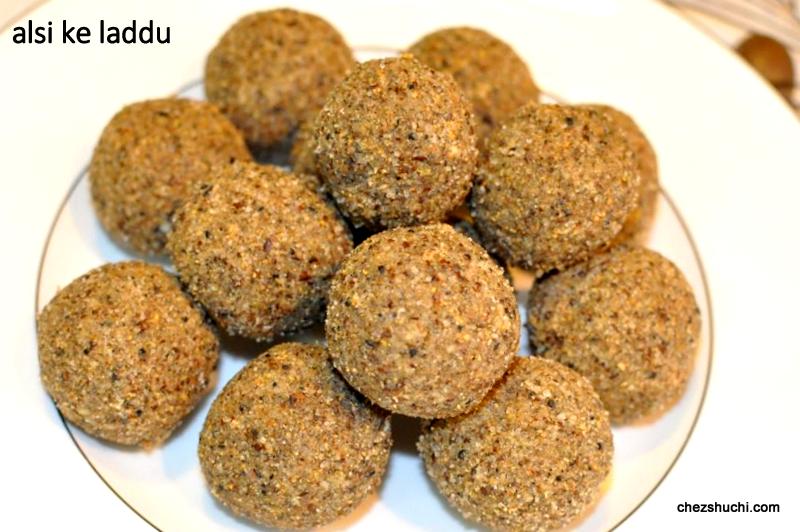 Preparation Time: 2 minutes
cooking time: 20 minutes
150 calories in each laddu
Ingredients (makes 16-18)
Flaxseeds (alsi ) 50 gms/ ¼ cups
Black sesame (kala til)50 gms/ ¼ cups
Poppy seeds 50 gms/ ¼ cups
Edible gum(गोंद) 2-3 tbsp
Almonds ¼ cups
Wheat flour ½ cups
Thickened milk (khoya/mawa) ¾-1 cup
Ghee ¾ cup
Sugar ¾-1 cup
Method of preparation
Following picture shows flaxseeds, sesame, poppy seeds, almonds and edible gum.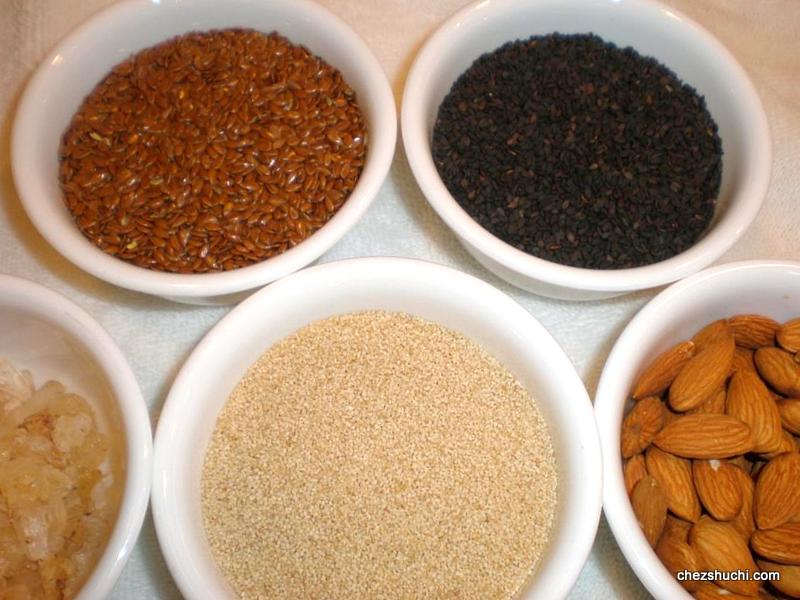 Dry roast the flax seeds (alsi), black sesame, and poppy seeds separately on medium heat for 2-4 minutes. These grains splutter, so take care while roasting the seeds. Set aside to cool down.
Finely grind the poppy seeds. Pour it in a bix bolw. Grind flaxseeds and sesame seeds finely. Transfer in the big bowl.
Dry roast almonds in for a minute and keep aside to cool down.
Finely grind the almonds. Transfer in the big bowl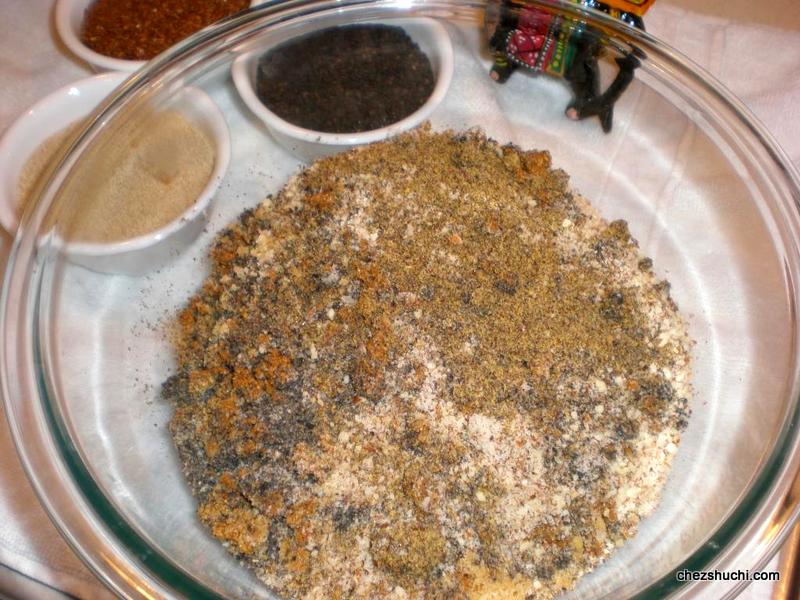 Heat ghee in a wok on medium heat. Deep fry the edible gums for a minute. Keep aside to cool down.
If edible gum is small crush it with fingers. In case its big grind fried edible gums in the grinder.
Now in the same wok (with the ghee) add wheat flour (aata). Fry the flour on medium heat until it is brown and smells nice. It takes about 7-8 minutes to fry the flour.
Transfer all the ground seeds, edible gum, almonds, and fried flour in the big bowl.
Fry thickened milk ( mawa/ khoya) for a couple of minutes on medium heat.
Mix the khoya in the big bowl mixture.
When mixture is still lukewarm but not hot, add sugar and mix well.
Take about 1 full table spoon mixture and make round ball between your palms as shown in the following pictures. Make all the laddoos in the same way.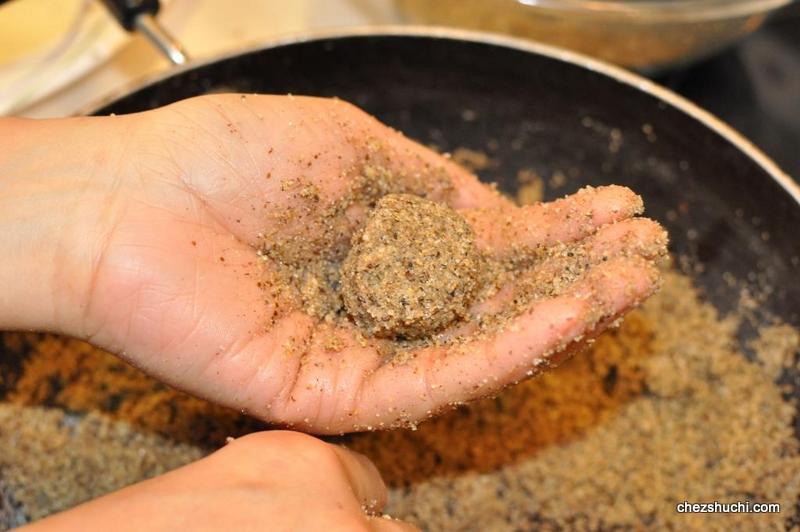 laddoo making
Delicious and very nutritious flaxseed laddoos are ready. You can keep these laddoos for about two weeks without a refrigerator.
Some Suggestios/Tips:
In most of the western countries we get only fine sugar, but if you live in india, you need to grind the sugar for this recipe.
You can make these laddus without khoya also. In that case add a little more ghee to bind the laddus.
The amount of mawa/khoya, and sugar can be increased as per taste.
---