Gond Ke Laddoo/Laddu
हिन्दी में पढ़ें
Gond, also known as an edible gum, is extracted from the bark of some specific trees. Gond can be easily found in Indian stores. You can also find it in local health store/ organic stores. Gond is considered to be having a heat producing tendency in the body, and that is why it is mostly used in winter season. In Indian cuisine, gond is usually deep fried in ghee before being added to any recipe.
Gond ke laddu is a winter special dessert. These laddus are very delicious, but are high in calories. I have modified the traditional laddus recipe so as to cut the amount of ghee. I have also used organic light brown sugar. Try out this laddu recipe and please do share your comments. Happy cooking, Shuchi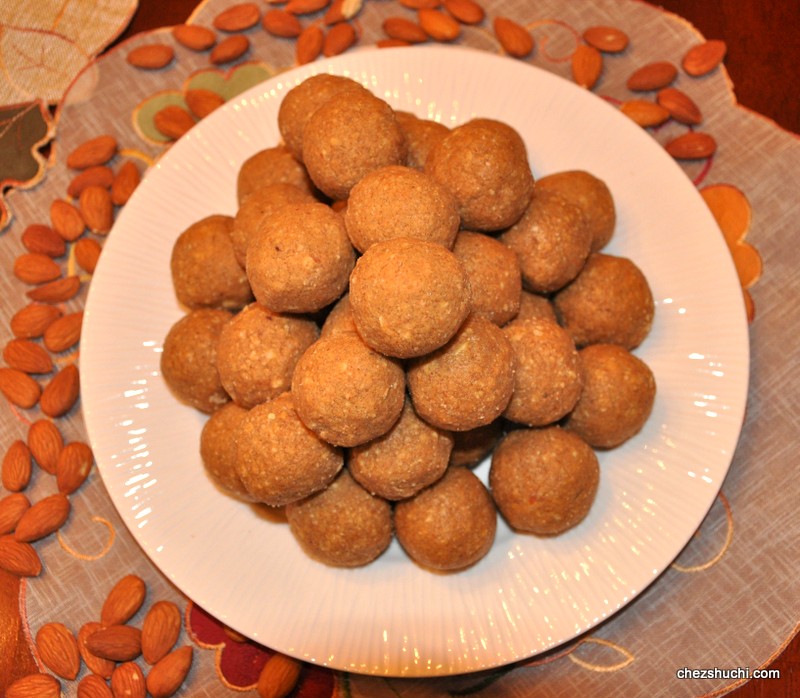 Ingredients (Makes about 16 laddus)
Almonds 1/3 cups
Edible gum / Gond ¼ cups
Ghee ½ cup + ¼ cups
Aata (wheat flour) 1½ cups
Ground sugar about ¾ cup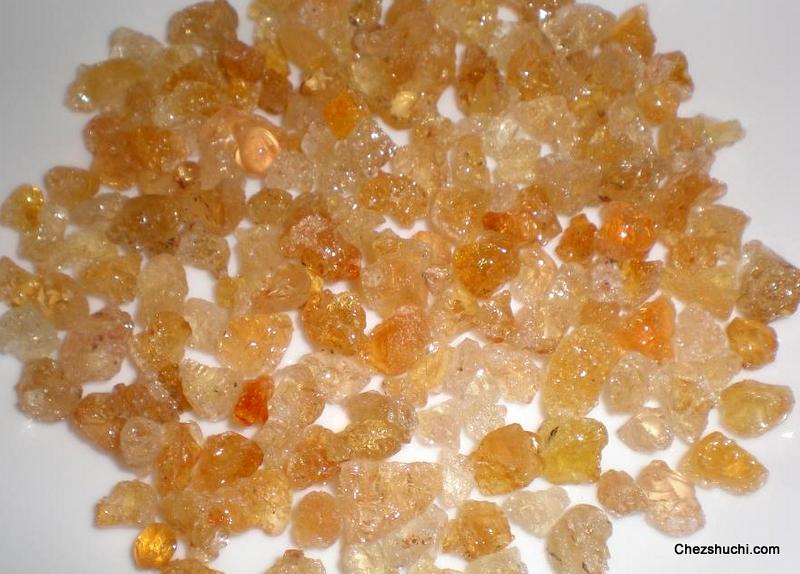 Method of preparation:
In a heavy kadhai(wok)dry Roast Almonds for a couple of minutes on medium heat. Turn off the heat. Remove almods and keep aside.
In the same kadhai, heat ½ cup ghee on medium heat. When ghee is hot, deep fry the edible gums (Gond) in batches. Gond puffs up after deep frying and becomes almost double in size. Keep aside the fried gond.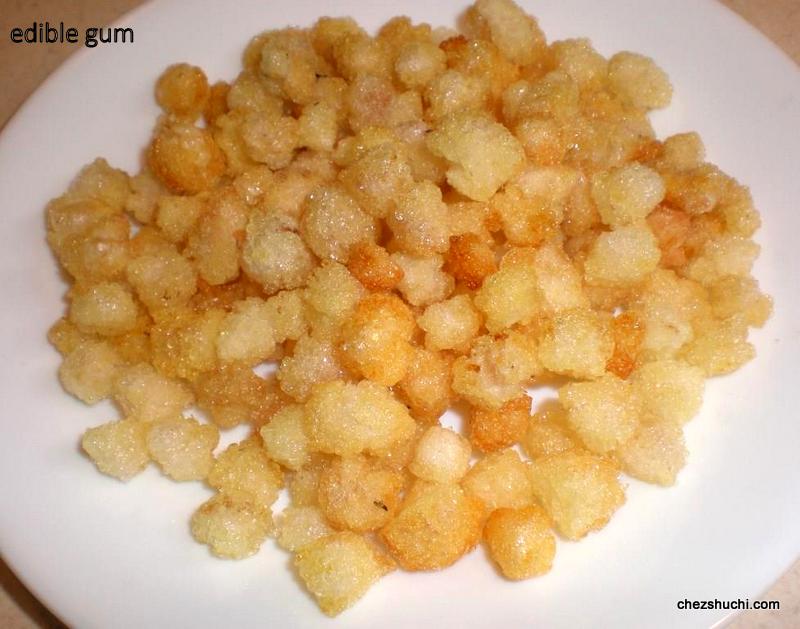 In the same wok (with the ghee) add wheat flour (aata). Fry the flour on medium heat for about 7 minutes. Stir continuously.
Now add remaining

¼ cup ghee and mix well in flour.

Reduce the heat and fry the flour until it becomes golden red in color and aromatic. It takes about another 7-8 minutes to fry the flour. Stir continuously.
Turn off the heat. Let fried flour cool down.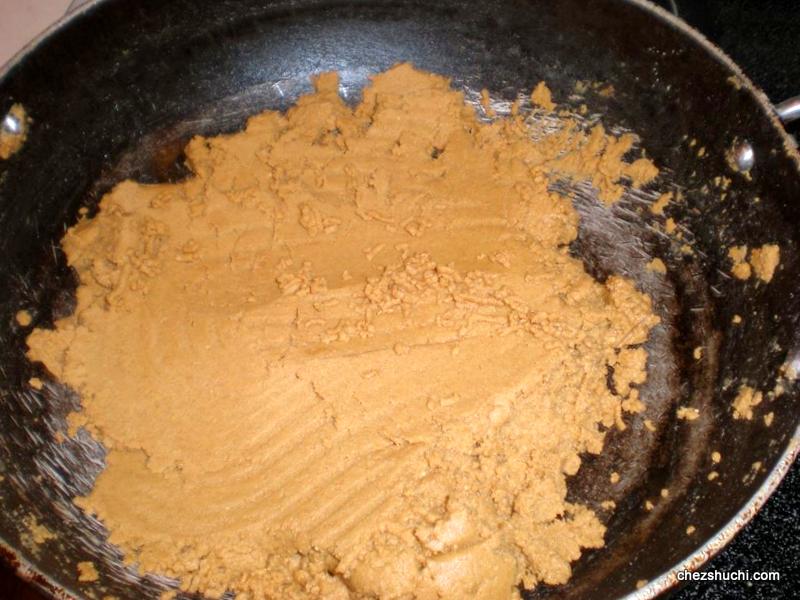 In a dry grinder/coffee grinder coarsely grind dry roasted almonds. Mix in coarsely ground almonds in the fried flour.
In a dry grinder/ coffee grinder coarsely grind fried edible gums.
Mix in coarsely ground edible gums in the fried flour.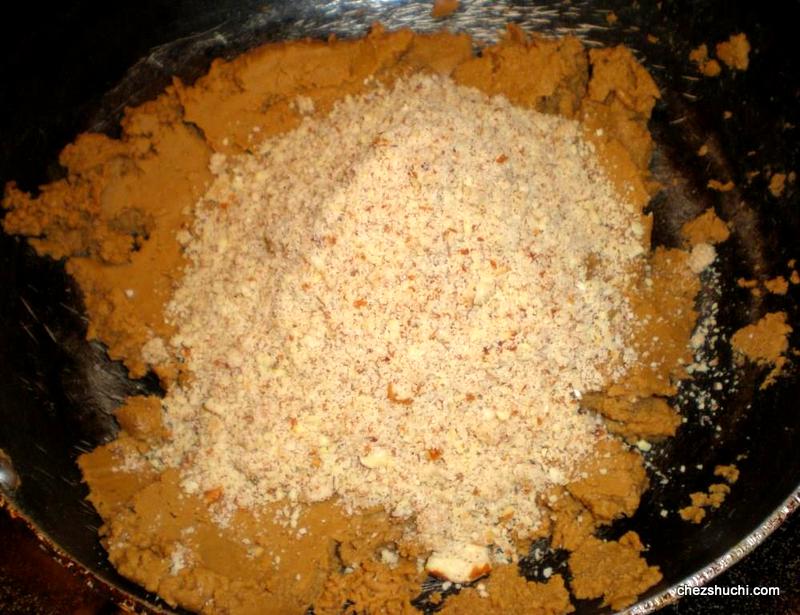 When fried flour mixture is still little lukewarm but not hot, add in sugar. Mix it very well.
after adding sugar to laddu mix
Take about 2-3 tbsp mixture and make laddoos (round balls ) by pressing it, and giving it round shape by rolling it in between your palms.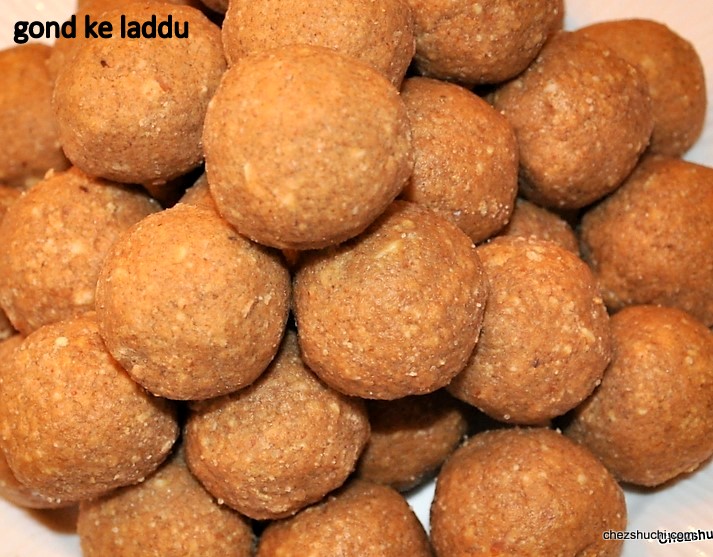 Delicious laddus are ready. You can store these laddus in a container for 2-3 weeks.
Some Tips/ Suggestions:
Fry one gond piece first to get a better idea if the ghee is hot enough.
Keep stiring the flour while frying it so that it doesn't get burnt.
The recipe calls for enough ghee so there shouldn't be any problem in shaping the laddu, still if you have a problem add a little bit of melted ghee to make laddu.
Make sure that flour mixutre is not warm when you add sugar. If it is warm then sugar may melt and you may have trouble in shaping the laddu.
Use coarsely ground sugar. I use organic light brown sugar but you can use any one (brown or white) as per taste.
---