हिन्दी में पढ़ें
Fruit and Nut Laddoo/Laddu
Fruit and nut laddoos are made with assorted tree nuts and dried fruits. These laddoos are delectable and are a good source of dietary fibers potassium, calcium, and magnesium. These laddus are phalahari, we haven't used any grains in this laddoo preparation. I have used almonds, pecans, walnuts and cashews along with dates and cranberries for this dish. It is very easy to make this laddoo. Try this dish and plese do share your comments. Shuchi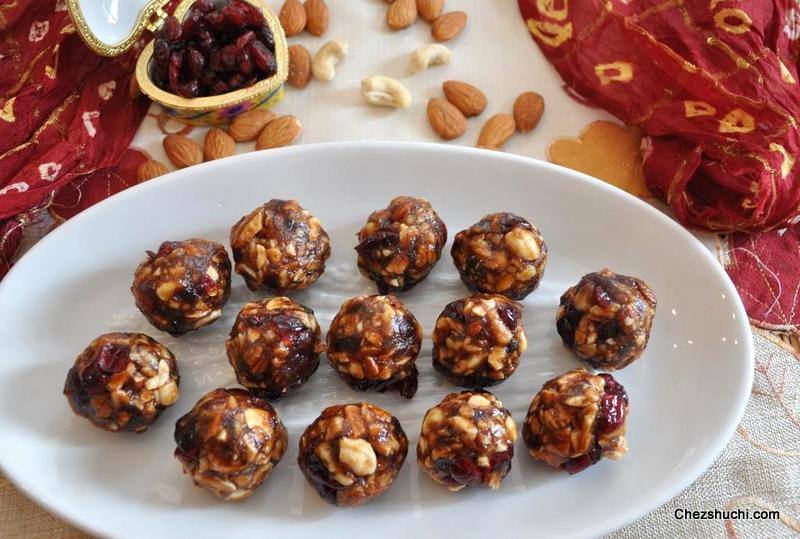 Ingredients
(Makes about 14 laddoos)
Nuts (Almonds, pecans and walnuts)1 cup
Cashew nuts ¼ cup, chopped
Dates 1 cup, chopped
Cranberries 2-3 tbsp
Cardamoms 4
Sugar 2 tbsp cup
Water 1 tbsp
Ghee 1 tsp (optional)
chopped almonds, pecans, and walnuts
Method of preparation:
Remove the outer green cover of the cardamoms and grind the seeds in the mortar. Keep aside

Heat a wok. Dry roast almonds, pecans, and walnuts on medium heat for 3-4 minutes. Turn off the heat and keep the nuts aside to cool down.
Dry roast cashews for a minute. . Keep aside.
Deseed the dates, and cut them into small pieces.
In a wok, add 2 tbsp sugar and 1 tbsp water. Boil for a minute.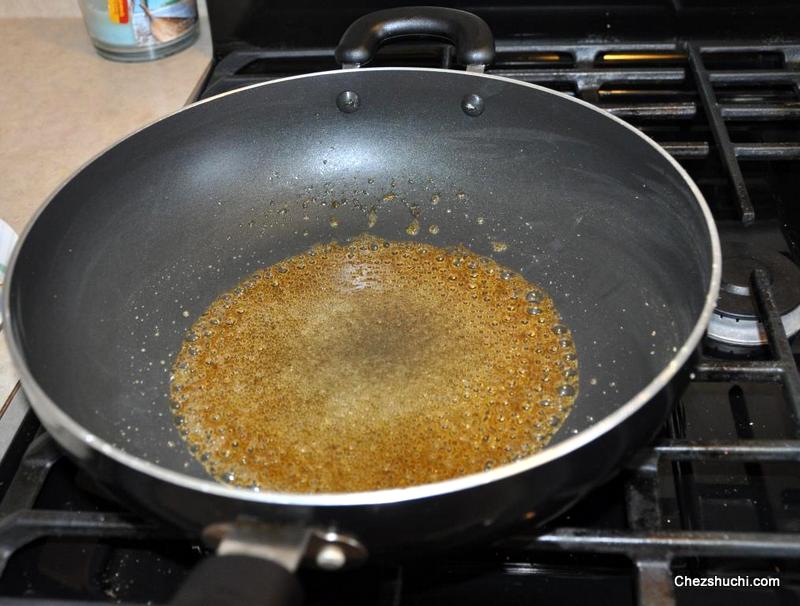 Add chopped dates. Dates will start melting in a couple of minutes. Cook for a couple of minutes.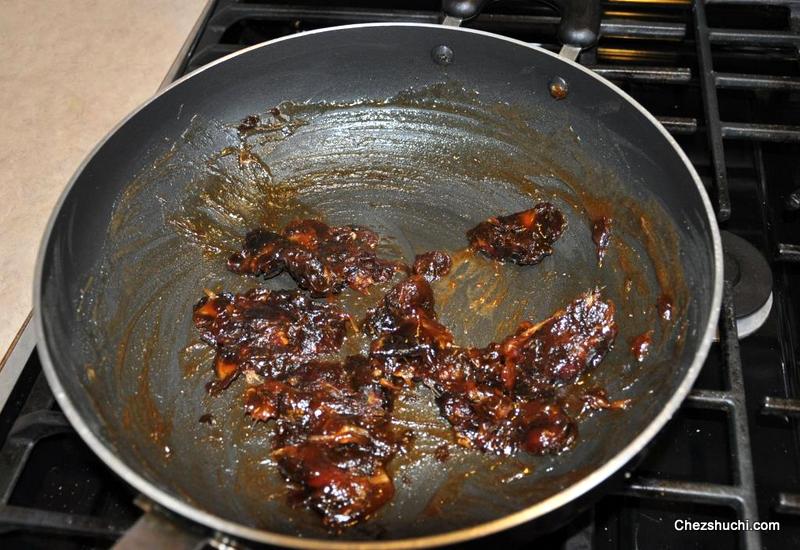 after adding chopped nuts in sugar syrup
When dates are melted add all the roasted nuts and cardamom powder. Mix well and stir for a couple of minutes.
Add cranberries. Mix well.
At this point you can add 1 tsp ghee for aroma.Turn off the heat. Let the mixture cool a bit.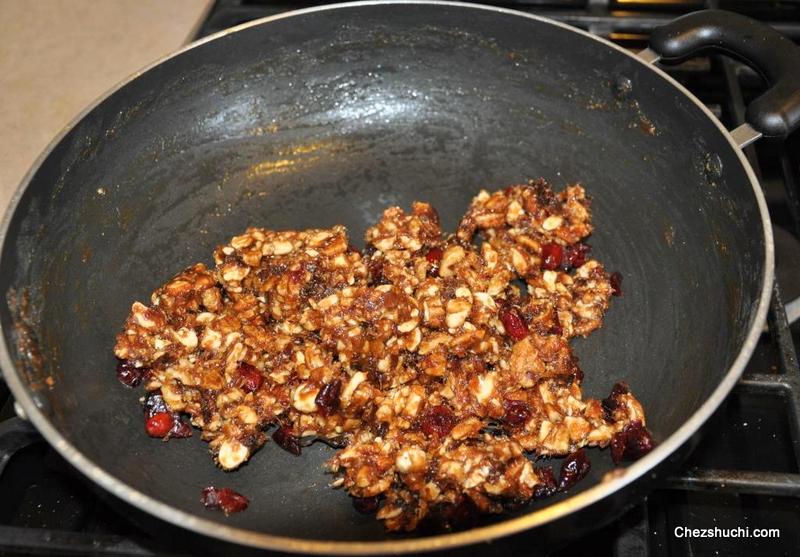 after adding chopped nuts in sugar syrup
Take about 1 tbsp mixture and make laddoos (round balls ).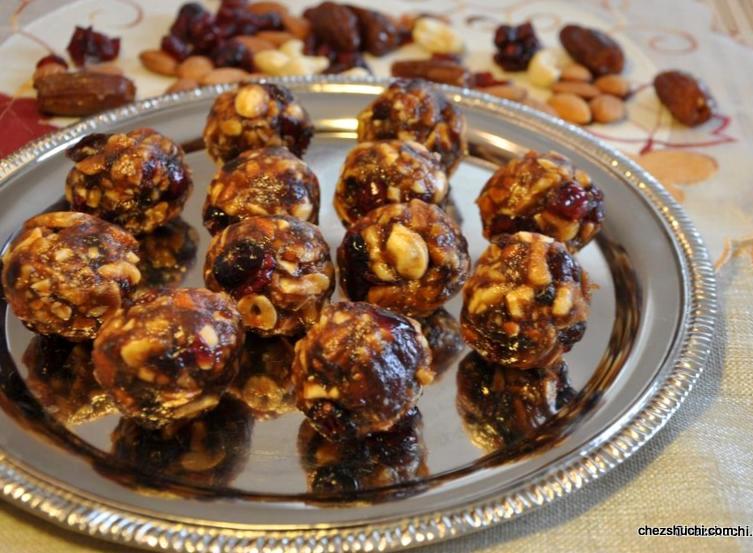 Delicious and healthy laddoos are ready. You can store these laddoos in a container for a weeks.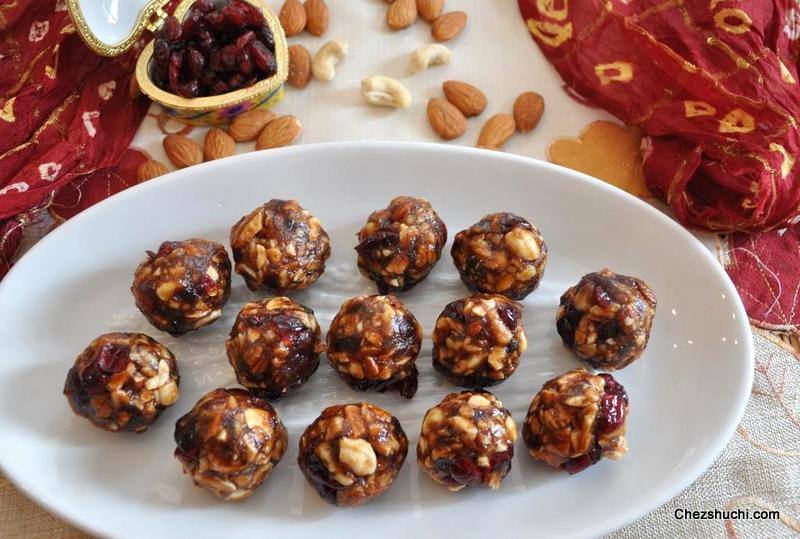 Some Tips/ Suggestions:
You can also use some other dried fruits and nuts as per taste.
I have used brown sugar feel free to replace it with regular sugar or jaggery.
I have added just a little ghee in the end for aroma. Feel free to remove ghee to make vegan laddoos.
You can use raisins instead of cranberries .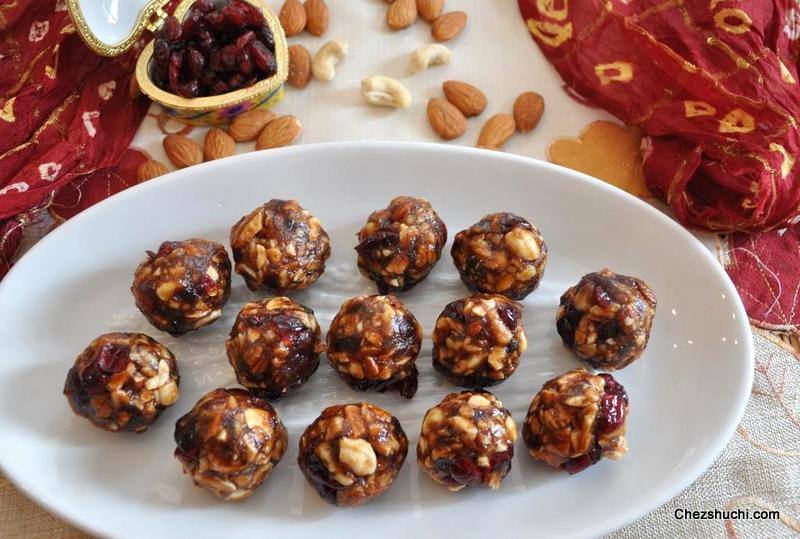 ---
Some other Fasting/Upvas recipes
---