Churma/ Churme ke Laddu
हिन्दी में पढ़ें
Churma or Churme ke laddu is a very famous dessert from Rajasthan. Churma is made with coarsely ground wheat flour balls (that have been deep fried in ghee), sugar, cardamoms and nuts. In order to make laddu, pure ghee is added to the Churma and then round balls are made. Churma is the traditional accompaniment to dal-baati. I was reading a book written by India's cookery expert Mrs. Tarla Dalal and she recommends adding a little bit of semolina to wheat flour to enhance the taste of Churma. I am following her advice.. So here we go with a mouth watering dish churma and churme ke laddu....…..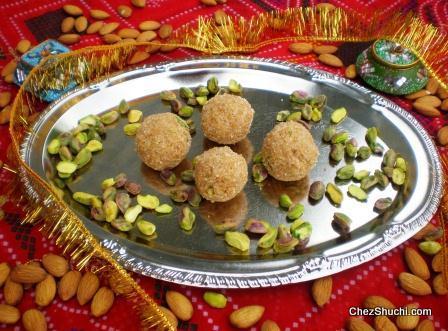 Ingredients

(For choorma)
Wheat flour ¾ cup
Semolina 1 tbsp
Ghee 3 tbsp+ to deep fry
Water about ¼ cup
Sugar little more than ¼ cup
Cardamoms 2-4
Almonds 1 tbsp
Pistachio 1 tbsp
For laddu making
Method of preparation
In a mixing bowl (parat) take wheat flour, and semolina. Mix them well. Now pour 3 tbsp melted ghee in the mixture. Mix the ghee in the flour well.
Now make a stiff dough of wheat flour by adding a little water at a time. Cover the dough with damp cloth and leave for 20 minutes.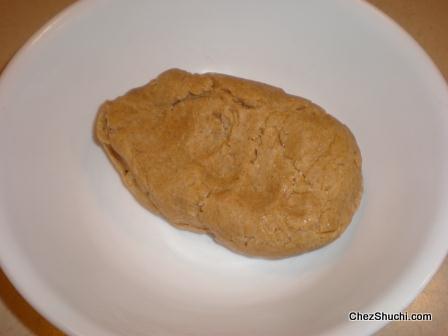 Now divide the dough into 10 equal portions. Make round balls of the divided portions.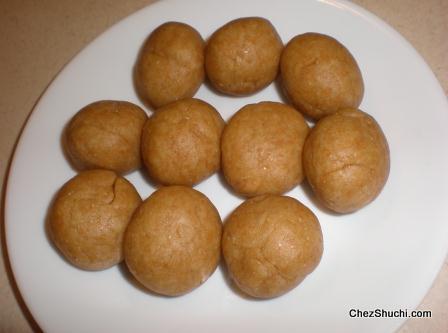 Heat ghee in a wok/pan on low heat (160°F/ 70°C). Now put some balls in the ghee. Deep fry them on low heat from all the sides until the get nice golden brown color. It takes about 30 minutes to deep fry each round of churma balls.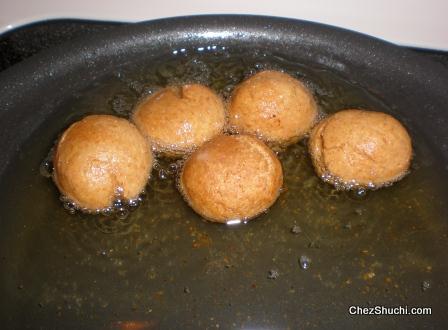 churma balls frying
Drain out the fried balls on the kitchen paper and keep aside to cool down.
Fry all the balls in a similar fashion.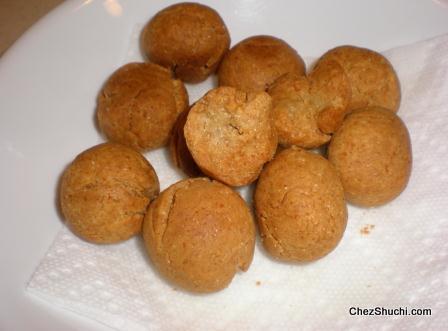 fried churma balls
Thinly slice the pistachio, and almonds.
Remove the green skin of the cardamoms and grind the seeds.
Now coarsely grind the fried balls. You can also pound them in the mortar and pestle.
pounded churma balls
Now in a mixing bowl take coarsely ground fried wheat, sugar, ground cardamoms, almonds, and pistachio, and mix the well.
Delicious churma is now ready. Serve it with Dal-Baati or just with any meal. Churma can be stored in the air tight container for a week...
To make Churme ke Laddu
If you want to make churme ke laddu, add about 2 table spoon melted ghee in the churma mixture and mix it well. Take about 2 tbsp mixture in your hand and press and roll it to give the round shape.
Some Tips/ Suggestions:
If you are having trouble in making laddu it means that the amount of ghee is less: so add a little more ghee to make laddus.
I remember when I was a very young girl my grandmother used to make churme ke laddu with leftover pooris by griding them to small pieces and adding the sugar, ghee, and other stuff... you might like to give it a trial too...
---