Panchmel Dal
हिन्दी में पढ़ें
"Panchmel" means the mix of five. Panchmel Dal is a Rajasthani (Western India) preparation. This dal is traditionally made with the five very commonly used lentils in India and is served with a special bread - Baati. Often A special dessert Churma also accompanies Dal and Baati. So on our readers' speical request let us make this wonderful traditional Rajasthani dish Panchmel dal......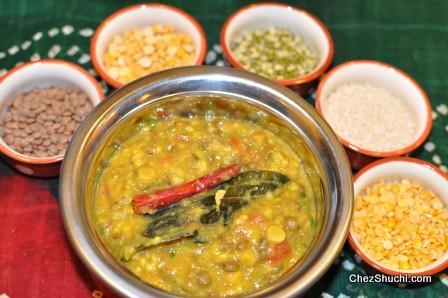 Ingredients

(serves 4)
Arhar dal 1/8 cup
Masoor dal 1/8 cup
Moong split 1/8 cup
Urad dal 1/8 cup
Bengal gram lentils (chane ki Dal) little more then 1/8 cups
Salt 1¼ tsp
Turmeric powder ½ tsp

For Seasoning 
Tomato 1 medium
Cumin seeds 1 tsp
Asafoetida 2 pinch
Bay leaves 2
Cloves 6-8
Whole dried red chilies 2
Red chili powder ½ tsp
Garam masala ½tsp
Coriander powder 1 tsp
Dry mango powder ( amchoor/ khatai) ½ tsp
Desi ghee 2-3 tbsp
Chopped coriander leaves 2 tbsp
For Searving
You need about 30-35 grams of each dal
To serve
Method of preparation
Clean and wash all the lentils. Soak the lentils in 3 cups of water for about an hour.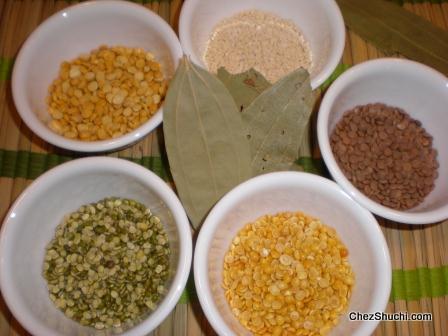 Add salt and turmeric powder in the lentils and boil the lentils until they get tender. (You can take 2-3 whistles in the pressure cooker on medium heat).
After the dal has boiled, check the consistency and add more water if required.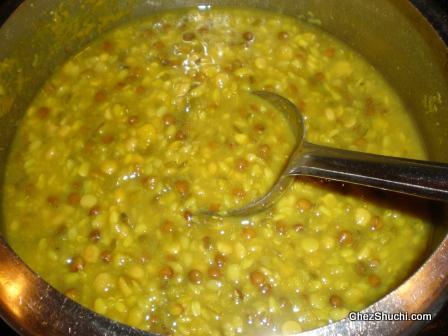 boiled lentils
For Seasoning 
Wash and finely chop the tomato.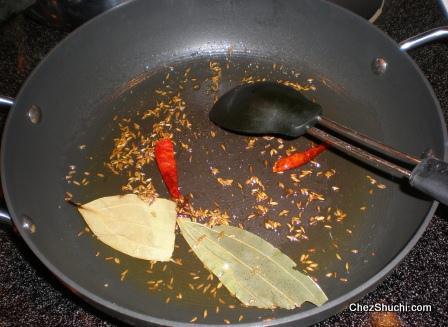 Heat the ghee. Add cumin seeds. When seeds crackle, add asafoetida, red chilies, bay leves, and cloves . Fry for about a minute. Now add chopped tomato, coriander powder, and red chili powder, fry until masala leaves the ghee. Takes 2-3 minutes.
Now add garam masala, and amchoor powder. Mix well.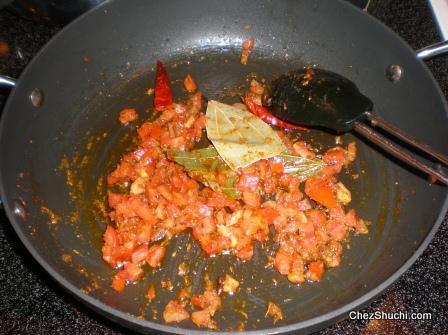 Add the seasoning onto the Dal. Mix well and cook the lentils for a few minutes. Turn off the heat.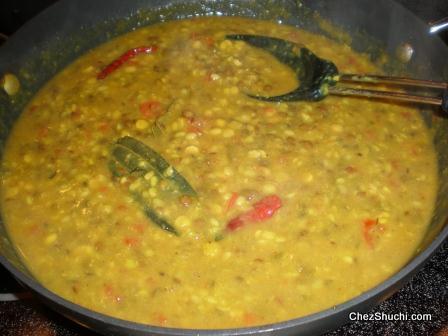 Garnish with chopped coriander leaves . Delicious Rajasthani Panchmel dal is ready to serve with with crisp baati.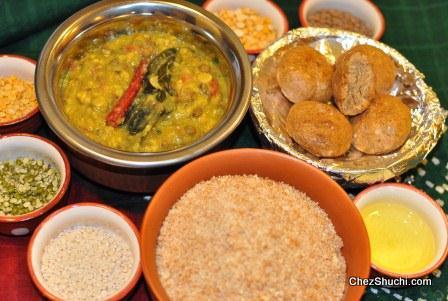 Some Tips/ Suggestions : 
You can also serve this dal with roti and rice.
Pour some ghee on top of the panchmel dal if you do not mind the extra calories!
---