Baati
हिन्दी में पढ़ें
Baatis are traditional Rajasthani breads made with wheat flour. The procedure for making Baatis is very different than any North Indian bread (we normally cook breads on the griddle or bake them in clay oven). Traditionaly Baatis are first boiled in the water and then baked/ cooked in the clay oven (Tandoor). Baatis are specially served with Rajasthani Panchmel Dal ( a dal made with mix of five lentils). So on our readers speical request let's make this wonderful traditional Rajasthani dish - Baati.....…..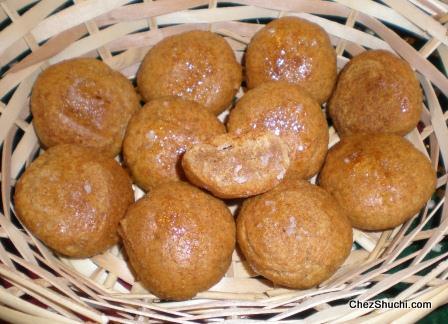 Ingredients

(makes 12)
Wheat flour 1½ cup
Ghee 4 tbsp
Salt ½ tsp
Sugar ½ tsp
Milk/ Water about ½ cup
For Searving
Method of preparation
In a mixing bowl (parat) take wheat flour, salt and sugar. Mix them well. Now pour 4 tbsp melted ghee in the mixture. Mix the ghee in the flour well.
Now make a stiff dough of wheat flour by adding a little milk/water at a time. Cover the dough with damp cloth and leave for 20 minutes.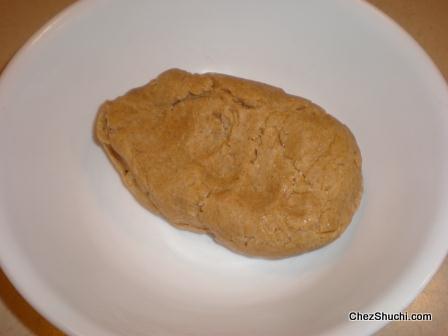 Now divide the dough into 12 equal portions. Make round balls of the divided portions. I prefer slightly flat baatis, for this, press the balls gently to flatten them a little as shown in the picture.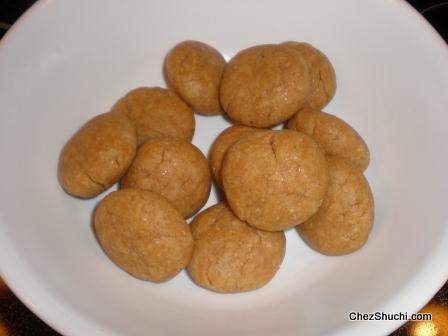 Heat about 5 cups of water in a saucepan. When water starts boiling, drop the baatis in it. Let the baatis boil on medium to high heat for 15-20 minutes. When you will drop the baatis in the boiling water they will settle down, but when they will get cooked they will start floating. This is an indication that baatis are done.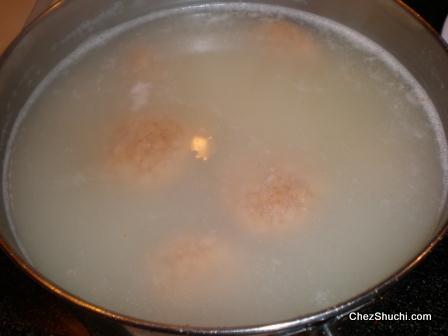 Drain out the boiled baati from the water. Keep aside.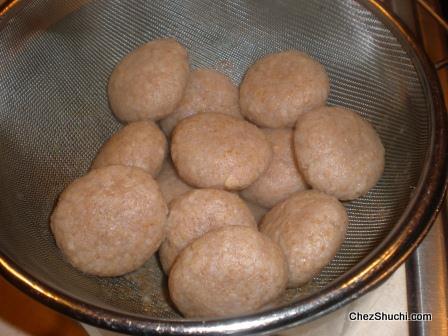 Now pre heat the oven at 400°F/ 200°C.
Bake the baatis in the pre heated oven for about 20-25 minutes or until they get nice golden brown color.
Baatis are Ready Now. At the time of serving pour hot ghee on top of baatis and serve them with panchmel dal.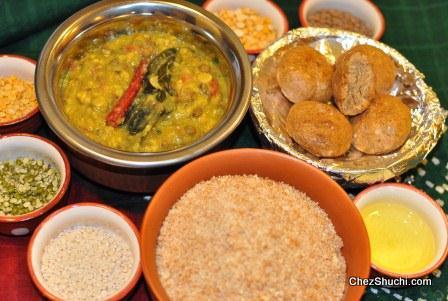 Some Tips/ Suggestions:
The color of my baati dough is dark because I do not sift the wheat flour as the husk of the flour has lots of fibers and is good for the health.
Traditionaly baatis are cooked in the clay furnace. You can also use Gas tandoor/ Barbeque to cook the baatis after boiling them in the water.
click here for more Indian Bread recipes.
---