हिन्दी में पढ़ें
Rasgulla
Rasgulla or Rosogulla (white sponge) is one of the most famous dessert from Eastern India, and a signature of Kolkata. Rosogulla is made with chenna (variety of paneer)/cottage cheese made out of cow's milk. An ideal Rasgulla will be absolutey spongy and dissolves in the mouth. This is an authentic Bengali Recipe of Rasgulla . This is my friend Amrita's recipe. I am extremely thankful to Amrita who invited me over for lunch and taught me in detail to cook Rosogulla. All the pictures have been taken at Amrita's kitchen. Amrita made the dish absolute way. Enjoy this delicious Rosogulla recipe this Diwali season and please do share your comments. Shuchi...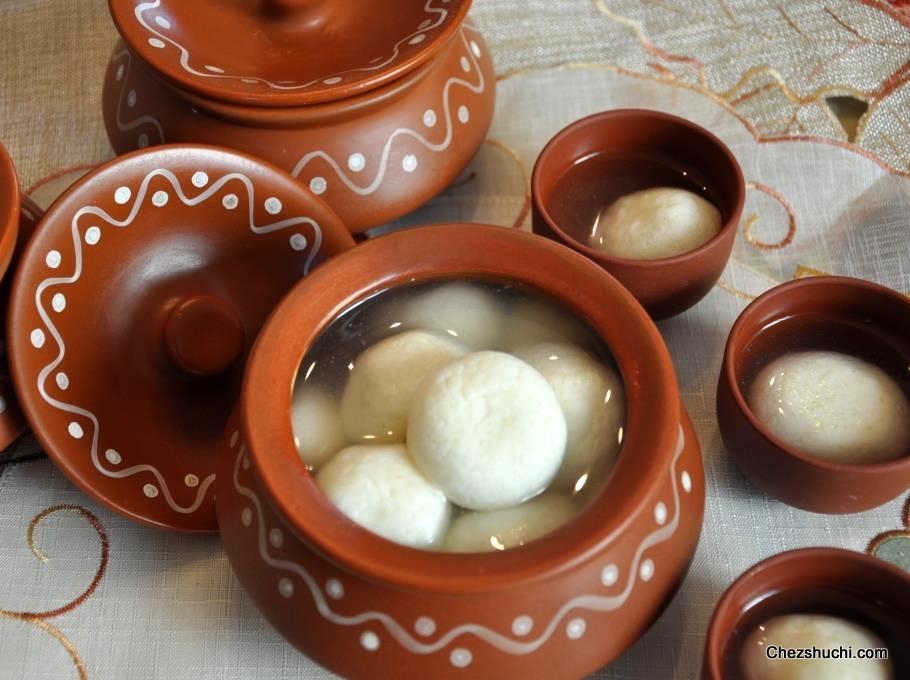 Ingredients (makes about 25 rasgulla)
Full cream cow's milk ½ gallon/ about 2 lts
Buttermilk 2 cups
Semolina 1 tsp
Sugar 2 cups
Water 6 cups
Rose water 1 tbsp
Other things
Cheese cloth or muslin cloth
Method of preparation:
Boil milk in a pan. After the first boil reduce the heat and add buttermilk. Stir well. The milk will start spliting. Now you will see that milk has curdled and there is greenish whey. Stir and turn off the heat. add 1 cup cold water. Stir.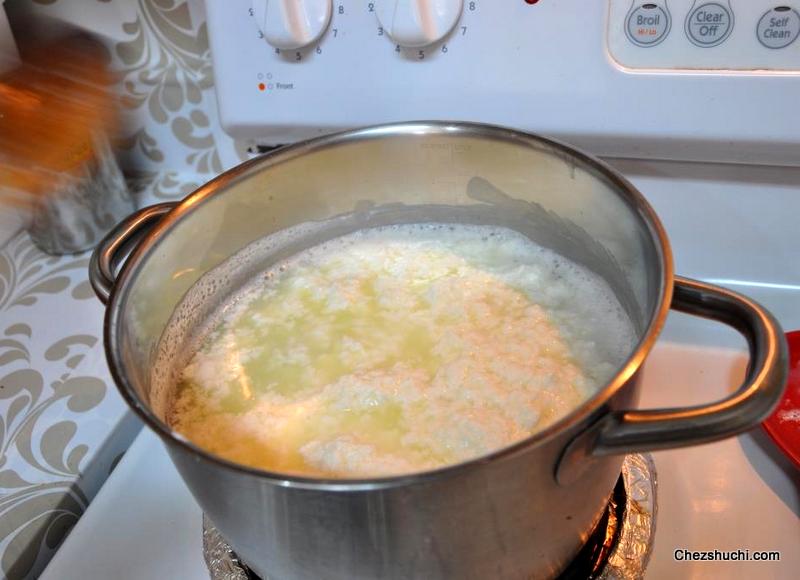 After adding buttermilk to the milk
Set the muslin on the sieve, pour the curdled milk onto the clean muslin cloth (soup sieve with small holes can be used directly in case if you do not have muslin cloth). Now press the chenna to remove the whey. Keep aside for 1 hour to remove the extra water/whey.
Chenna is ready to use.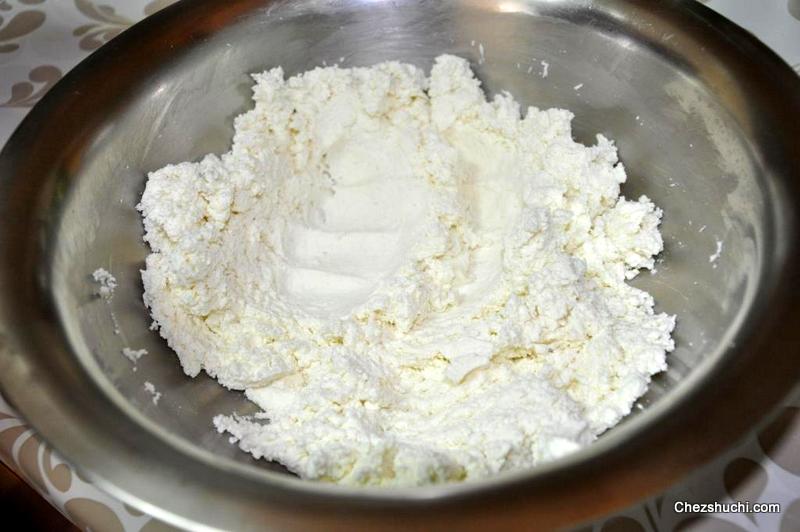 Chenna after removing extra water
In a sauce pan boil 2 cups of sugar in 6 cups of water. We need thin sugar syrup for this recipe so we just need a boil in the syrup. Add rose water after the first boil.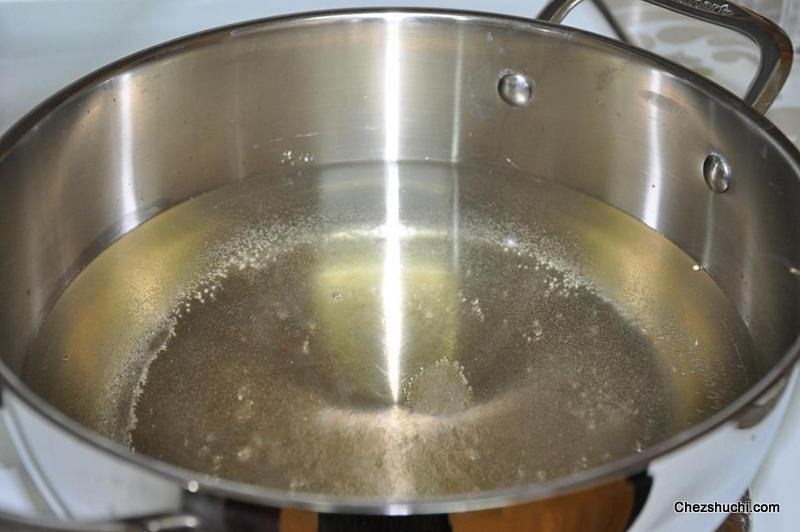 Add 1 tsp of semolina in the chenna. Rub the chenna in between your palms or with fingers thoroughly. We need absolutely smooth chenna. This rubbing process takes about 7-8 minutes, depending on the quality of chenna.
Divide this chenna into 25 portions. Make small round balls. Make sure that balls are absolutely smooth and they do not have any cracks. They may split in the sugar syrup if they have and cracks.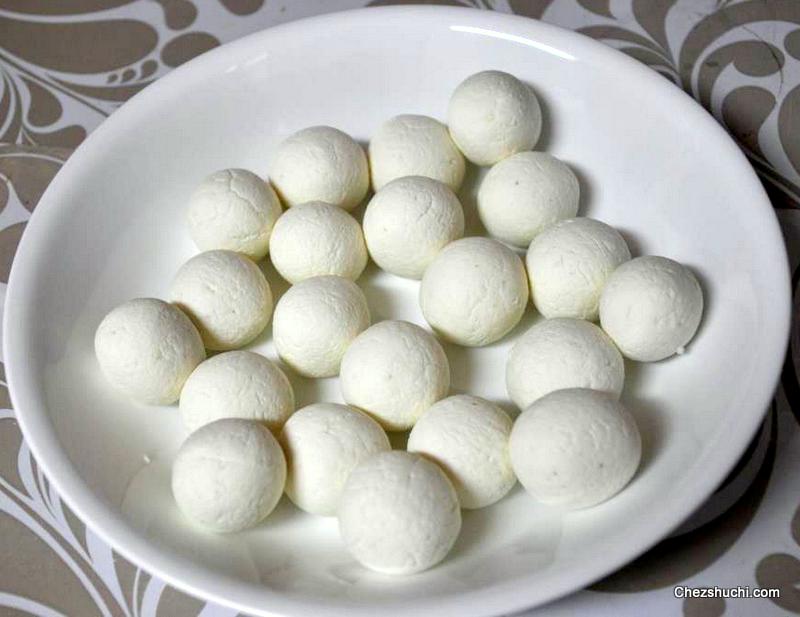 After the first boil of sugar syrup pour all the chenna balls slowly in the boiling sugar syrup. Cover the lid and cook the chenna balls in the sugar syrup for about 10 minutes on medium heat.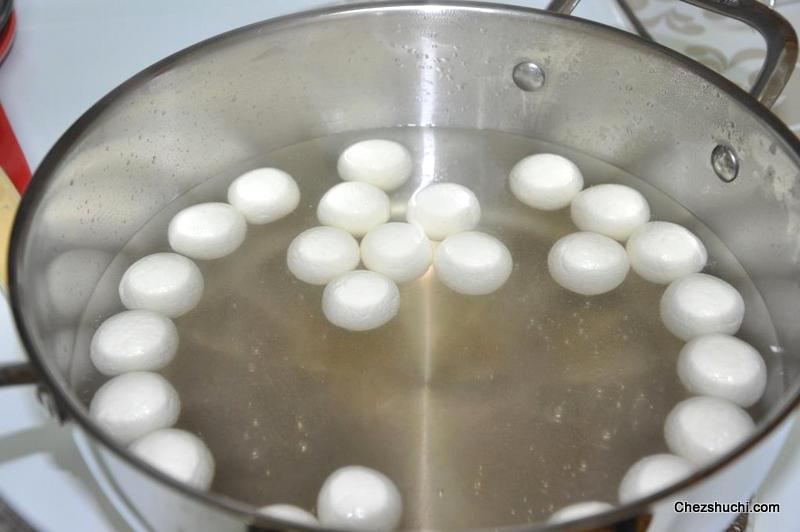 after adding chenna balls added in the sugar syrup
Chenna ballswill absorb the syrup and will almost be double in size after about 7 minutes of cooking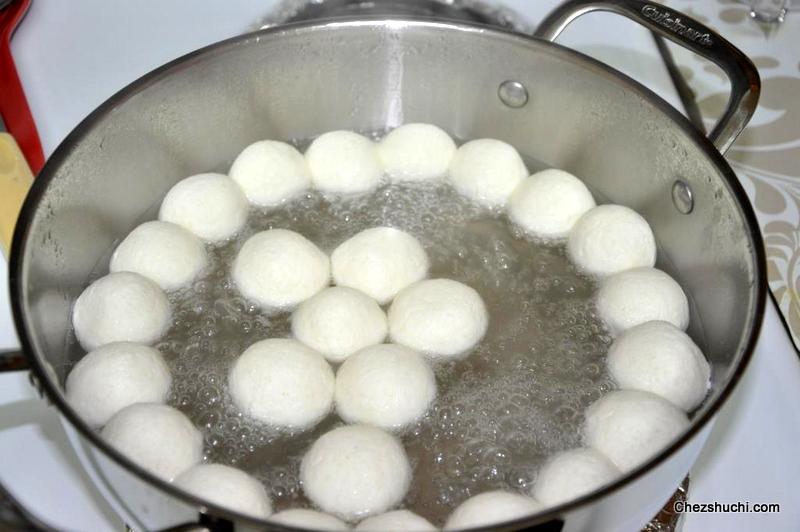 after 7 mins of adding chenna balls added in the sugar syrup
Turn off the heat. All time favorite Rosogulla is ready to serve.
You can serve mouth desolving rasgulla hot or cold as per taste.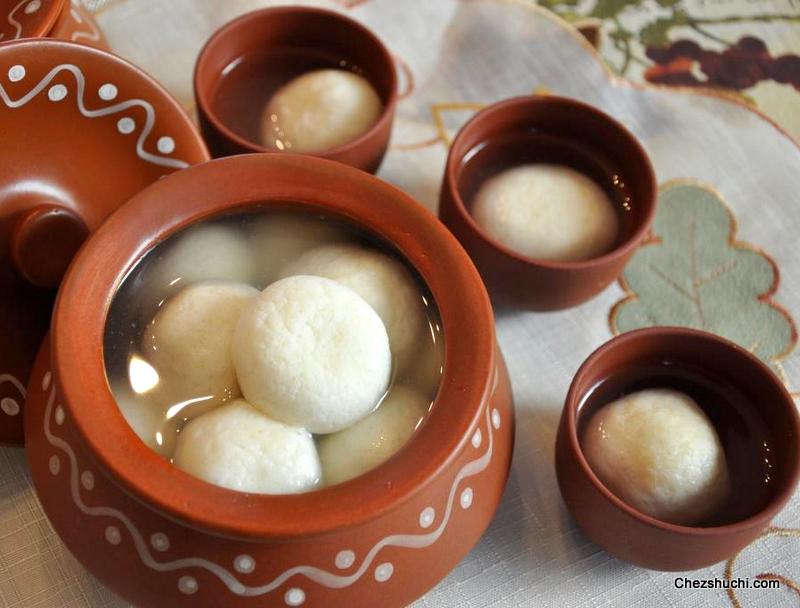 Some Tips/ Suggestions:
You can use store bought buttermilk or can make it at home. For homemade buttermilk,add water in yogurt and mix it well. For this recipe youy can add 1 cup water in one cup thick yogurt .
Some other delicious desserts:
---