हिन्दी में पढ़ें
Rasmalai is made with chenna (variety of paneer)/cottage cheese made out of cow's milk. It is mildly flavored and very light dessert.It is usually a big hit in parties.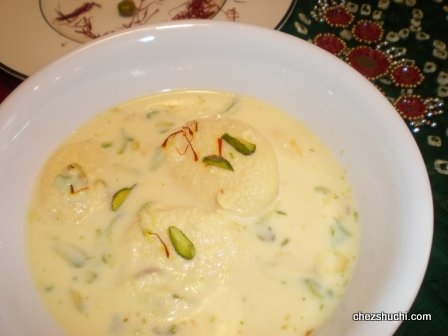 Ingredients

(makes 10)
For sugar syrup:
Sugar 1½ cup
Water 3 cups + 1 cup for later use
For thick milk syrup:

Soak saffron threads in one table spoon lukewarm milk. keep aside.
Remove the skin of the green cardamoms and grind them in the mortar.
Thinly slice the pistachios.
Boil the milk, after the first boil reduce the heat and evaporate the milk for about 20 -25 minutes. Stir after every 4-5 minutes. Now add sugar, grounded cardamoms and soaked saffron milk. Turn off the heat . Let it cool for 30- 40 minutes.
For Rasmalai / chenna dumplings:

Boil 1½ cups sugar in 3 cups of water in a sauce pan. After the first boil and when the sugar melts down completely, turn off the heat. ( takes about 5-7 minute)
Rub the chenna in between your palms or with fingers thoroughly. We need absolutely smooth chenna. This rubbing process takes about 10-15 minutes, depending upon the quality of the chenna.
Now divide the chenna into 10 portions, and make smooth balls. Press the ball gently to flatten them. Rub the sides on your palm if the sides are cracking.
Turn on the heat and boil the sugar syrup, pour all the chenna balls in the boiling sugar syrup. Cook/boil the chenna balls in the sugar syrup for about 20 minutes. Add about ¼ cup hot boiling water after every 5-6 minutes.
After 20 minutes turn off the heat and leave the chenna balls in the syrup, and let them cool down.
Squeeze the sugar syrup of the rasmalai / chenna dumplings gently in between your palms . Add in the rasmali dumplings in the milk. Garnish with pistachio.
Keep in the refrigerator for an hour.
All time favorite Rasmalai is ready to serve.
Variation :Readymade rosogulla or rasmalai patties can be used in case if you do not have time to make chenna at home.This (quick!) recipe's idea is a gift from my friend Reena who lives in New york
For readymade chenna patties : Squeeze the sugar syrup of the rasmalai patties/ rosogulla's gently and dip them in the warm water. Wait for a minute. Squeeze the patties to remove the water and put the  patties in the thick milk syrup.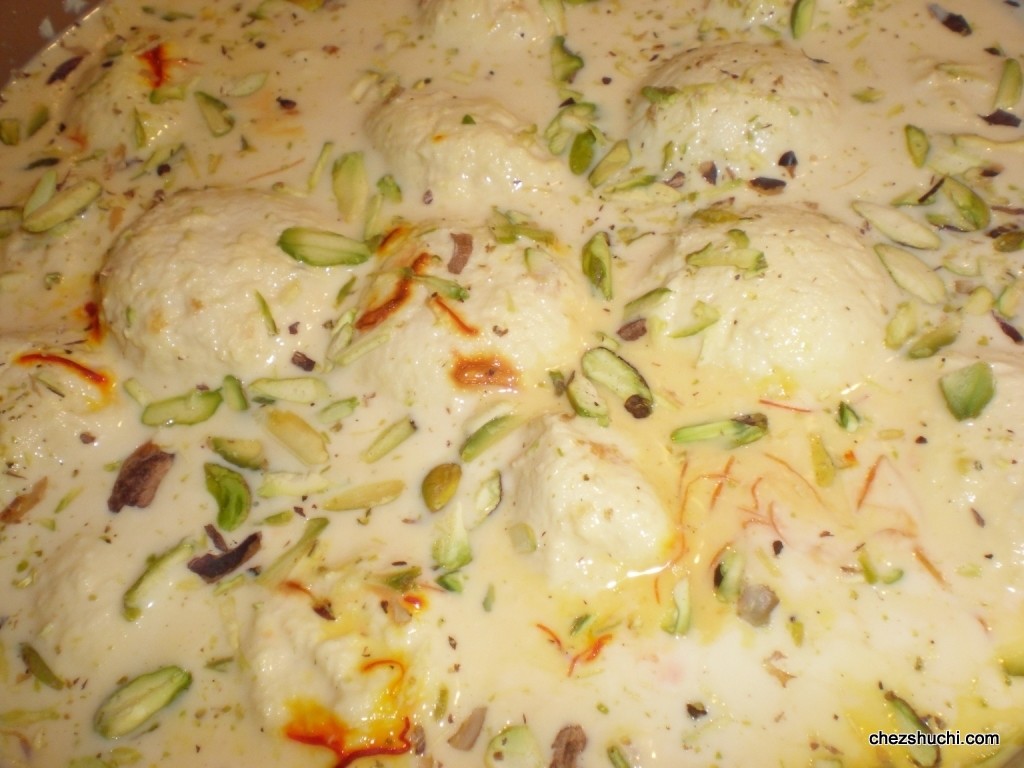 ---