Balushahi
हिन्दी में पढ़ें
Balushahi is a very traditional deep fried sweet preparation . In North India, this rich dessert is very popular. I prefer making a mini version of balushahi because sometimes in the parties kids try things and if they do not like it they trash it...the mini version has worked quite well ! so try making this very traditional delicacy and do let me know of your comments and suggestions...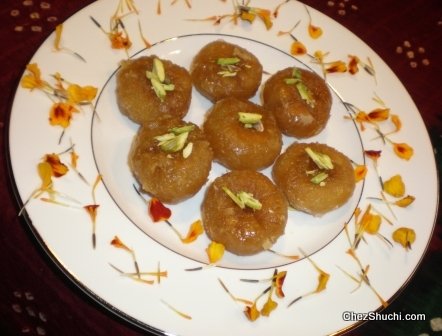 Ingredients

(makes 18)
Refined flour 1½ cup
Baking soda 2 pinches
Ghee 4 tbsp for dough
Yogurt 3 tbsp
Water about 2 tsp to make dough
Ghee for deep frying
For sugar syrup
Sugar 2 cup
Water 1 cup
Green cardamoms 2
For Garnishing
Pistachio 2 tbsp, slivered
Method of preparation

To make the sugar syrup
Boil sugar and water in a wok/pan. After the first boil reduce the heat and boil the sugar syrup till it gets thickened and makes two string syrup. Two string syrup means that you take a drop of syrup between your two fingers and then stretch the fingers - if the syrup that sticks between the two fingers is making two threads (or strings) then the thickness of syrup is appropriate. Takes about 10 mins.
Remove the outer skin of the cardamoms and grind them in the mortar. Add ground cardamom in the sugar syrup.
Keep the sugar syrup aside.
To make the balushahi

In a bowl sift all purpose flour (maida) and baking soda (sodium bi carbonate).
Now add ghee in the flour and mix well. You will see the crumbs at this point.
Now add yogurt (dahi) . Mix well and make a stiff dough, if needed add a little water to make the dough.
Now cover the dough with a damp cloth and rest it for about an hour.
Now divide the dough into 18 portions. Make balls, press to flatten them and make a thumb impression in the middle.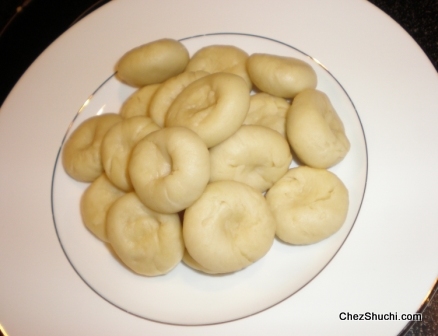 flattened balls are ready to fry.
Heat ghee in a wok on low heat. Deep fry the balushahi on low heat, until they are pinkish red in colour. The temperature of ghee should not be more that 160 F. (takes about 20-25 minutes)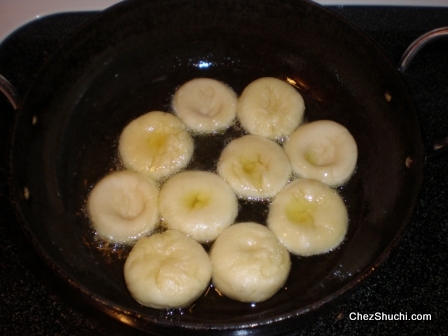 Take out the balushahi and drain onto the kitchen paper. Set aside the balushahi to cool down for about 15 minutes.
Now transfer the fried balushahi in the sugar syrup. Leave them in the sugar syrup for about half an hour so they absorb the syrup well. Note- Sugar syrup should be lukewarm when to dip balushahi in it. If the sugar syrup gets thickened when balushahi are dipped, warm it up on low heat for a minute.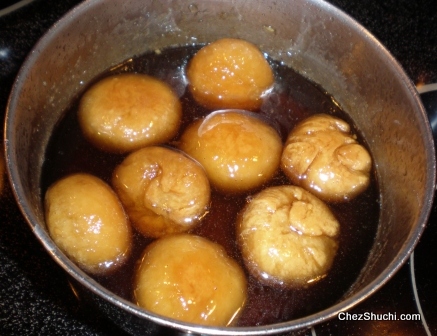 balushahi in the sugar syrup
Now take the balushahi out from the sugar syrup and leave them in a plate for an hour to dry up.
When you see a white sugar layer on top of balushahi it means they are ready to serve.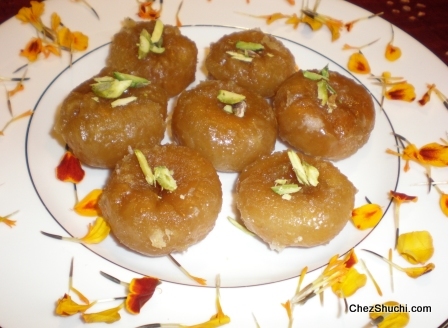 balushahi is ready
Balushahi is ready to serve. Garnish the balushahi with slivered pistachio. Serve this royal dessert to your royal guests.
Some Tips/ Suggestions:
I have used pure ghee (clarified butter) for the preparation of balushahi but you can also use oil if you want to.
The leftover sugar syrup (chashni ) can be used for halwa making..
For deep frying, I avoid filling the skillet with oil as repeated use of fried oil is unhealthy.
---