Semolina Halwa
Sooji Halwa
हिन्दी में पढ़ें
Semolina Halwa is one of the most popular Indian desserts. This halwa is made for many auspicious occasions and especially for Navratris Navmi day for kanya bhoj (feed girls, symbolic to offering food to goddess Durga). Halwas belong to a special category of ghee (clarified butter) based Indian desserts. There is a large variety of halwas; Carrot halwa, Moong halwa, Wheat flour halwa etc. This is a delicious preparation made with semolina.
The traditional recipe of semolina halwa calls for an equal amount of ghee and semolina! I have reduced the amount of ghee for a healthier preparation. Add more ghee if you wish ! Make this delicious halwa for Navmi or anytime and please do share your precious comments. Happy cooking and happy Navmi, Shuchi.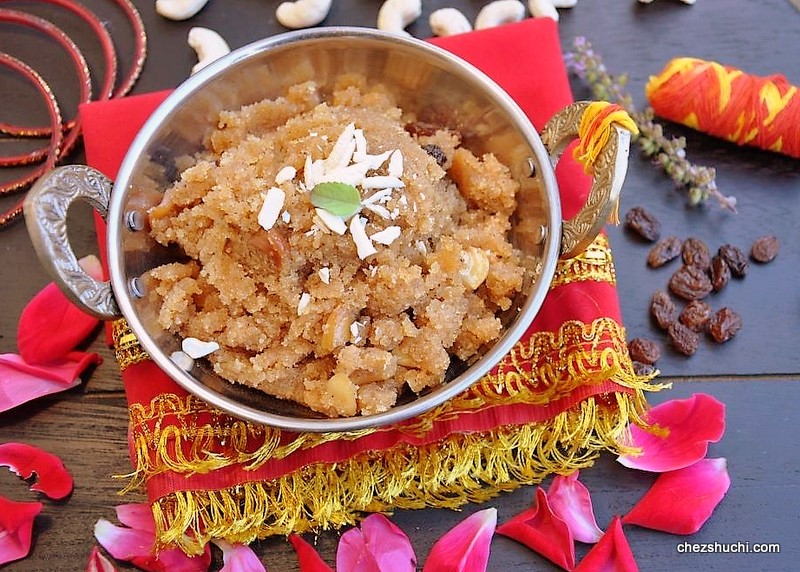 Preparation Time: 2 minutes
cooking time: 18-20 minutes
Approximately 200 calories in each serving
Ingredients (serves 4-6)
Semolina (sooji)  ½ cup
Ghee ¼ cup
Sugar  ½ cup
Water 1½ cup
Cashew nuts, broken into pieces ¼ cup
Raisins   1 tbsp
Green cardamoms 4 
Method of preparation
Remove the outer green cover of the cardamoms and grind them in the mortar.
Heat ¼ cup ghee in a wok on medium heat. Roast semolina on high heat for two-four minutes.
Reduce the heat and keep roasting semolina until you smell a nice aroma and semolina turns golden brown. Stir continuously. It takes around 10 minutes to get a nice golden color to semolina. Add cashew pieces and roast again for a minute.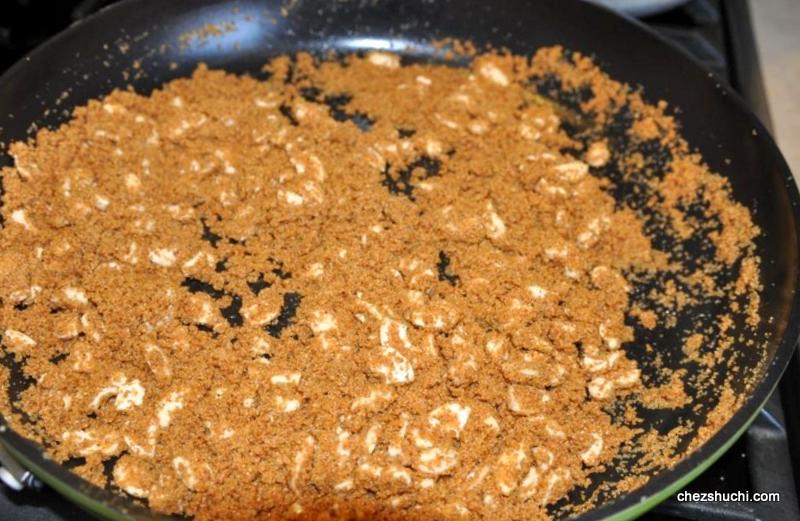 roasted semolina
Add in 1½ cup water and ½ cup sugar in the roasted semolina. Mix well.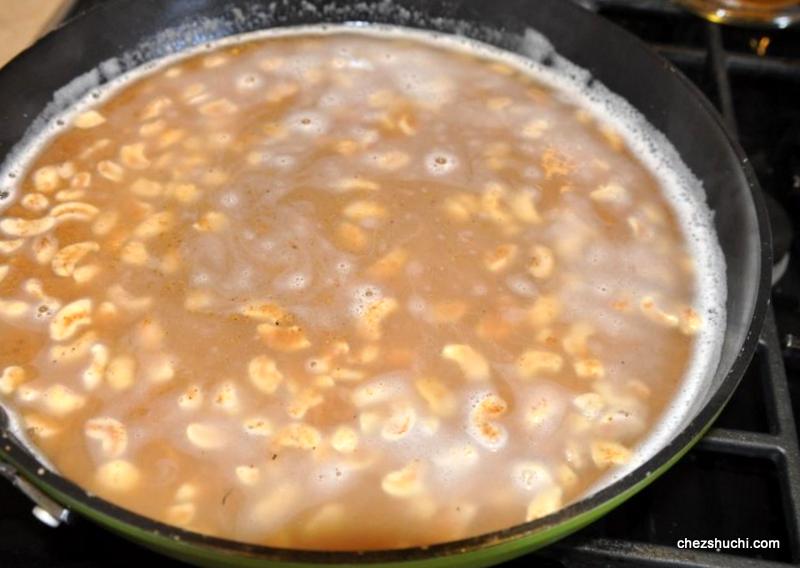 after adding water and sugar in roasted semolina
Reduce the heat and cook semolina until it gets tender. It takes about 5 minutes to cook semolina.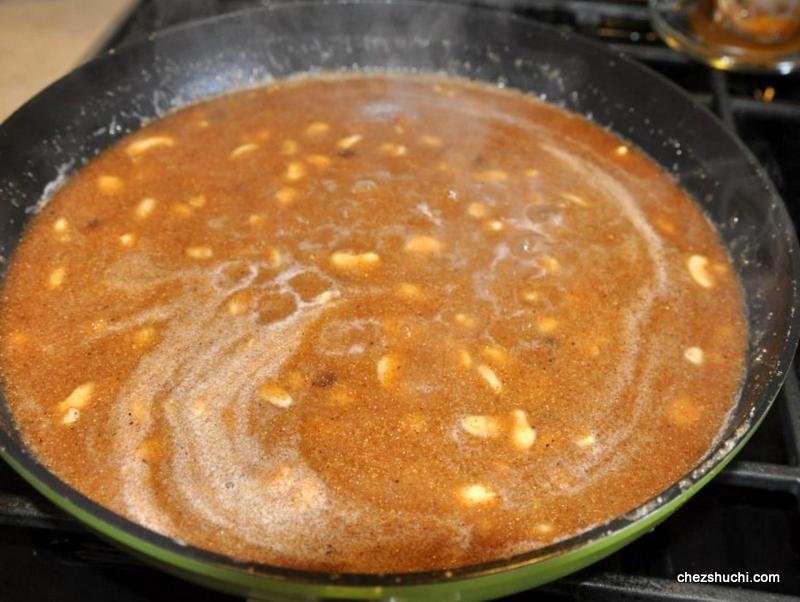 Add raisins and cook for another minute. Add cardamom and mix well. Turn off the heat.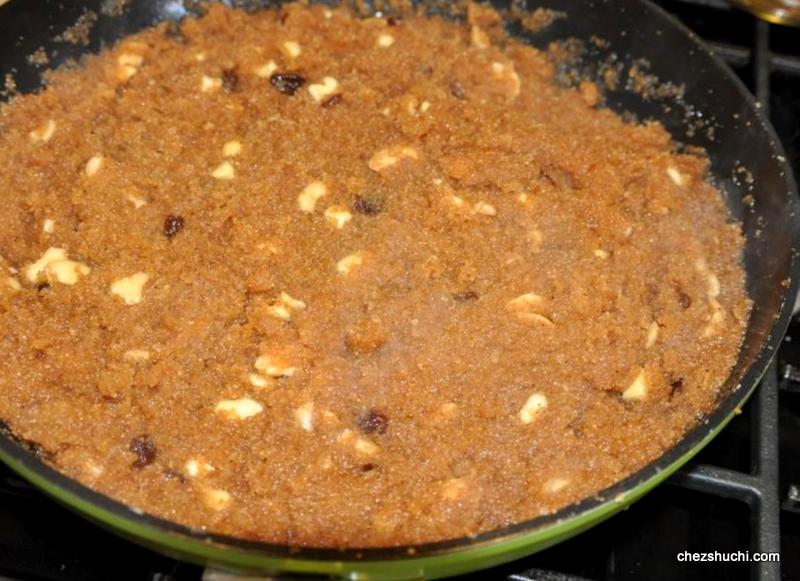 almost ready halwa
Semolina halwa is ready. Transfer the halwa in a serving dish and garnish with a few thinly sliced cashews. Serve delicious and hot halwa.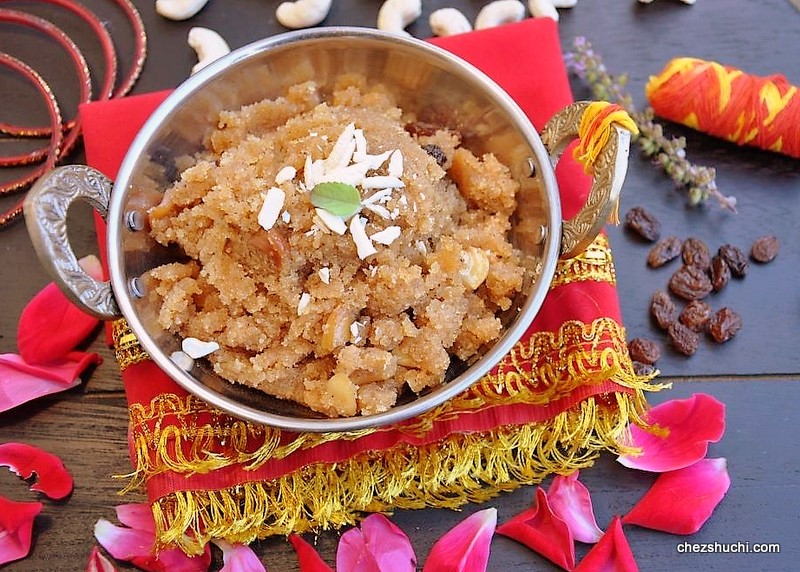 Some Tips/ Suggestions:
Traditional recipe calls for equal amount of ghee and semolina ! I have reduced the amount of ghee for a healthier preparation. It is your wish if you want to add more ghee. Once we had semolina halwa at a volunteer organized event at a temple in America: That halwa was made using the traditional recipe - an equal portion each of semolina, ghee, sugar and cashews and three portions of water. It was the best semolina halwa I have ever had!
You can also add some other nuts like almonds, pistachio etc. in this halwa preparation.
You can increase or decrease the amount of sugar as per taste.
---