Rava Kesari
Semolina Halwa
हिन्दी में पढ़ें
Rava Kesari- Rava is a Hindi word for semolina and Kesar is the word for saffron. This is a sweet halwa preparation made with semolina and saffron. There are different recipes of making semolina halwa in different regions of India. My Gujarati friends make semolina halwa in milk, in North India semolina is roasted until golden brown, while rava kesari is cooked with saffron. Rava kesari also known as kesari bhaat is a perfect dessert for the occasion of Basant Panchami. Try this awesome dish and please do share your thoughts. Shuchi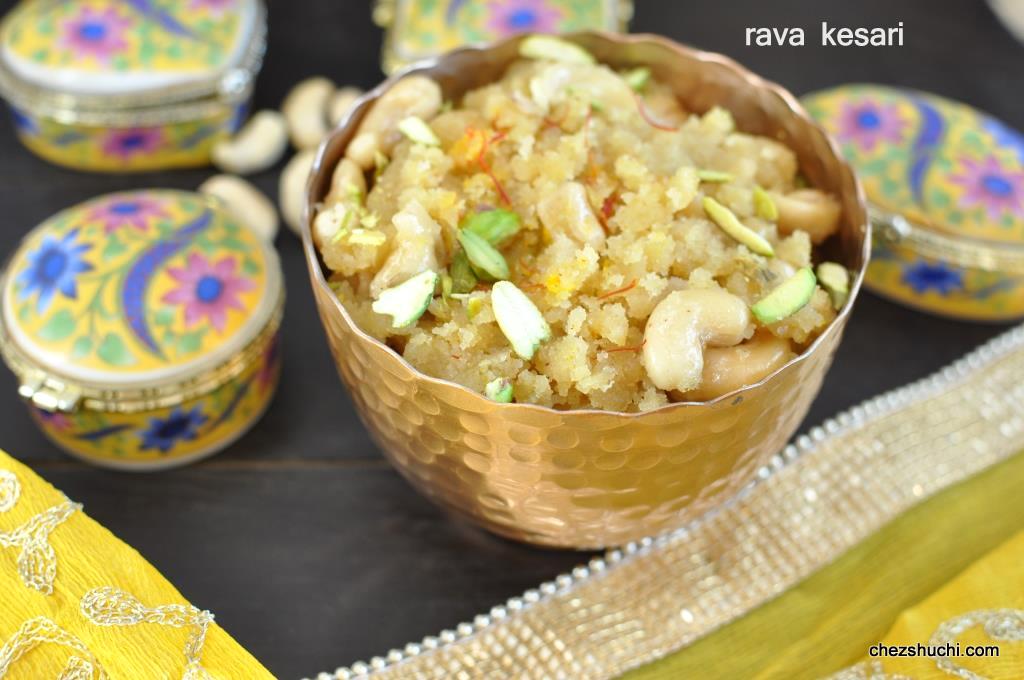 Preparation Time: 2 minutes
cooking time: 15 minutes
Approximately 350 calories in each serving
Ingredients (serves 4)
Semolina ½ cup
Cashew nuts ¼
Sugar about ½ cup
Water 1¼ cups
Green cardamoms 4
Milk 2 tbsps
Slivered pistachio 1 tbsp
Saffron (Amazon link for Organic Saffron) threads 12-14/ ¼ tsp
Ghee about ½ cup
Method of preparation:
Remove the skin of the green cardamoms and grind the seeds in the mortar.
Soak saffron threads in 2 tablespoon lukewarm milk. keep aside.
In a wok, heat ghee. Roast semolina on medium heat for about 8 minutes. Semolina will look pink and will have a nice aroma.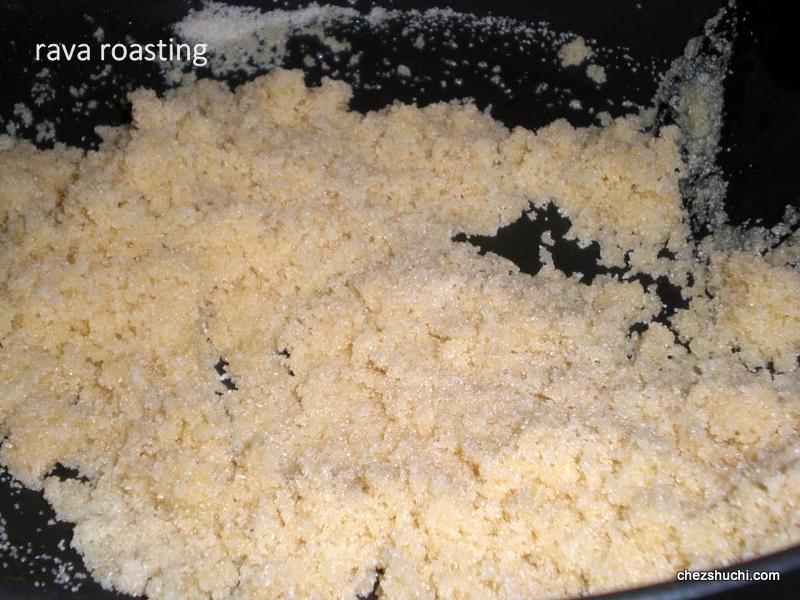 Add cashews in the semolina and roast for a minute. At this point semolina and cashew should look pink. It should not be extra roasted like sooji ka halwa. Keep roasted semolina aside.
Add about 1¼ cup water in the roasted semolina. Mix well. Let semolina cook for a couple of minutes. Add half a cup of sugar. Mix well and reduce the heat and cook until semolina is done.
Add saffron milk in the cooked semolina. Mix well and cook for a few seconds.
Add ground cardamoms. Mix well.
Delicious Rava Kesari is ready to serve. Garnish with slivered pistachios. Rava Kesari taste much better when it is served hot.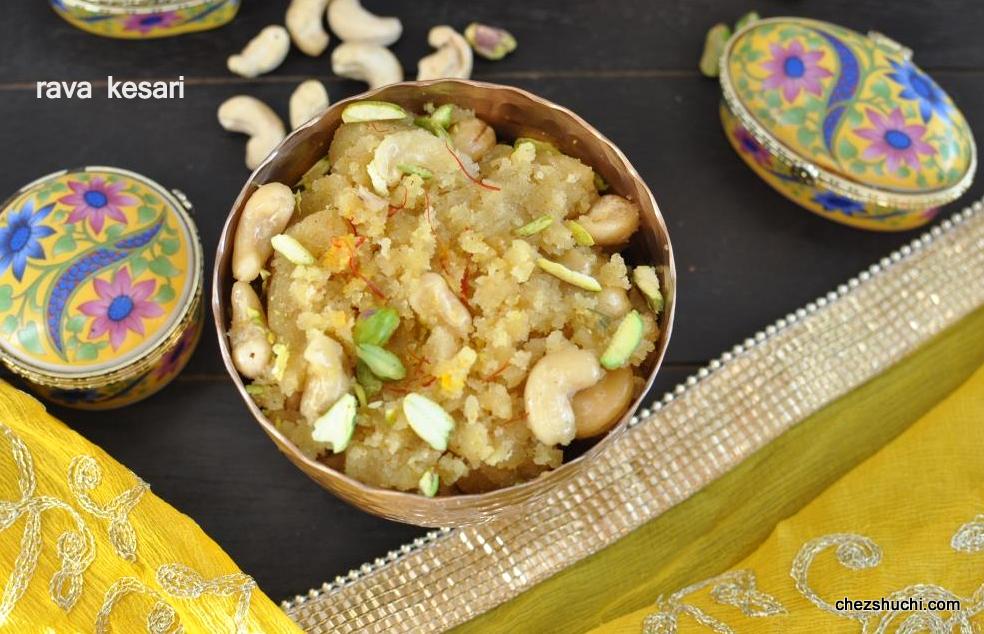 Some Tips/ Suggestions:
In traditional Indian halwa recipes, semolina, ghee, and sugar are added in the same ratio. However you can cut the amount of ghee as per taste.
I have soaked saffron in milk but you can also soak it in water if you have any dietary restrictions.
Buckwheat and Almond Halwa\ Kuttu Badam Halwa

Buckwheat and Almond halwa is a delicious, nutritious and gluten-free dessert. Despite its name, buckwheat is not a grain, it is a heart-healthy, gluten-free seed that is also a rich antioxidant and a good source of carbohydrates. Buckwheat is rich in iron, magnesium, potassium, vitamins, and dietary fibers. It is a great choice for weight-watchers....

Makai ka halwa/ corn pudding

This is an easy to make delicious sweet corn Halwa. The word Halwa has come from the Arab culture, and is used for a special kind of desserts, which are usually cooked in pure ghee (clarified butter) with water/milk. There is a large variety of halwas made in India- Gajar ka halwa...
---