Makai Halwa
(Sweet Corn pudding)
हिन्दी में पढ़ें
This is an easy to make delicious sweet corn Halwa. The word Halwa has come from the Arab culture, and is used for a special kind of desserts, which are usually cooked in pure ghee (clarified butter) with water/milk. There is a large variety of halwas made in India- Gajar ka halwa, Moong dal halwa, Aate ka halwa etc...My brother who lives in Gujarat, visited us recently and told us about makai halwa which is very popular in Gujarat and Rajasthan. On his and my bhabhi's (sister in law) advice I tried this Halwa. Here is the recipe for my readers. Please do share your comments...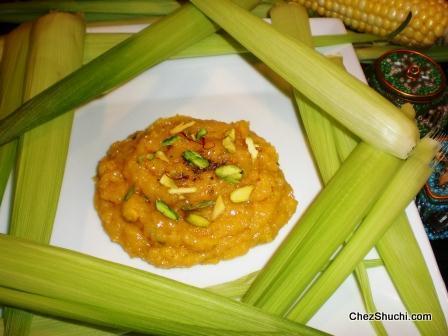 Ingredients

(serves 4)
3-4 Tbsp ghee (clarified butter)
4 Sweet corn cobs/ 1¼ cup grated corn
1 cup milk
1 Cup water
¼ Cup sugar       
1 Tbsp pistachios
4 Green cardamoms
7-8 Saffron (Amazon link for Organic Saffron) threads   
Method of preparation
Remove the outer skin and the fibres of corn. Grate the corns and keep aside.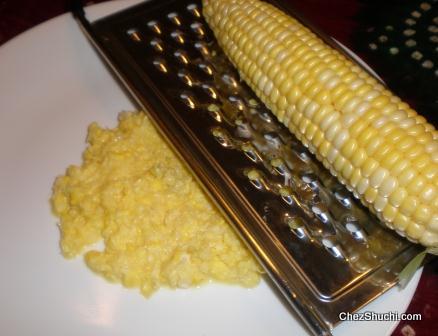 Remove the skin of the green cardamoms and grind them in the mortar.
Remove the skin and thinly slice the pistachios.
Heat the ghee in a non-stick wok on low heat. Add grated sweet corn and cook until it changes the color and nice aroma appears (takes about 15 minutes).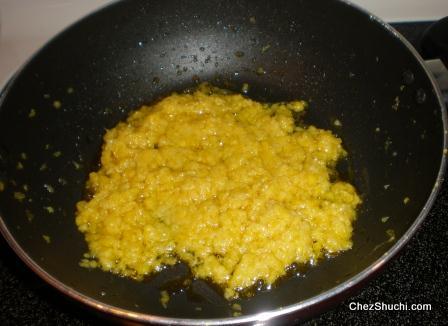 Corn after 10 minutes of frying

Add lukewarm milk and water. Cook until the liquid has evaporated (takes about 8-10 minutes).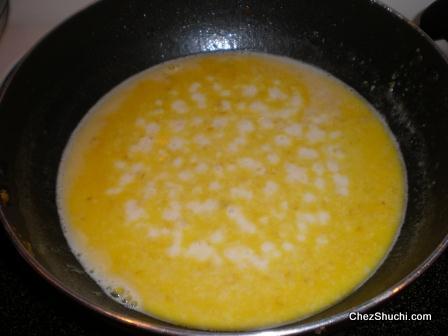 After adding milk
Add sugar and mix well. Let the halwa cook until sugar is completely dissolved and the liquid has evaporated (takes about 2-4 minutes).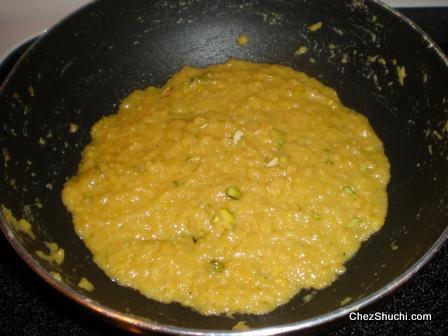 Garnish with ground cardamoms, saffron threads, and sliced pistachios. Serve hot halwa.
Some Tips
Some other nuts can also be added as per taste.
Use organic sugar to make a healthier version of makai ka halwa.
---