Lauki Ka Halwa
( Bottle Gourd Pudding)
हिन्दी में पढ़ें
Lauki ka halwa is a very popular and traditional dessert, made all over India. Lauki or bottle gourd is a vegetable which is eaten in many of the families in the days of fasting. There are so many different ways to make lauki ka halwa...I have realized this is the best liked recipe of Lauki ka halwa... So here we are....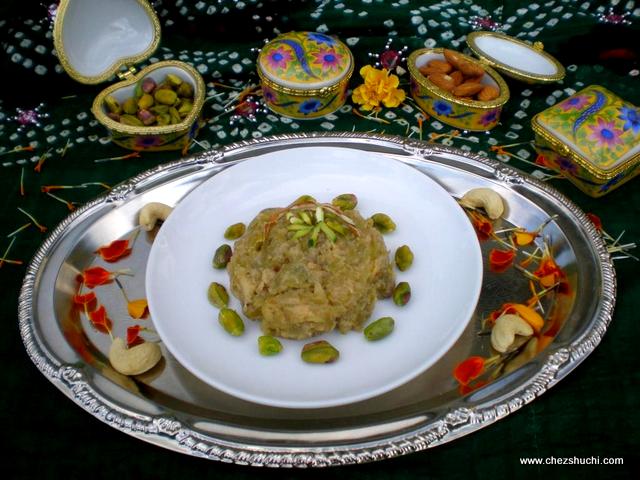 Ingredients

(serves 4)
3 Tbsp Ghee
500 gms/ 1 medium Lauki (bottle gourd)
1 Tbsp Pistachio
8 Almonds
8 Cashew nuts
1/3 Cup sugar
1/3 Cup khoya/ mawa (thickened milk)
2 Green cardamoms


Method of preparation
Remove the stem; peel, wash and grate the lauki. Remove the seeds if there are any.
Remove the outer green cover of the cardamoms and grind them in the mortar.
Thinly slice almonds, pistachio, and cashew nuts.
In a wok heat ghee. Add grated lauki and sauté for about 15 minutes on medium heat.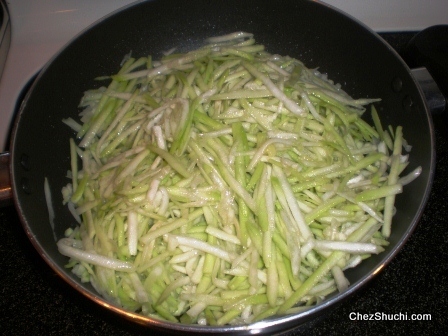 first look of grated lauki
After about 15 minutes lauki will be cooked and softened and will be reduced to half of the original quantity.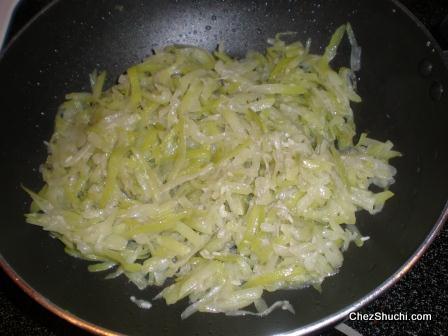 lauki after about 15 minutes of cooking
Now add sugar and sliced nuts (almonds, pistachio, and cashew nuts). Mix well and cook until the water left by sugar has evaporated, takes about 5 minutes.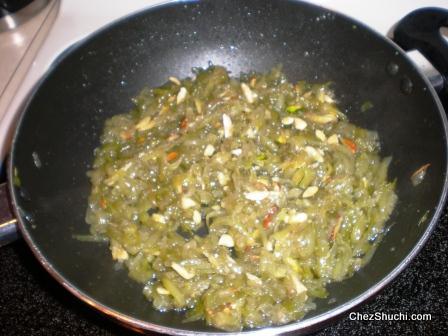 Grate the khoya. Add grated khoya in the lauki ka halwa. Cook for another minute.
Add cardamom powder.
Delicious lauki ka halwa is ready to serve.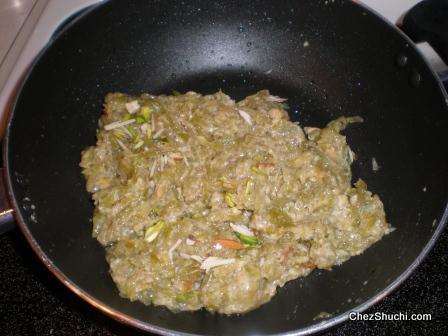 Tips/ Some Suggestions
Lauki ka halwa tastes good even without khoya so you can make it without khoya also, if you wish to.
---