Moong Dal Halwa
हिन्दी में पढ़ें
Halwas are special kind of Indian desserts. In India, there is a large variety of halwas made. It can be a vegetable halwa like gajar ka halwa, lauki ka halwa, potato halwa etc. Halwas are also made with different flours, lentils and fruits etc. For example, aate ka halwa, moong dal halwa, pineapple halwa etc. Here we are making moong dal halwa with by using a simple and easy recipe. Moong dal halwa is a very traditional Indian dessert made on special occasions. I have used dry, coarsely ground moong dal to make the halwa. It cuts the amount of time needed for frying the lentils. The amount of ghee is also lower compared to the traditional recipe. So try this exotic dish and let me know your valuable comments. Happy Cooking, Shuchi.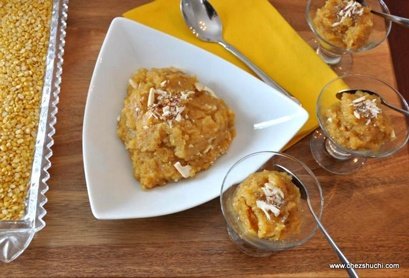 Ingredients

(serves 6-8)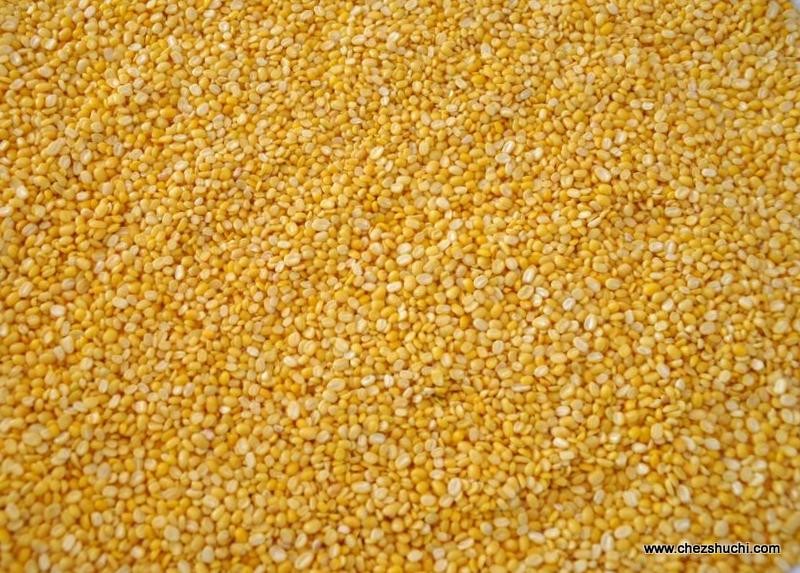 yellow moong dal 1 cup
Ghee ½ cup
Sugar   1 cup
Water 1½ cups
Milk 1½ cups
Slivered almonds 2-3 tbsp
Saffron (Amazon link for Organic Saffron) a few threads (optional)
Method of preparation
Clean and wash the moong dal. Leave it on sieve to remove the extra water. Spread it on a clean cloth to dry the moong dal.
Coarsely grind the dry moong dal.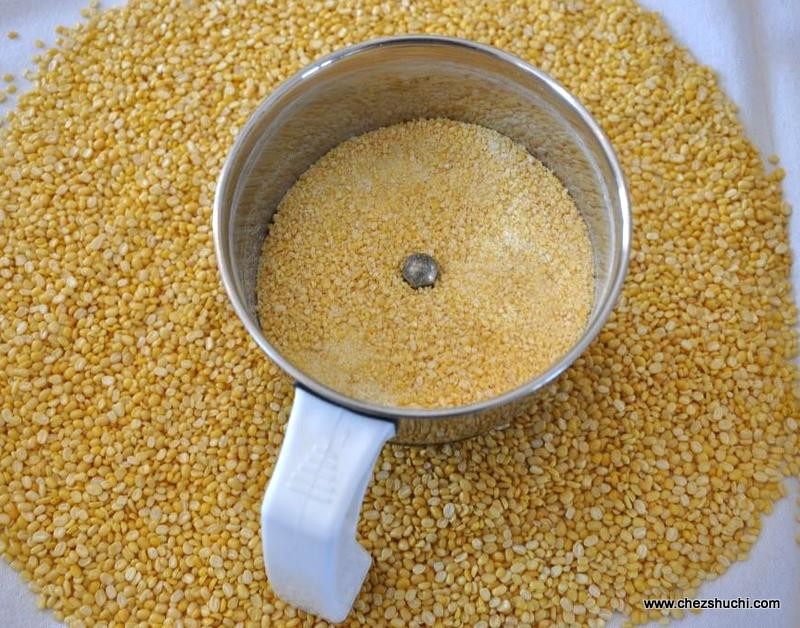 Coarsely ground moong dal
In a pan/skillet heat the ghee. Add coarsely ground moong dal and fry on medium to low heat until it changes color and is aromatic. It takes about 7-8 minutes to fry the doong dal..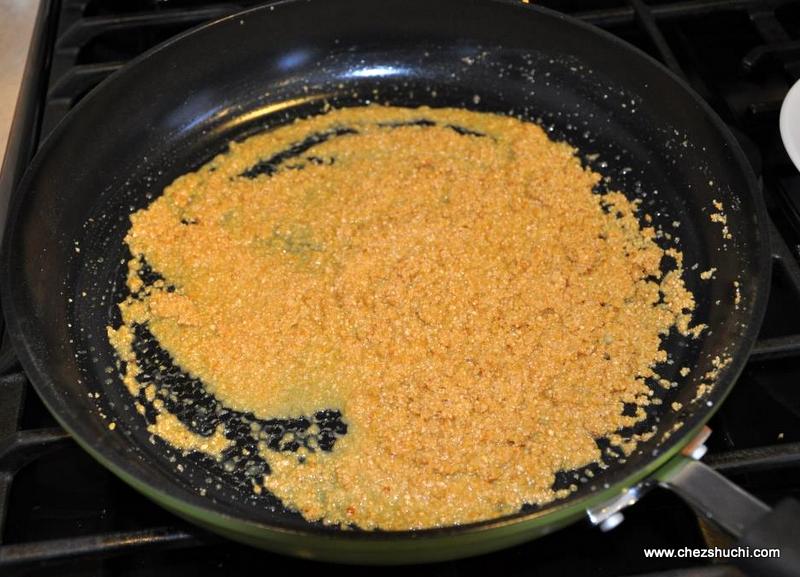 Fried moong dal
Add about 1½ cups of water and the lentils for about 5-6 minutes or until the lentils absorb the water. Add about 1½ cups of warm milk.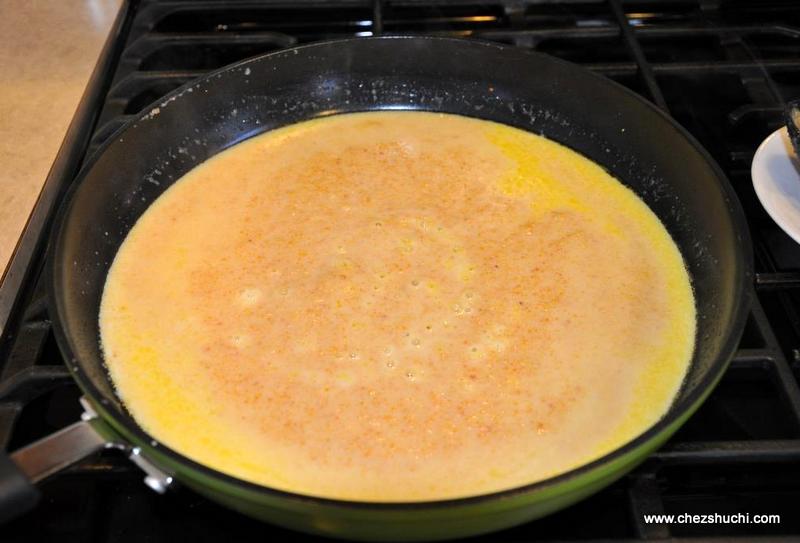 After adding milk in fried lentils
Cook moong dal until dal is cooked properly. It takes about 10-12 minutes to cook the lentils. Fry on medium heat until it absorbs all the milk.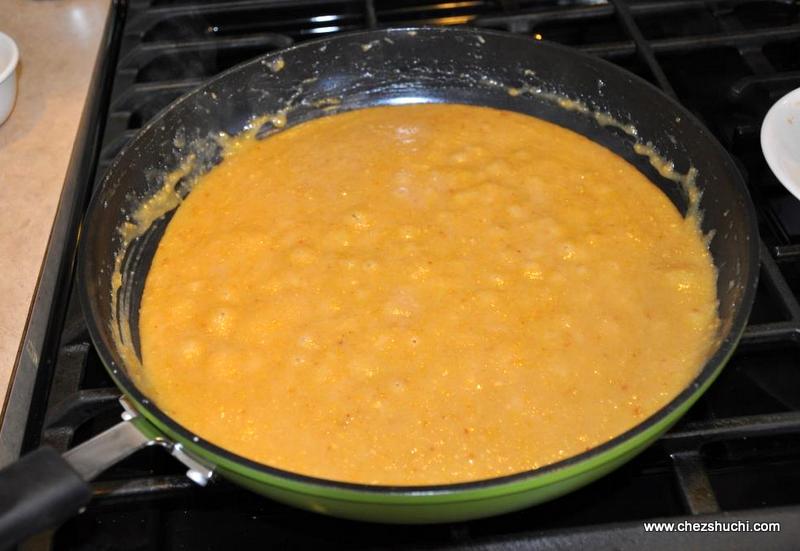 Lentil paste after 20 minutes of frying
Moong dal is almost done. Add sugar into the cooked dal. Cook until the water left by the sugar evaporates. Takes about 5 minutes.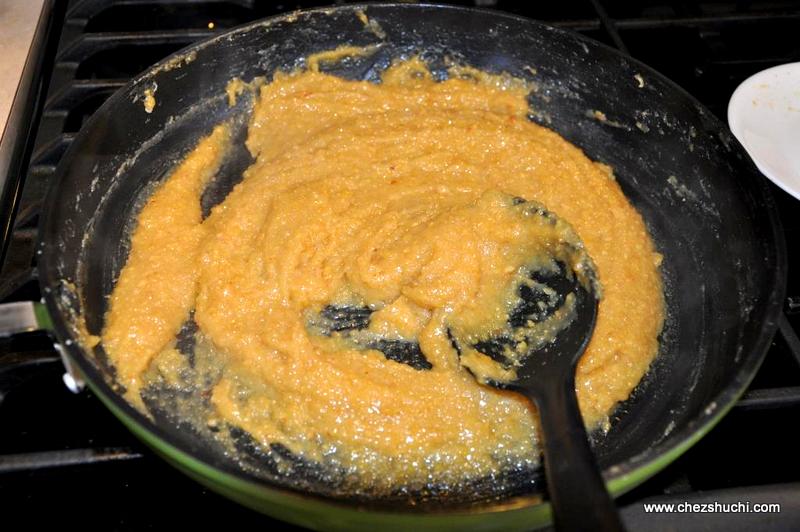 After adding sugar in milk cooked dal
Moong dal Halwa is ready. Garnish with sliverd almonds and crushed saffron.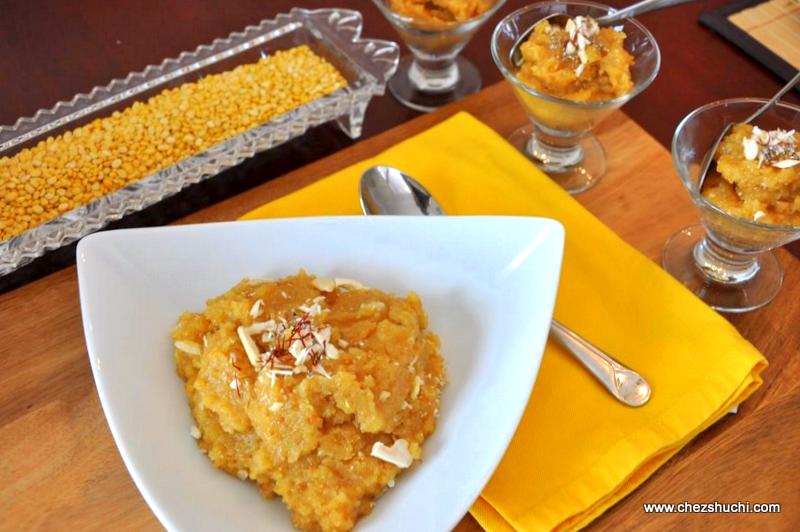 Delicious and traditional moong dal halwa is ready to serve.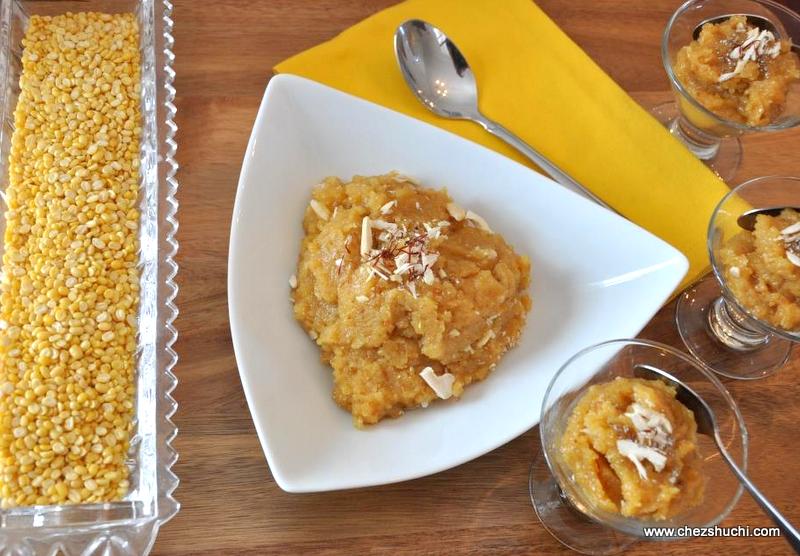 Some Suggestions and Tips:
I have used dry grind moong dal in this recipe. It is quicker to make halwa with dry ground dal.
You can also soak moong dal and make moong dal halwa with dal paste. It takes a little longer to fry the moong dal paste.
You can also use khoya/mawa in this halwa, in that case cut the amount of milk and use water to cook the dal.
You can also use some other nuts in this preparation.
Traditionaly the amount of moong dal and ghee is equal, but I have used half of ghee in compare to dal. However you can increase or decrease the amount of ghee as per your taste.
Some other Halwa Recipes:
---