Moong Dal Halwa
हिन्दी में पढ़ें
Halwas are special kind of ghee (clarified butter) based desserts. The word Halwa has come from the Arab culture. In India, there are a large variety of halwas - Gajar ka halwa, Moong dal halwa, Aate ka halwa etc.... Moong dal halwa is a very traditional Indian dessert made on special occasions. In my family there is a tradition to make Moong dal halwa for Diwali. This is my mother's recipe and infact she made it for us this time. I am really thankful to her since she let me take the pictures as well….. So try this exotic dish and let me know your valuable comments…..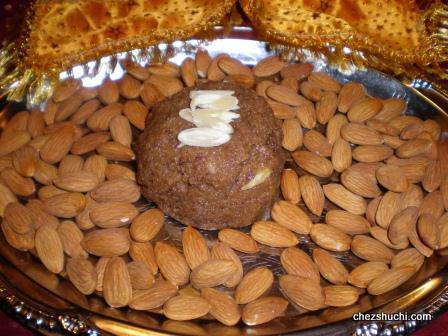 Ingredients

(serves 8-10)
Yellow Moong dal 1 cup
Ghee ½ cup
Sugar   1 cup
Water 1½ cup
Milk 1½ cup
Slivered almonds 2-3 tbsp
Chiraunji  2 tbsp
Method of preparation
Clean and wash the moong dal. Soak the lentils in 3 cups of water for about 4 hours.
Grind the soaked lentils in the grinder with a little water in a fine paste.
Heat the ghee in a non stick wok. Add moong dal paste  and fry on high heat for two minutes. I have used a non stick wok because lentil paste is sticky - so if you use an iron wok (kadhai) the lentil paste will be difficult to fry and you will have to add more ghee.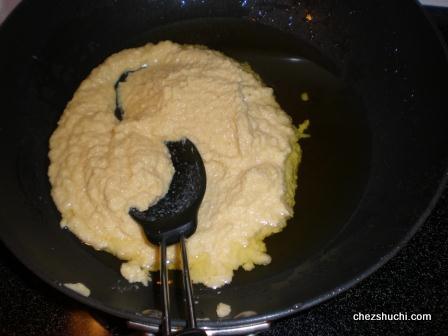 First look of lentils after adding in ghee
Reduce the heat and fry the moong dal paste on medium heat until you smell a nice aroma or see ghee come up. Stir continuously. (takes around 25-30 minutes).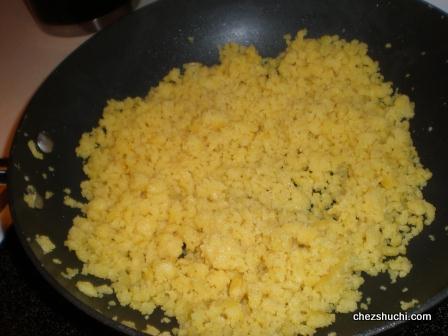 lentil paste after 10 minutes of frying
Following picture shows the color of moong dal paste after about 20 minutes of frying..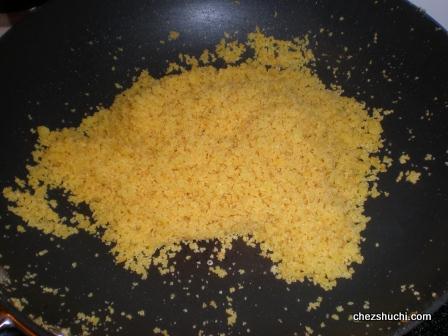 lentil paste after 20 minutes of frying
Moong dal is done after about 25-30 minutes of frying. The picture below shows that the paste is golden brown in color and looks like granules.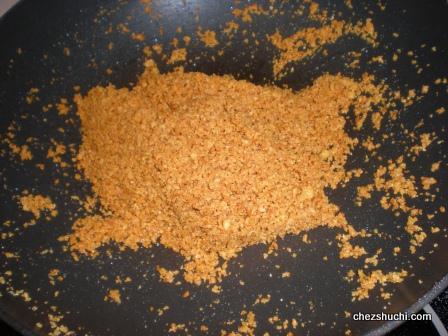 lentil is done
Now add lukewarm water and milk in the fried paste. Take a boil on high heat.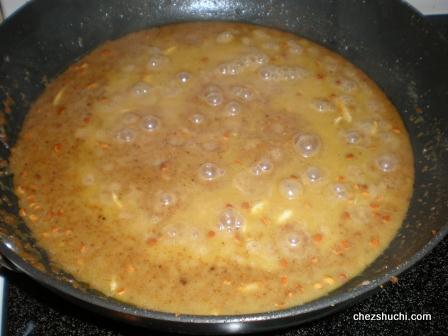 Look of lentils after adding water and milk
Now reduce the heat. Add almonds and chiraunji, and cook the fried lentils in milk and water.
It takes about 15-18 minutes to cook the lentils - they should get tender.
Now it is the time to add sugar. Cook until the water left by sugar evaporates. Takes about 5 minutes.
After adding the sugar in the moong dal halwa
Now turn off the heat. Delicious and traditional moong dal halwa is ready to serve.
Some Tips
Traditionally in the preparation of moong dal halwa the ratio of moong dal and pure ghee should be similar. Use of non stick wok helps cut the amount of ghee.
If you want you can also use dried moong dal powder instead of lentil paste to cut the amount of work.
You can also use khoya/ mawa in this halwa, in that case cut the amount of milk.
---