Shahi Tukda/Toast
हिन्दी में पढ़ें
Shahi tukda/ toast or Royal Toast is a rich dessert delicacy, made with deep fried bread, soaked in sugar syrup, and then topped with rabri (thickened milk) and dry fruits. This delicacy has Nawabi influence and since I am also from the city of Nawabs, I just love it. Try this Shahi Tukda on this Diwali.....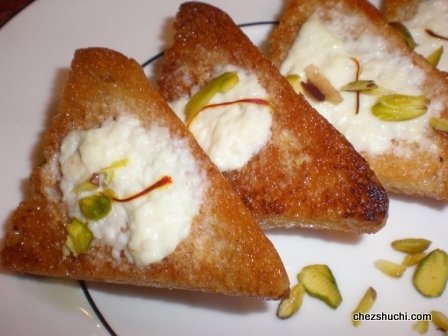 Ingredients

(makes 16 pieces)
For sugar syrup:
For thickened milk (rabri):
Method of preparation
Cut the bread pieces diagonally twice to get four pieces from each bread.
Heat a non stick flat pan and toast the bread pieces without using any butter or ghee ( takes 2-3 minutes on low heat to make crisp toast). Keep aside.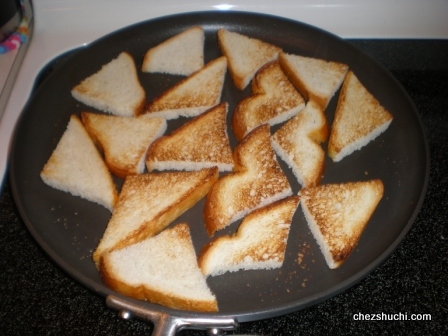 Remove the skin of the green cardamoms and ground them in the mortar.
Thinly slice the pistachios.
Boil the milk, after the first boil reduce the heat and evaporate the milk till you get the thick milk like rabri.This process takes about 15-20 minutes. Stir after every 4-5 minutes. Turn off the heat . Let it cool down.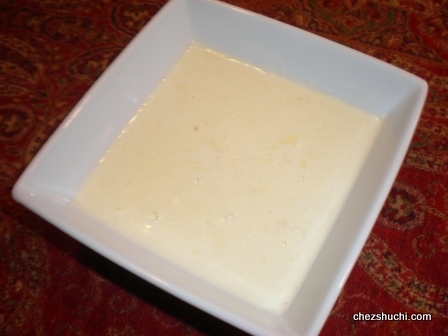 thickened milk
In another pan boil sugar and water to make sugar syrup. After the first boil, reduce the heat and let the syrup boil for 7-8 minutes. We need one string sugar syrup for this delicacy. Add ground cardamoms.
sugar syrup
Heat ghee in a pan and deep fry the toasts on medium heat from both the sides (takes about 30 seconds). Drain out the toasts on the kitchen paper. Keep aside.
At the time of serving dip the toast in the lukewarm sugar syrup for 30 seconds. Take them out. Set the tukras/toasts in the serving dish top with evaporated  milk (rabri), and garnish with saffron threads and sliced pistachio.
All time favorite Royal tukdas/toasts are ready to serve.
My sugar syrup is very dark brown in color as I have used brown sugar.
We have fried bread toasts (and not the bread pieces directly) so that they do not absorb too much ghee.
Do not soak the fried breads in sugar syrup in advance, they'll get soggy.
Do not over fry the toasts as they burn fast.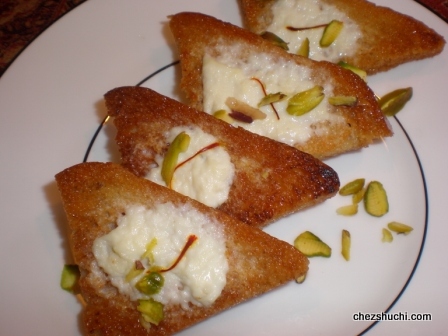 ---