Shahi Phirni
(Royal Rice Pudding)
हिन्दी में पढ़ें
Phirni/ Firnee is made with ground rice cooked in milk. This is a very festive sweet made all over India. Phirni is very similar to Kheer(made with whole rice) but much quicker to make. So lets make this traditional sweet on the ocassion of Eid....As always please keep writing your comments..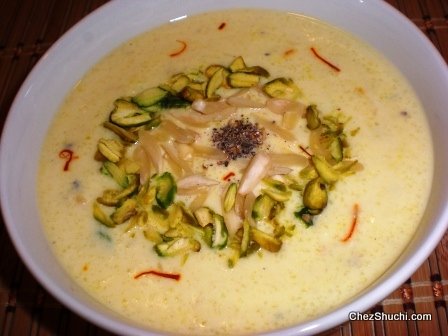 Ingredients

(Serves 4)
Method of preparation
Clean, wash, and soak the rice in half cup water for 20 minutes. Drain the rice in a colander. Coarsely grind the rice. I have used coffee grinder to grind the rice without adding water. Make sure that rice is coarse.
Blance, and thinly slice the pistachio, and almonds.
Remove the green skin of the cardamoms and grind the seeds in he mortar.
Soak saffron threads in one table spoon of lukewarm milk. Keep aside.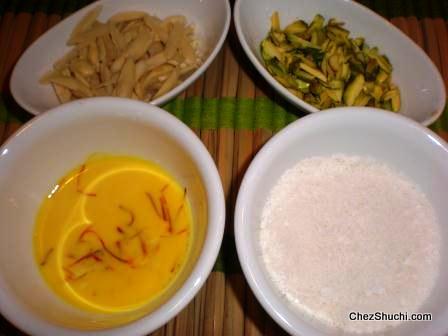 Ground rice, saffron soaked in milk, sliced almonds and pistachio
In a pan/wok add milk, and bring it to a boil, after the first boil reduce the heat and add coarse rice. Stir well. Cook until rice is completely cooked. It takes about 8 minutes to cook the rice. Keep stirring the mixture.
Now add half of the sliced almonds, and pistachio, and sugar, mix well and cook for another minute.Turn off the heat.
Add saffron milk and ground cardamom .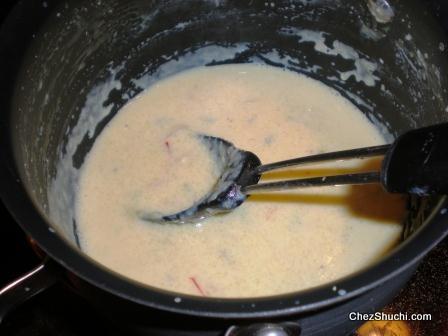 Phirni is ready. Let it cool. Keep phirni in the refrigerator for an hour . Garnish with remaining slivered almonds, and pistachio.
---