Dahi ke Aloo
हिन्दी में पढ़ें
Dahi (दही) is a Hindi word for yogurt or curd. It is one of the best sources of calcium and is also rich in protein. In India, in many households yogurt is made fresh everyday. Dahi ke Aloo or Potatoes in Yogurt is an easy to make yummy preparation. It is also prepared during fasting days. Yogurt is a good coolant and helps in the digestion of other fasting preparations made out of buckwheat or singhara(water chest nut) flour.
In this preparation you can use black pepper, red chili powder or green chilies for fasting. Please check with your elders in the family about the chilies allowed in your family. Try this quick potato-and-yogurt delicacy and do share your valuable comments. Happy cooking, Shuchi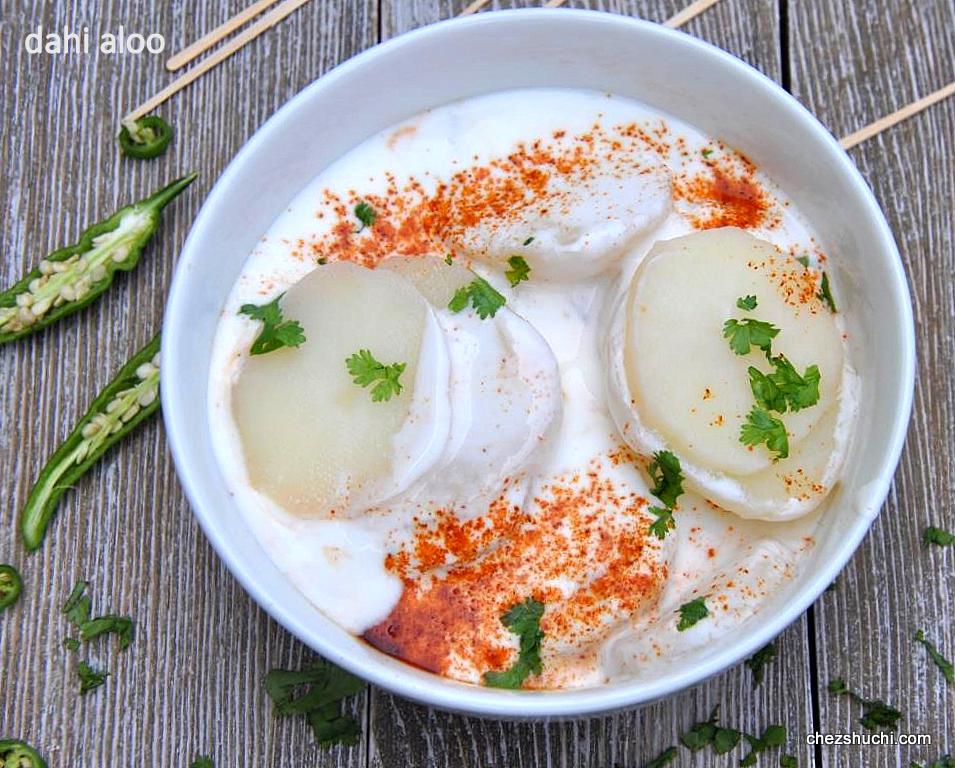 Preparation Time: 5 minutes
cooking time: 0 minutes
Approximately 150 calories in each serving
Ingredients (Serves 4)
Boiled potatoes 5 medium
Yogurt(dahi)  500 gms
Rock Salt (Sendha Namak Amazon Link)  1½ tsp
Green chilies 2
Red chili powder/Black pepper ¼ tsp
Chopped coriander leaves 2 tsp for garnishing
Method of Preparation
Peel the boiled potatoes and cut them into circles or in desired shape.
Wash, remove the stem, and finely chop the green chilies.
Whisk yogurt. Add salt. Add potato pieces. Coat the potato pieces with yogurt.
Add chopped green chilies and, red chili powder or black pepper. Mix well.
Garnish with coriander leaves.
Delicious Dahi ke Aloo are ready to serve.
Serve with kutu ke cheele or Singhare ke cheele.
Some Suggestions and Tips-
Every family has its own traditions and list of restrictions for fasting. Please check with your elders if red chilies are ok in your family for fasting, elase use black pepper.
Variation: Dahi ke Aloo can be served as accompaniment with regular meal; top with sev or some other crispies.
Dahi ke Aloo is a perfect dish for even non fasting days.
---