Cucumber Potato and Peanut Salad
हिन्दी में पढ़ें
Cucumber, potato and peanut salad is specially made for days of fasting and is full of nutrients. Cucumbers are available all around the year and they are coolants, delicious and healthy. Cucumber is usually eaten in most of the families on days of fasting; it is 90% water and is a good option for fasting. In this recipe, cucumber is paired with potato which is high in carbohydrate, and it also has peanuts which is good source of protein. This salad is light, tasty,healthy and it is completely vegan. It is also very easy and quick to make. Enjoy cucumber potato salad with kuttu (buckwheat Amazon link) bread or with any dish of your taste. Try this recipe and please do share your comments. Happy fasting, Shuchi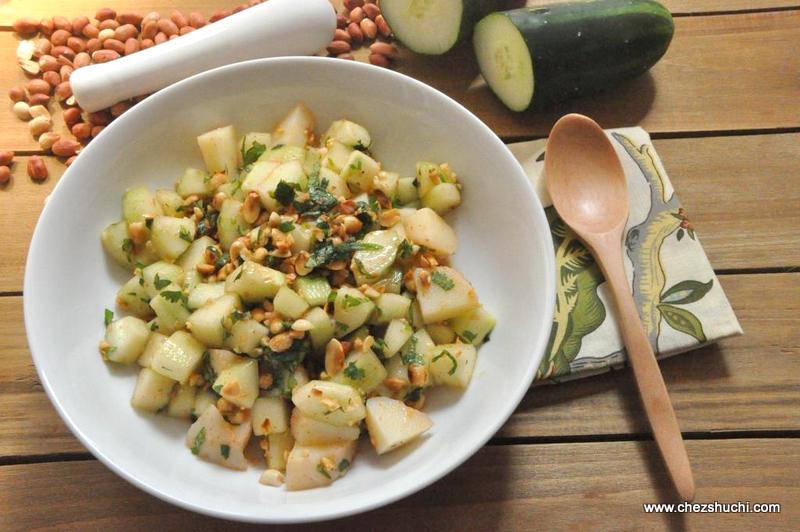 Ingredients (serves 4)
4 medium cucumber
4 medium boiled Potatoes
2-4 green chilies
1 tsp or to taste sendha namak (rock salt)
2 tbsp lemon juice
red chili powder as per taste
1 tsp sugar/honey
2 tbsp chopped coriander leaves
Method of preparation:
Dry roast peanuts over medium heat until aromatic and brown. Turn off the heat.Break the peanuts in mortar with pestel. Remove the skin. Keep broken peanuts aside.
Wash, peel and cut the cucumber into half inch pieces.
Peel the boiled potatoes. Cut each potato into 8 pieces.
Remove the stem, wash, and finely chop the green chilies.
In a small bowl take lemon jice, sugar, salt and red chili powder. Mix it well.
In a glass bowl take cucumber pieces, potaot pieces, chopped green chilies, chopped coriander, and broken peanuts.
Pour lemon dressing on top of cucumer, potato and peanut. Mix everything well.
Delicious and cool salad is ready.
This sald is very delicious and can be served in fast.
You can serve this salad with kuttu ki poori or with vrat ke cheele.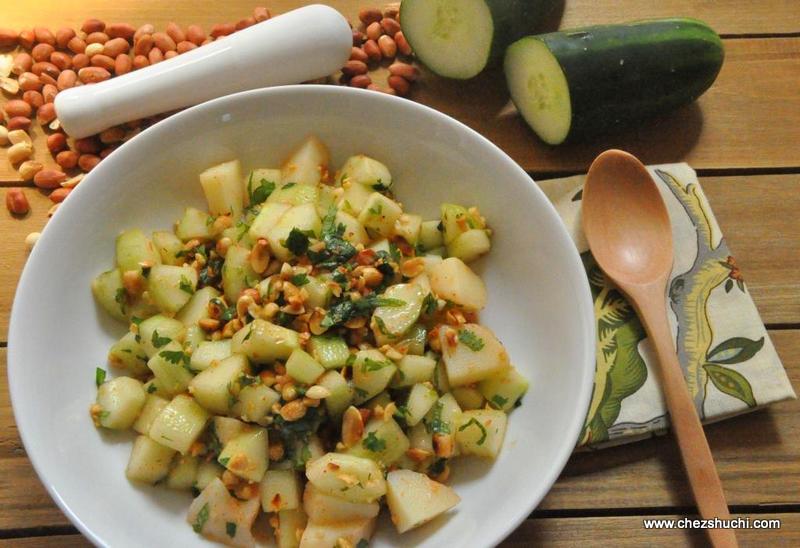 Some Tips/ Suggestions:
Following picture is of cucumbers hanging in our kitchen garden. Homegrown cucumbers ate organic and fresh. One can easily grow cucumber in small space. You can grow cucumber in pots or in the ground.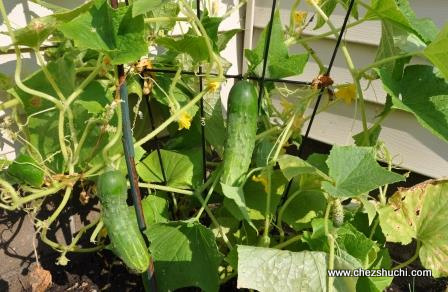 Some families also use red chili powder durig the days of fasting while others use black pepper. Please check your family traditions.
---
---