Kuttu Ki Poori
हिन्दी में पढ़ें
Kuttu is one of the grains that is considered as pure and is eaten during fasting days. There is variety of delicacies made out of kuttu ka flour. In India kuttu grain itself is available. Kuttu is very warm in tendency (tasir) and should be eaten with yogurt (dahi). Kutt ki poori is a delicious preparation and can be served with phalahari lauki or dahi ke aloo.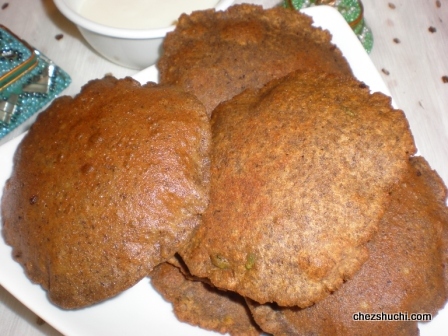 Ingredients

(makes 12)
Kuttu flour 1 cup
Boiled potato 2 small
Green chili 2-3
Sendha namak Amazon Link ¾ tsp
Water about ¼ cup
Ghee/Oil to deep fry

Method of preparation
Wash, remove the stem  and finely chop the green chilies.
Peel off the boiled potatoes and grate them.
In a bowl take Kuttu flour, grated potatoes, sendhs namak, and chopped green chilies, mix all the ingredients well. Now add little water at a time and make a stiff dough . It takes about ¼ cup water to make the dough. Rub few drops of oil around the dough to make it smooth.
Kuttu flour with other ingredients Kuttu dough
Now divide the dough into 12 equal portations. Make a round balls of the divided portions.
Now roll the ball with the help of oil/ ghee into about 3 inch (diameter) round circle.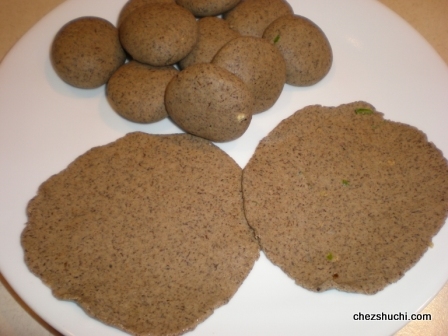 The small balls and rolled kuttu poori
Heat oil in a wok, put the rolled kuttu circle in the hot oil/ ghee. Press the poori with the help of spotted ladle and when poori puffs up, turn the side. It takes about 35 seconds to fry a poori.
Puffed kuttu poori Kuttu poori after turning the side
Drain out the kuttu poori to the kitchen paper. Repeat the process with all the kuttu balls.
Serve delicious kuttu ki poori with Dahi ke aloo or Vrat ki lauki.
click here for more Fast( vrat/ upwas) recipes
---