Kuttu ke Pakore/ Buckwheat Fritters
हिन्दी में पढ़ें
Kuttu, known as buckwheat in English, is a good source of carbohydrate and is rich in minerals, vitamins, and dietary fibers. Kuttu is gluten free so it can be a good choice for those who are allergic to gluten which is present in most of the cereals such as wheat and oat etc. Kuttu is one of the grains that is considered as pure and is eaten during fasting days. There is a variety of delicacies made with kuttu grains and flour. Kuttu ke pakore is a popular dish for fasting days. This is a delicious preparation and can be easily made in a short time. Kuttu ke pakore should be eaten with yogurt (dahi) as kuttu is considered as very warm in tendency. So let's make kuttu ke pakore (buckwheat fritters) for Navratri fasting. Please do try this delicacy and as always share your comments. Happy cooking, Shuchi .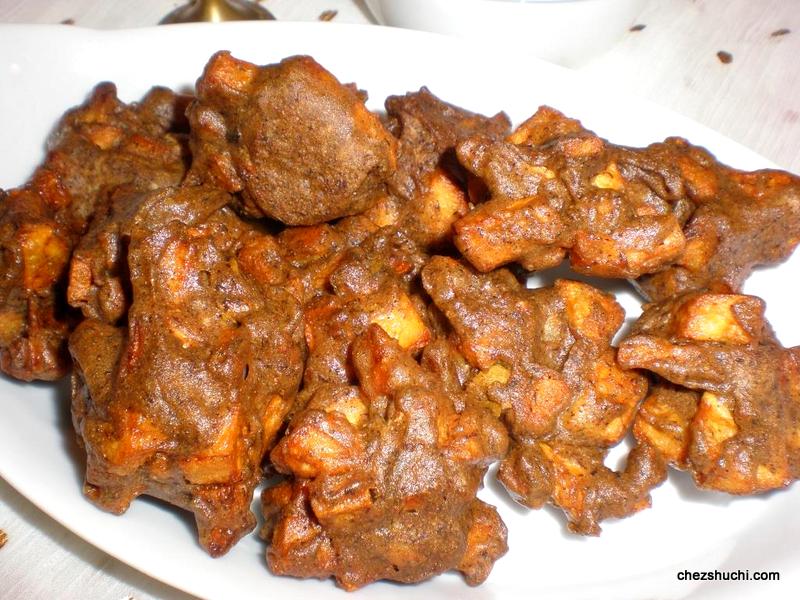 Preparation Time: 10 minutes
Cooking time: 30 minutes
Approximately 400 calories in each serving
Ingredients (serves 4)
Kuttu flour 1 cup
Potatoes 3-4 medium
Green chili 5-6
Rock Salt (Sendha namak Amazon Link) 1 ½ tsp
Water about ¼ cup
Ghee/oil for deep frying
Method of preparation
Wash, remove the stem  and finely chop the green chilies.
Peel, wash and and finely chop the potatoes. Wash chopped potatoes thoroughly and leave them on the sieve/colander for 2-3 minutes to remove the extra water.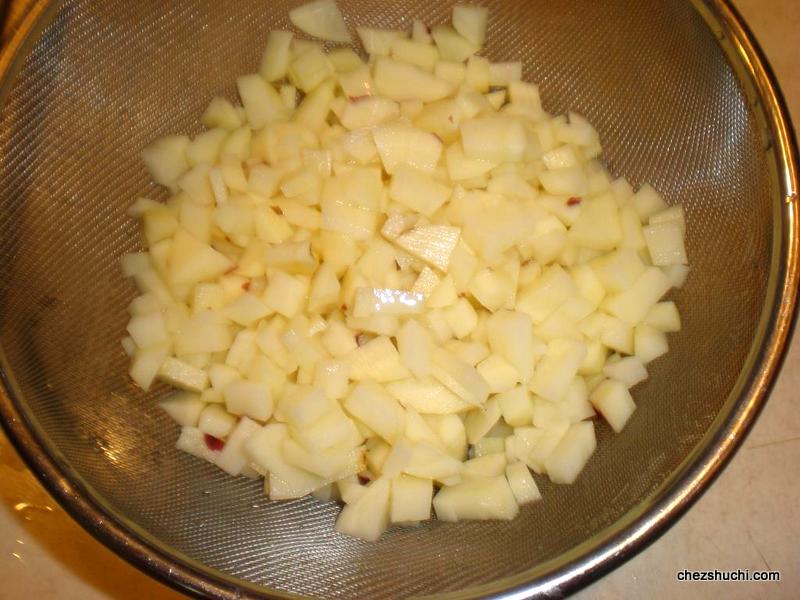 chopped potatoes
In a bowl take chopped potatoes, rock salt, chopped green chilies, and Kuttu flour, and mix well.
Now add a little water and mix well again. Potatoes should be coated/covered with the batter.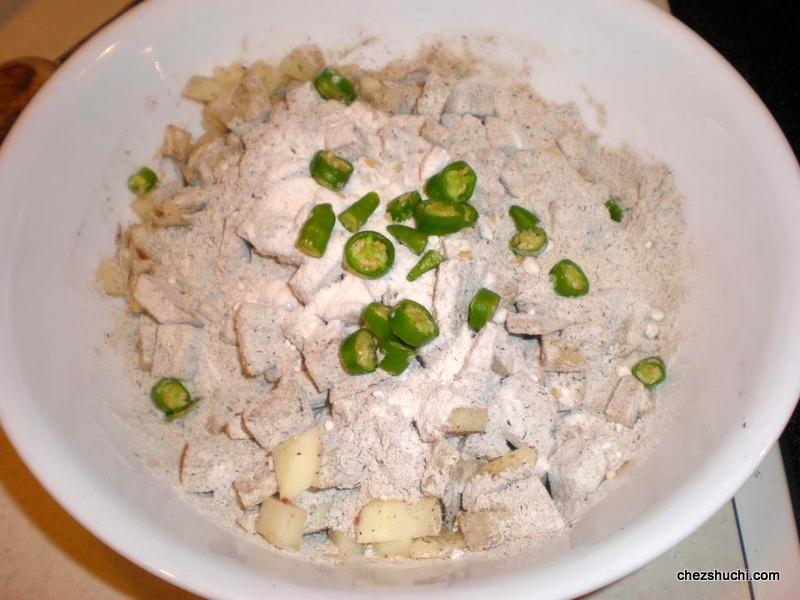 kuttu flour with other ingredients
This batter should be free flowing and it should neither be too thin nor too thick.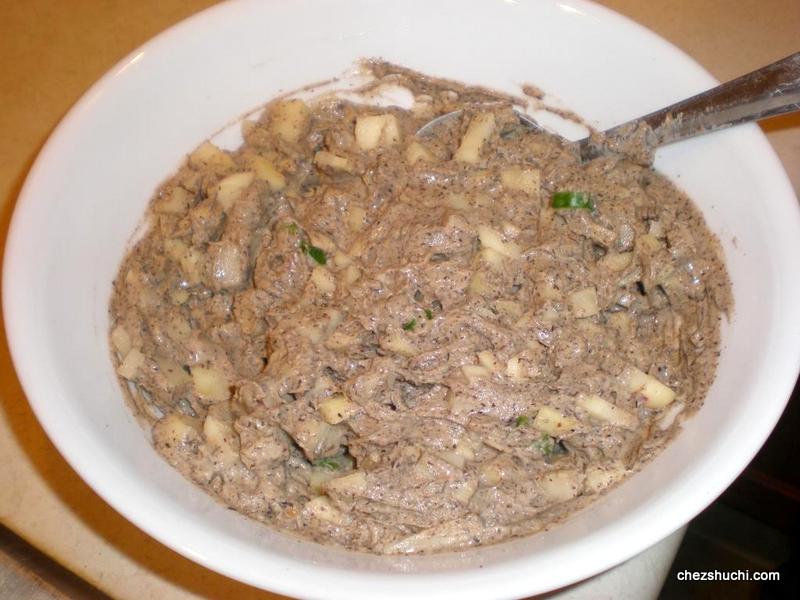 pakaudi batter
Heat ghee/oil in a frying pan on medium heat. Pour a spoon full of batter into the oil, pour 7-8 pakoras, and fry on medium heat until they are reddish brown in color. It takes about 8-10 minutes to fry each round.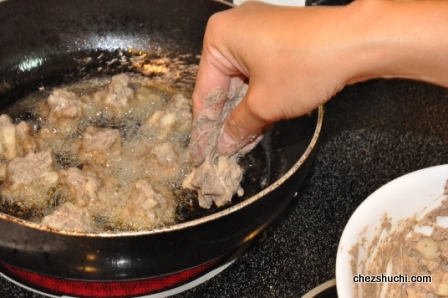 pakori pouring in hot oil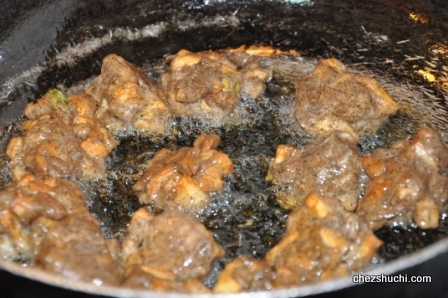 kuttu pakori frying
Drain them to the kitchen towel.
Deep fry all the pakaudas (fritters) in the hot oil like step 5.
Serve hot Kuttu pakoras with plain yogurt. You can also serve pakaudi with vrat ke chutney.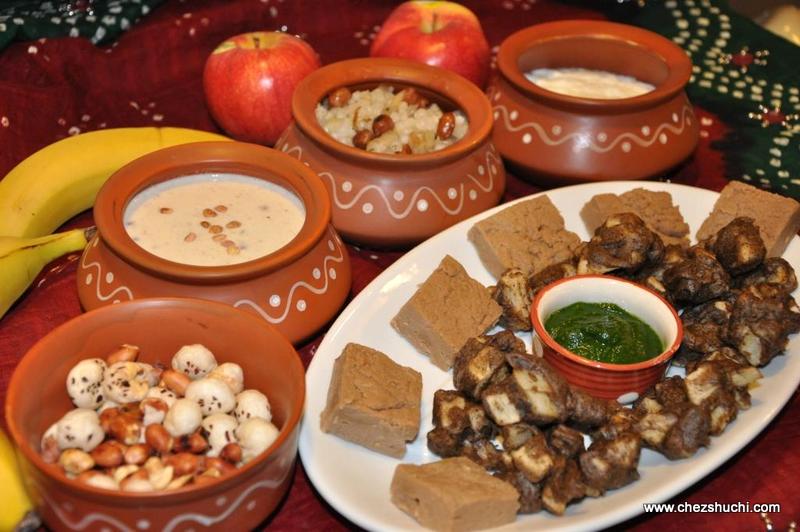 Some Tips/ Suggestions:
Add a little water at a time to make sure that batter is not runny.
You can also use water chestnut flour (singhara fluor) instead of kuttu flour for these pakaudis. Water chestnut is also eaten for fasting.
Kuttu/ buckwheat is gluten free so it is a good choice for those who have gluten allergy.
---