Phalahari Thalipeeth
हिन्दी में पढ़ें
Thalipeeth is a very popular variety of Maharashtrian Bread. It is a savory preparation and it looks like a pancake. Here we are making a Phalahari (fast special) version of Thalipeeth. This is a hearty, healthy and easy to make dish for fast. I have used soaked sago (sabudana), water chestnut (singhoda) flour, and boiled potatoes along with flavorings to make this delicacy. Phalahari Thalipeeth can be served with cucumber raita, and phalahari chutney. You can make a variations of this thalipeeth by replacing boiled and mashed potato with, sweet potato, or raw banana etc. All these ingredients are used in fast in India. Please try this recipe and as always do share your comments. Happy fasting, Shuchi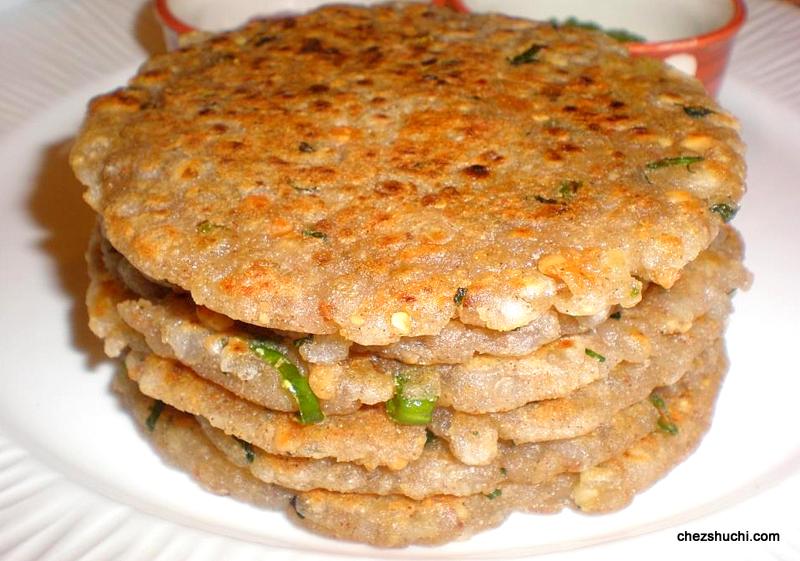 Preparation Time: 10 minutes
Cooking time: 20 minutes
Approximately 100 calories in each thalipeeth
Ingredients (makes 10 Thalipeeth)
Sabudana ½ cups
Water about 1 cup
Boiled potatoes 2 medium
Water chestnut flour (singhade ka aata) about 1/3 cup
Roasted peanuts 4 tbsp
Green chilies 4-5
Sendha namak/ rock salt Amazon Link 1¼ tsp or to taste 
Chopped coriander leaves 2 tbsp
Lemon juice 1½ tsp
Dry Water chestnut flour, to roll the thalipeeth, 2 tbsp
Ghee/ Oil to cook (about 2-3 tbsp)
Method of preparation
Clean and wash the sabudana. Soak them in about 1 cup water for 2-3 hours.
After 2-3 hours sabudana granules will absorb the water and will become soft. If sabudana is still hard Add a little more water and leave it for some time. Drain out the erxtra water of sabudana if it has any.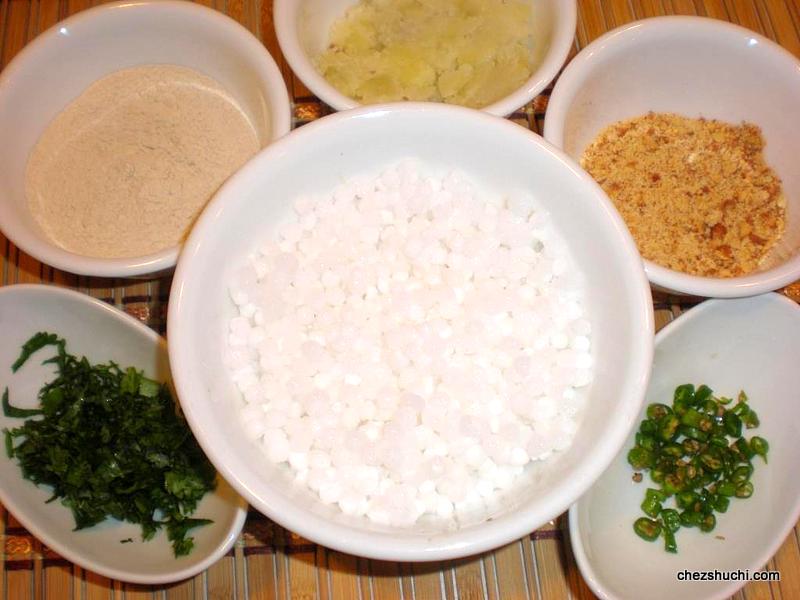 ingredients of Thalipeeth
Remove the stem of green chilies. Wash and finely chop the green chilies.
Peel the boiled potatoes and mash them thoroughly.
Crush/coarsely grind dry roasted peanuts.
In a bowl take soaked sabudana, mashed potatoes, crushed peanuts, chopped green chilies, chopped coriander leaves, water chestnut flour, and salt. Mix well all the ingredients. Now add lemon juice and mix again. Add a little more chestnut flour if needed to handle the mixture.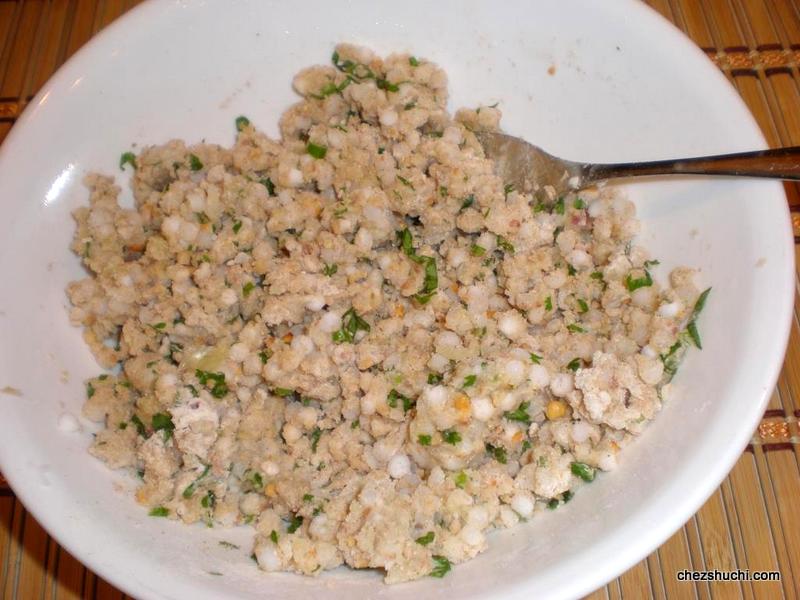 Divide the mixture into 10 portions, and make flat discs as shown in the picture below.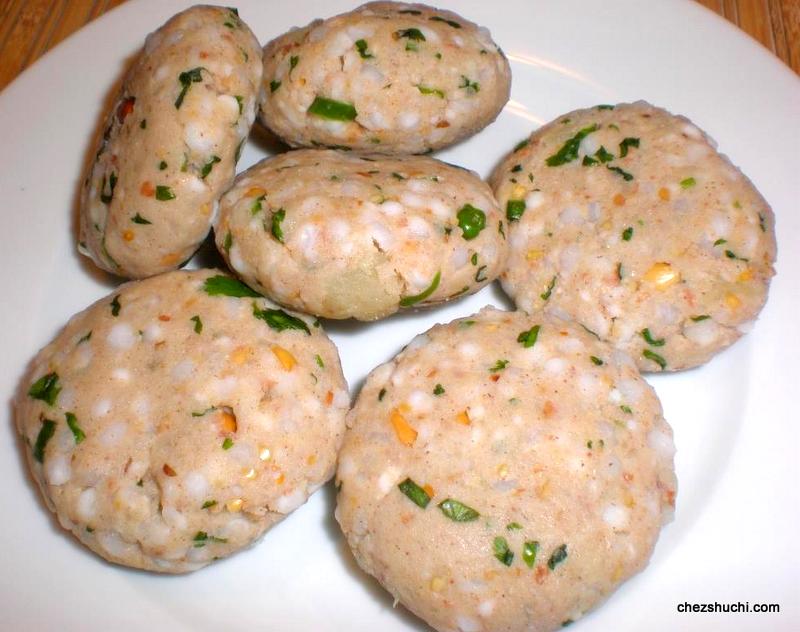 With the help of dry chestnut flour roll the disc into a 3-4 inch circle.
Heat a griddle/ shallow frying pan on medium heat. Add a little ghee/oil. Place a rolled thalippeth on the griddle. After a minute turn the side and sprinkle a little ghee and cook it on medium to low heat from both the sides until golden red in color. It takes about 3-4 minutes to cook the thalipeeth from both the side.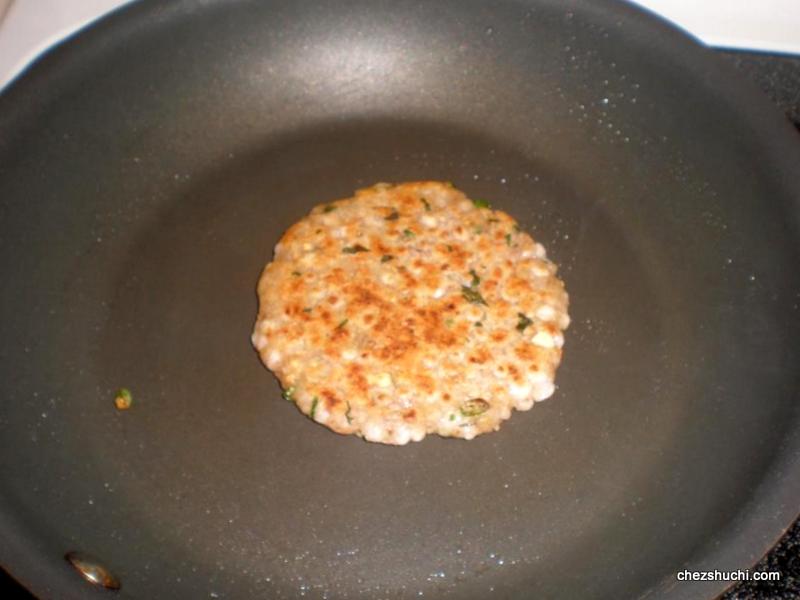 Delicious and healthy Falahari Thalipeeth are ready to serve. Serve with phalahari chutney or plain yogurt/ curds (dahi). You can also serve it with phalahari cucumber/ lauki ka raita.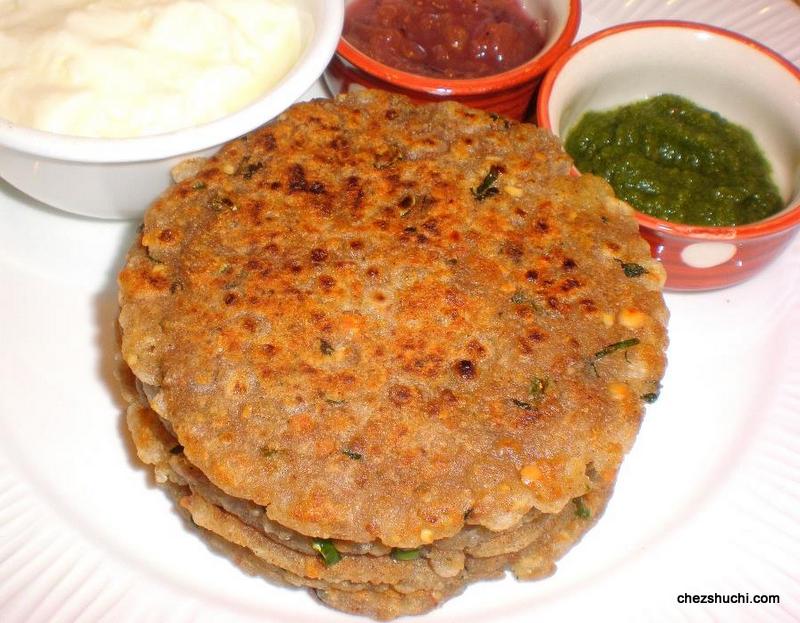 Tips/ Some suggestions:
You can also cook 2-3 thalipeeth together at a time if you have a bigger griddle.
Increase or decrease the amout of green chilies as per taste.
You can also use mashed sweet potatoes instead of regular potatoes if you wish.
You can also use buckwheat flourAmazon link(kuttu ka aata) in place of Water chestnut flour.
---