Kuttu Ke Parathe
हिन्दी में पढ़ें
Kuttu is one of the grains that is considered as pure and is eaten during fasting days. There is a variety of delicacies made out of kuttu flour. In India kuttu grain itself is available but in western world you will only get kuttu flour. Kuttu is very warm in tendency (tasir) and should be eaten with yogurt (dahi). Kuttu ke parathe are pan fried breads, that can be served with special veggies made for the days of fasting and also with preparations such as dahi ke aloo.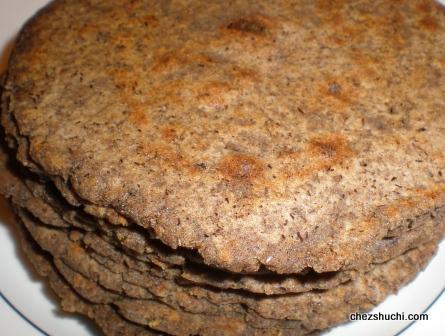 Ingredients

(makes 10)
Kuttu flour 1½ cup
Boiled potato 2 small
Green chili 2-3
Sendha namak Amazon Link ¾ tsp
Water about ½ cup
Ghee/Oil to fry the parathe
Dry kuttu flour 2 tbsp to roll the bread(paratha)

Method of preparation
Wash, remove the stem and finely chop the green chilies.
Peel off the boiled potatoes and grate them.
In a bowl take Kuttu flour, grated potatoes, sendha namak, and chopped green chilies. Mix all the ingredients well. Now add a little water at a time and make a stiff dough .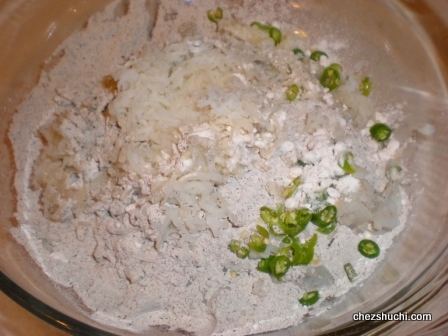 It takes about ½ cup water to make the dough. Rub few drops of oil/ghee around the dough to make it smooth. Keep the dough aside for 10 minutes.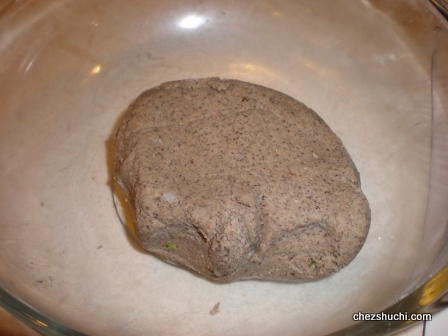 Now divide the dough into 10 equal portions. Make round balls of the divided portions.
Now roll the ball with the help of dry kuttu flour into about 3-4 inches (diameter) round circle.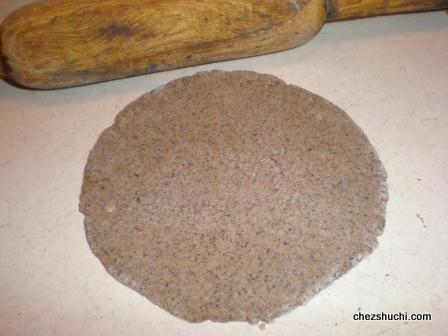 rolled kuttu paratha
Heat the griddle (tawa). Grease the griddle with a little oil and put the rolled kuttu circle on it. Turn it over when you see some red spots on the paratha; now cook from the other side. Brush the top side of the paratha with oil and turn the side. Press the sides with ladle, paratha will puff up. Cook from the other side. (takes 45 seconds)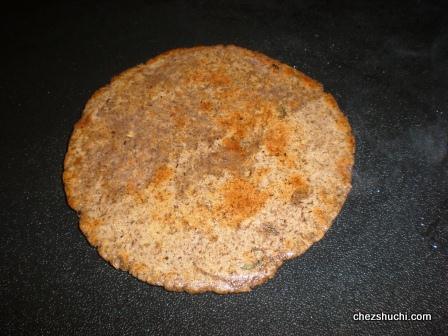 kuttu ka paratha on tawa/ flat griddle
Repeat the process with all the kuttu balls.
Serve delicious kuttu ke parathe with vrat ki subji, Dahi ke aloo or Vrat ki lauki.
Some tips/ Suggestions:
While one paratha is cooking on the griddle you can prepare the other one. It saves the time and fuel as well.
---
---
---