Phalahari Bhel
हिन्दी में पढ़ें
Phalahari bhel is a very simple combination of ingredients which are had for fasting days in India. Peanuts are good source of Protein; they are rich in magnesium, copper and iron too. Makhane (puffed eurale ferox) are rich in carbohydrate and provide instant energy. This bhel is easy to make a delicious meal option for fasting.
Note that this recipe does not contain Bhel or Layya - which is the base of bhel-puri ! Since usual grains like rice are not eaten in vrat, therefore we are making a bhel without bhel! You can add some other nuts as per taste in this bhel. Try this phalahari bhel this Navratri and please do share your comments. Happy fasting, Shuchi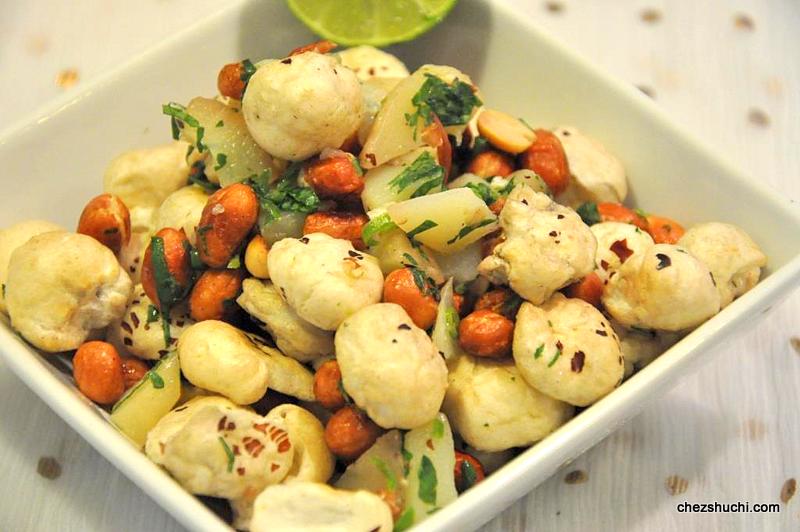 Preparation Time: 5 minutes
cooking time: 5 minutes
Approximately 300 calories in each serving
Ingredients(serves 4)
Roasted peanuts ¾ cups
Puffed euryale ferox 2 cups
Boiled Potatoes 2 medium
Sendha Namak (rock salt Amazon Link) 1 tsp
Green chilies 2
Lemon juice 1 tbsp
Chopped coriander leaves 2 tbsp
Ghee 1 tsp (optional)
Method of preparation :
Heat a pan. Add about 1 tsp ghee. Add makhane (puffed eurayle ferox ). Roast makhane until makhane are crisp. It takes about 2-3 minutes to roast makhane on medium heat. keep aside to cool down.Ghee is optional. You can dry roast makhane without ghee also. I have added ghee to make it aromatic.
Peel off the boiled potatoes, and cut them into small pieces.
Wash, remove the stem and finely chop the green chilies.
In a bowl take roasted peanuts, makhane,chopped potatoes, sendha namak (rock salt), chopped green chilies, chopped coriander leaves. Mix well all the ingredients.
Add lemon juice and mix well again.
Phalahari bhel is ready to serve. Serve immediately the crispy, phalahari bhel. You can serve this bhel with tea, coffee or lassi. Please check with the family as what drinks are allowed in your family in fast.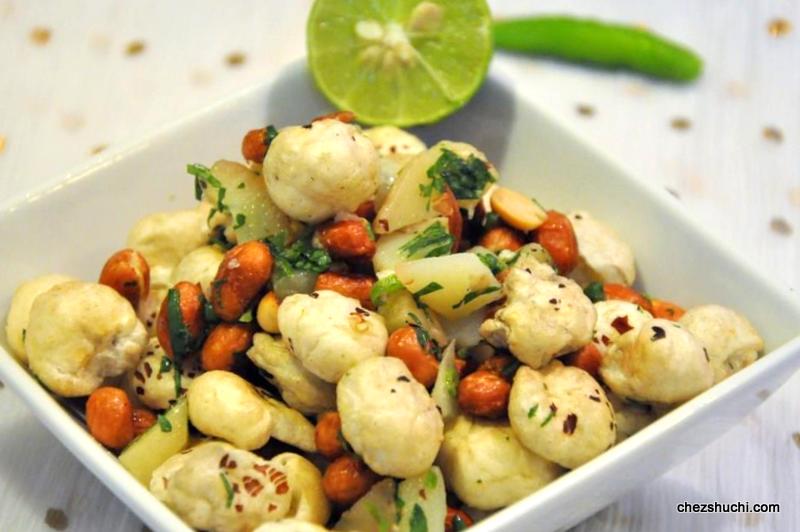 Some Tips/ Suggestions:
Raw peanuts and Makhane (puffed eurayle ferox) are easily available in Indian stores, though I haven't seen them in local supermarkets.
You can also add some red chili powder or black pepper powder as per taste and your family tradition..
Add lemon juice in the end so bhel doesn't get soggy.
You can also add roasted almonds and cashew nuts in this delicious bhel preparation.
---