Singhade Ka Halwa
हिन्दी में पढ़ें
Singhada, also known as water chestnut, is rich in carbohydrate, starch , vitamin B6, and riboflavin. Singhadas are eaten raw, and also boiled. Singhada is one of the most commonly used food item in delicacies made for the fasting days.…This is an easy to make recipe of delicious singhade ka halwa for Ashtami ......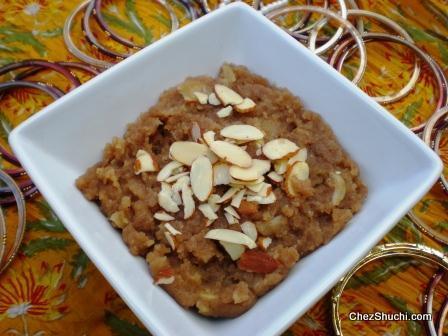 Ingredients

(serves 4)
Ghee 2 tbsp
Singhade ka aata (Water chestnut flour) ½ cup

Water 1 cup
Sugar 1/3-½ cup
Almonds, slivered  3 tbsp

Cardamoms 2
Method of preparation
Remove the outer green cover of the cardamoms and grind them in the mortar.
Heat ghee in a non stick wok on medium heat. Add Singhade ka aata.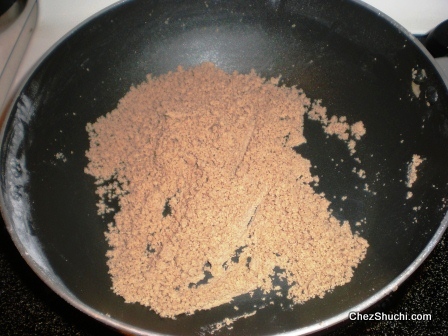 singhada aata frying
Fry it on medium heat for 7-8 minutes or until it is golden in color. Now add about half of the slivered almonds and fry for about 30 seconds. turn off the heat. Set aside.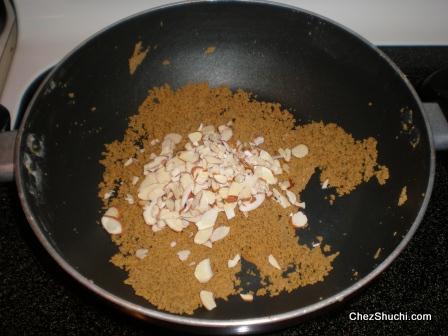 roasted singhada flour and slivered almonds
Add 1 cup warm water little by little in the roasted flour and cook it on low heat by stirring constantly.
Add sugar, and cook until the sugar is completely blended in the halwa.
Add cardamoms and mix well.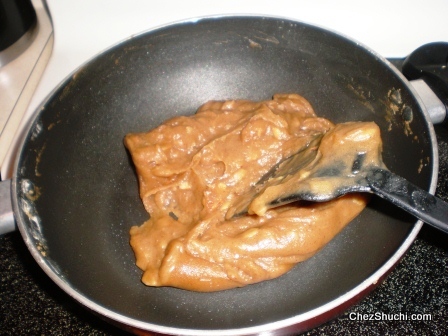 almost ready halwa
Transfer the halwa in a serving dish and garnish with remaining almonds. Serve immediately.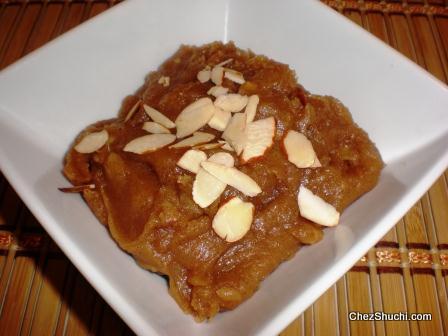 Some Tips/ Suggestions:
You will have to stir the halwa constantly after adding water as it gets sticky...
Some Other Phalahari/ Vrat/ Upwas delicacies
---