Lauki/ Doodhi Thepla
हिन्दी में पढ़ें
Thepla is a Gujarati variety of pan fried Bread. Theplas are usually made with wheat flour, grated veggies, and spices. Our kitchen garden is having a last round of lauki (squash) before the first frost arrives. This recipe of delicious and healthy Indian bread Thepla was shared by a Gujarati friend's mother, who recently visited USA..... Please do write your experience after making the dish...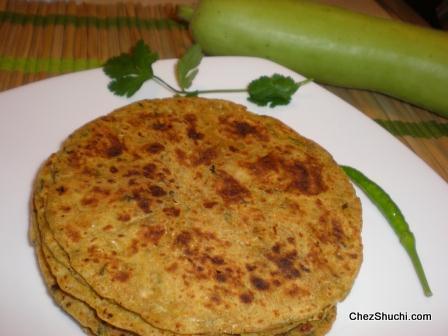 Ingredients

(makes 10 theple)
Wheat flour  1 cup
Grated Lauki 1 cup
Green chili 1
Salt ¾ tsp
Oil 1 tsp
Chopped coriander leaves 1 tbsp
Kasoori methi 1 tbsp
Red chili powder ¼ tsp
Turmeric 2 pinches
Chaat masala ¼ tsp
Flour to roll the parathas : 2-3 tbsp in a plate   
Ghee/butter/oil   to brush the top about 2 tbsp
Method of preparation
Remove the thick stem, wash and finely chop the green chili.
Take flour, grated lauki, salt, chopped green chilies, chopped coriander leaves, kasoori methi, red chili powder, turmeric, chaat masaal, and oil in a bowl. Mix all the ingredients well. And make a medium stiff dough. Note-usually grated lauki leaves some water so you will not be needing any water to make the dough. But in case if your mixture is too wet add a little more flour to make the dough.
Make a smooth dough and make 10 small balls of the dough.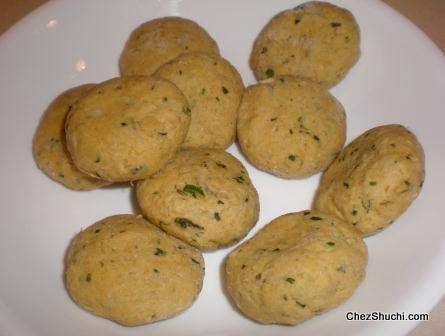 Heat the griddle or tawa. While griddle is heating up, take a ball of dough and roll it with the help of a little dry flour into a 4-5 inch circle.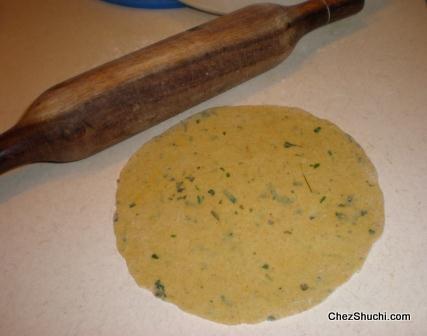 Place the rolled circle(thepla) to the medium hot griddle. Turn it over when you see some red spots on the thepla. Now cook from the other side, and brush the top side of the thepla with oil. Turn the side, and press the sides with  ladle. Cook from the other side . (takes about 45 seconds). Thepla is ready to serve.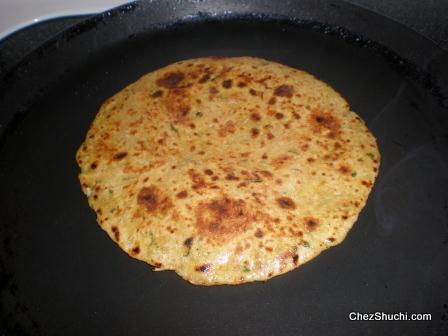 Repeat the process with all the balls.
Theplas taste very good with pickle. You can also serve lauki thepla with your favorite vegetable (sabji).
Some Tips/ Suggestions:
These breads are ideal for traveling and go very well with tea.
Please adjust the spices as per taste.
click here for more Indian Bread recipes.
---