MIni Namak Pare
हिन्दी में पढ़ें
Namak pare are traditional deep-fried savory preparations from Marwari /Rajasthani cuisine. Namak is the Hindi word for salt and pare are stripes, so namakpare are stripe shaped savory snacks. Here we are making small/ mini namakpare instead of long stripes. Namakpare are also called as Nimki in some parts of India. To make namakpare, dough is made with flour, salt and carom seeds (ajwain). Some kind of fat (ghee/oil) is also added in the dough to make the namakpare crisp as well as flaky.
Semolina can also be added in the dough. Some other flours such as barley or sorghum can also be added to wheat flour to make this delicacy even healthier. Namakpare can also be made with same dough as Mathri. Namakpare are easy to make and easy to serve and are loved by everyone. You can make namkapare in advance and store it for later use. Namakpare are also a good snack to serve with tea for gatherings or festivals like Holi and Diwali for your guests. Try this mini namkpare recipe and please do share your valuable comments and suggestions. Happy cooking, Shuchi.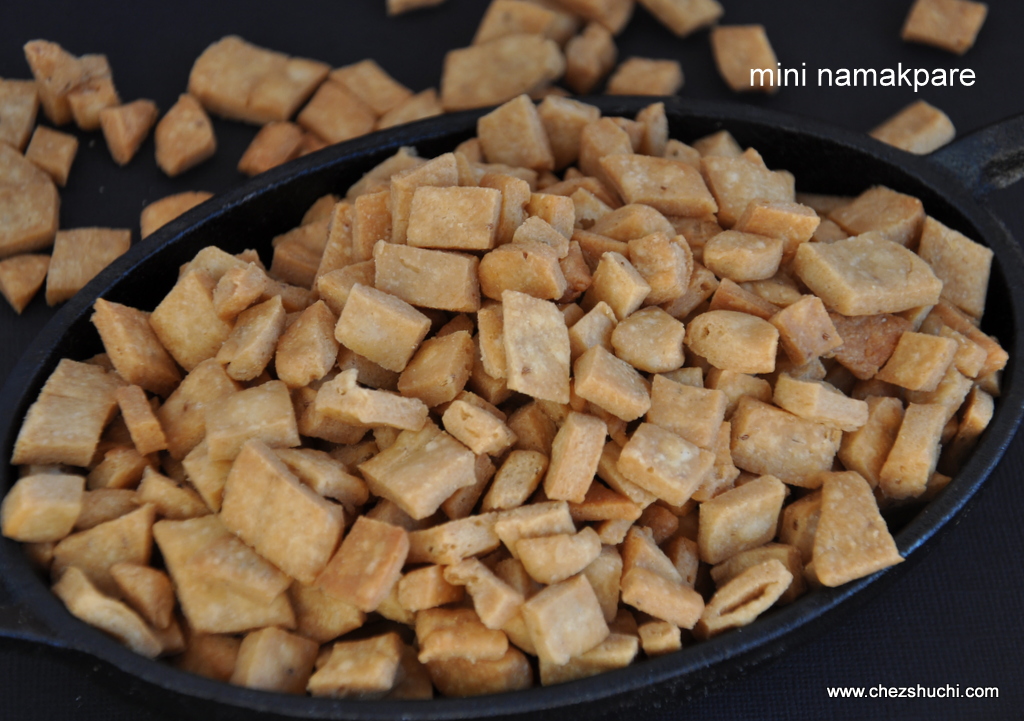 Preparation Time: 10 minutes
cooking time: 25 minutes
Approximately 70 calories in serving of 10 namakpare
Ingredients
Wheat flour 2 cup
Salt 1 tsp 
Carom seeds (ajwain)  2 tsp
Ghee/ oil 6 tbsp for dough
Oil for deep frying
Water to make dough
Method of preparation
In a bowl take wheat flour, salt and ajwain. Mix salt in the flour. Add ghee.
Mix all the ingredients well and rub between the hands. If you take flour mixture in hands and you can make balls, then it is the sign that the amount of oil/ghee is perfect.
Add water, a little at a time, and knead a medium stiff dough. Cover the dough with a damp cloth and set aside for about 10-15 minutes.
Divide the dough into 4 big rounds. Press them between the palms.
Heat oil in a wok on medium heat.
While oil is warming, take a ball and roll it  into a semi thick  round of about 6-7 inches.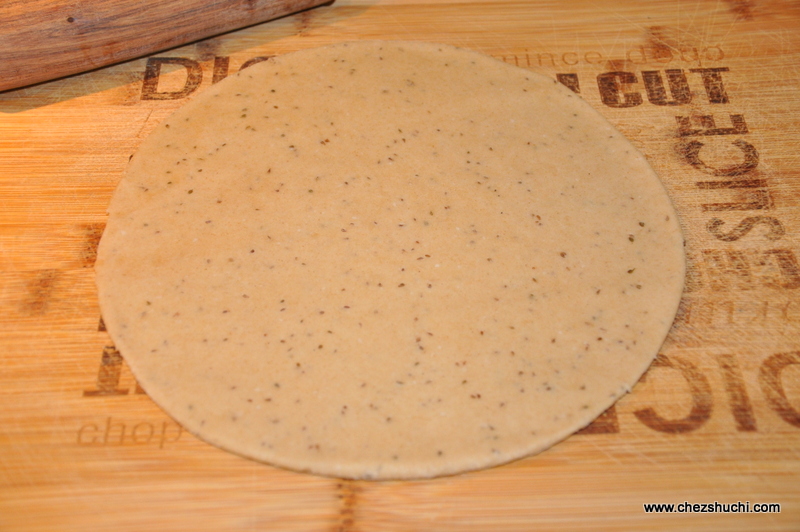 namakpare dough
Now cut the rolled base in fine (less than 1/2 inch)vertical strips. Now cut it horizantaly into small pieces.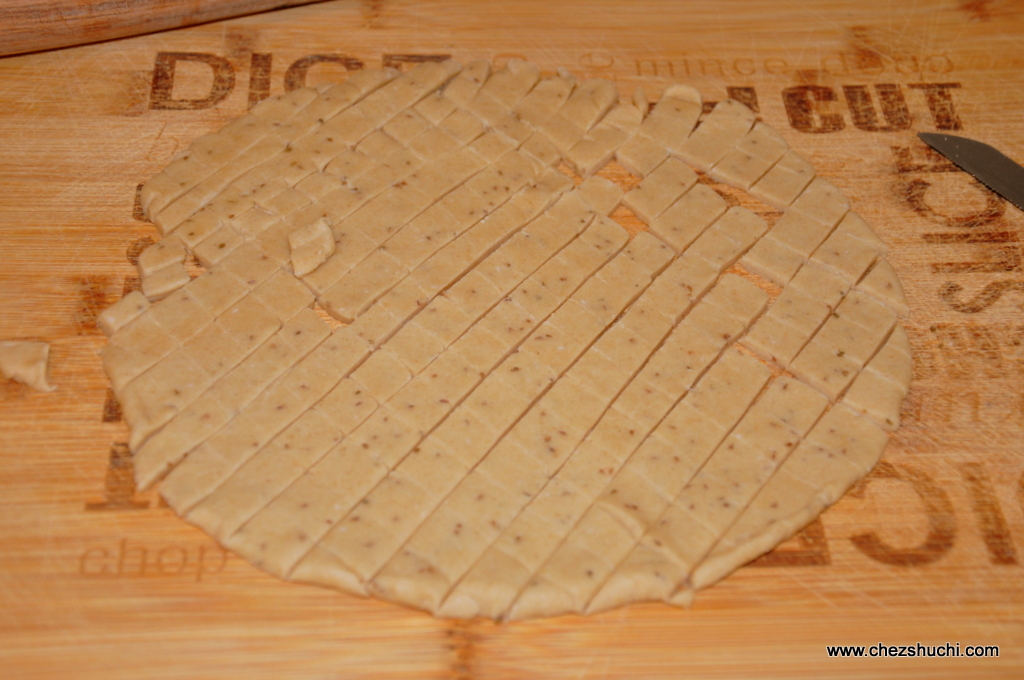 namakpare cut diagonally
Add namakpare strip and deep fry the mini namakpare on medium to low heat.
Fry namakpare until they are pink in colour. It takes about 8 minutes to fry each round.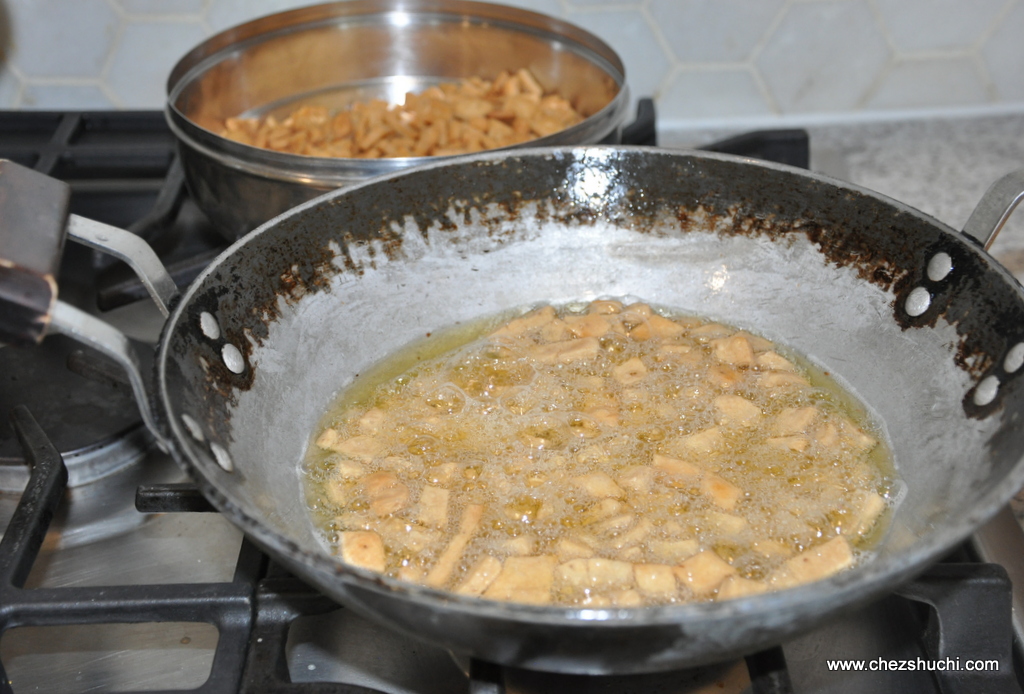 namakpare frying
Take out namakpare and drain to a kitchen paper. Allow them to cool.
Mini namakpare can be stored in an air tight container for about a month.
Namakpare is an ideal snack as it can be made in advance and serves later. It is a perfect snack for Diwali, Holi or any get together.
Serve anytime with tea. Namakpare can be used as the crispies in bhelpoori also.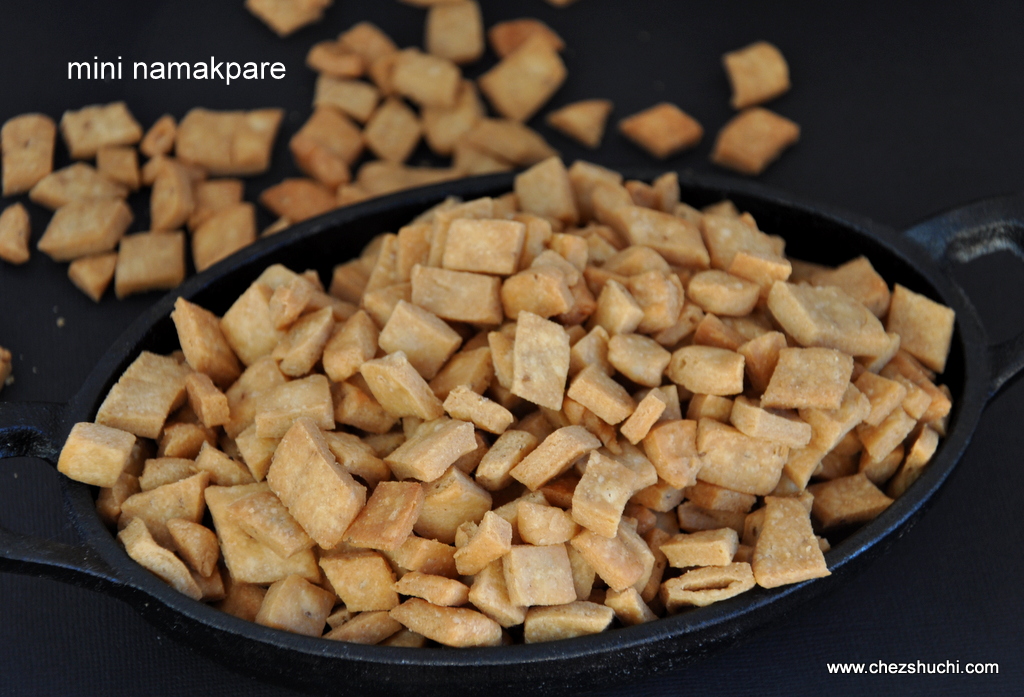 Some Tips and Suggestions
You can add other flours like, sorghum, barley etc. with wheat flour to make dough.
Make an instant snack with mini namakpare. Add dry roasted peanuts in the mini namakpare. Sprinkle a little bit of chaat masala. Quick munching snack is ready.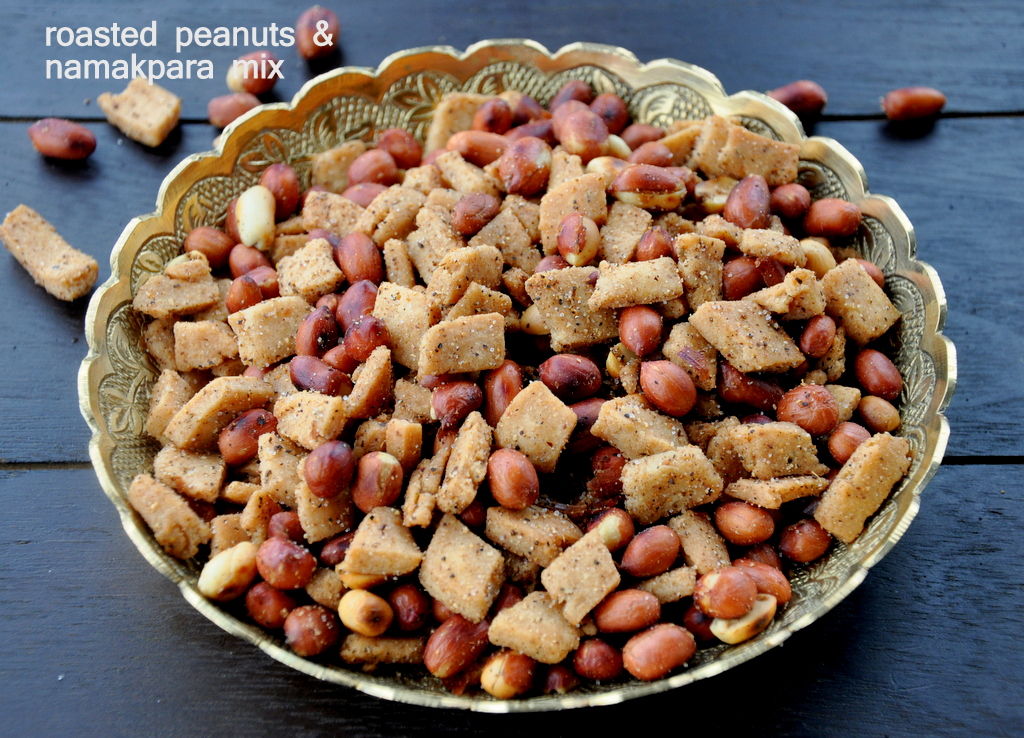 ---