Bhel Puri
हिन्दी में पढ़ें
Bhelpuri is a very famous chaat item (street food) from Mumbai. Bhelpuri is a mix of puffed rice (murmura/laiyya), peanuts, roasted gram, crispies, vegetables such as potatoes, tomatoes, raw mangoes, coriander leaves, etc, and is flavored with tamarind and coriander chutneys. Bhel is garnished with a puri (fried crisp bread/ papdi) on top. It is a mouth watering, tangy roadside snack - a perfect example of Indian street food.... Low in calories and high in taste...what else do we need... In this festive season check it out......
Ingredients

(serves 4-6)
For puffed rice frying
Puffed rice  4 cups
Oil 2 tsp
Turmeric powder ¼ tsp
Some other stuff:
To serve:
Raw mango (cari) ¼ cup, cut into small pieces
Boiled potatoes 2 medium, peeled, cut into small pieces
Tomato 1 medium, cut into small pieces
Onion 1 medium, cut into small pieces
Chopped green chilies 1 tbsp
Tamarind chutney ½ cup
Coriander chutney ½ cup
Red chili powder ¼ tsp
Salt ¼ tsp
Chopped coriander leaves 2 tbsp
Method of preparation
For puffed rice frying
Heat a wok on low heat . Add 1 tsp oil. Now add turmeric powder and mix it well in oil. Add puffed rice and mix well . Fry for 4-5 minutes on low heat or until the puffed rice are crisp. To test- take one puffed rice break it into two pieces, if it breaks with a crunch then the bhel is ready.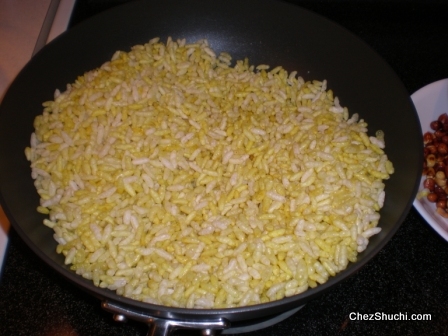 For Making Bhelpuri -
I arrange everything on the table. Starting with the youngest peron in the family and friends, I let everyone choose from the variety of crispies, veggies, and chutney in their bhelpuri. Then I mix it thoroughly in a bowl and garnish it with a papdi (crisp poori). Now it is upto you ; you can make a big bowl of bhelpuri by mixing the entire quantiy and serve it or you can make it separately as required and as per individual taste....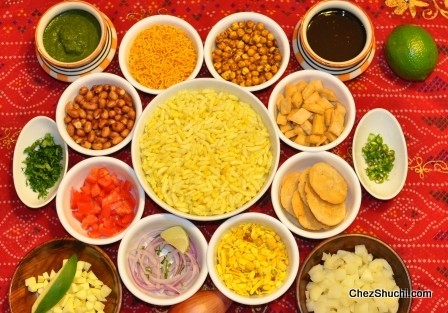 In a mixing bowl take about ½ cup roasted puffed rice. Add 1 tbsp of roasted peanuts, 1 tbsp of roasted gram, some namak pare, little bit of chopped potatoes, tomatoes, raw mangoes, a little bit of chopped coriander leaves.
Add a pinch of salt, and a pinch of red chili powder.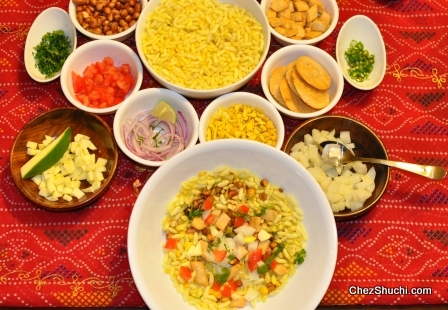 Now add 1 tbsp tamarind chutney, and 1 tsp coriander chutney. Mix all the ingredients well.
Garnish the bhelpuri with sev/bhujiya and top it with a papdi/poori.
Serve immediately.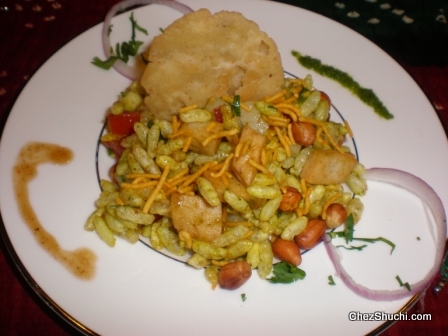 Some Tips/ Suggestions :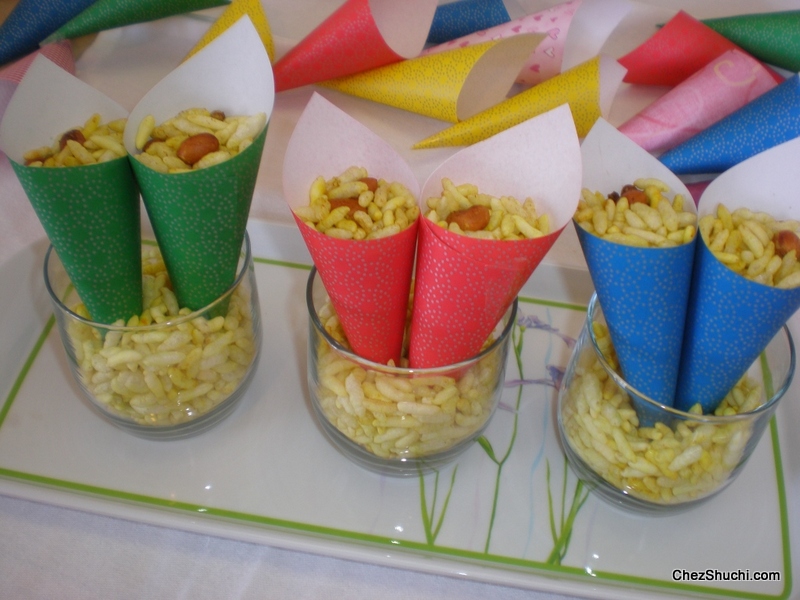 You can also serve bhelpuri in a paper cone. It is specially fun for kids to have bhelpuri in a cone - like roadside vendors.
Mathris can also be used in place of papris if you want to. The only difference between papris and mathris are that papris are not poked. You can also buy readymade papris - these are easily available in Indian stores.
Instant meethi chutney can also be used instead of tamarind chutney.
---