Moong Dal Dahi Vada
हिन्दी में पढ़ें
Moong dal dahi vadas are light and yummy variety of vadas. Vadas are deep fried balls of lentil paste. In dahi (curd/yogurt) vada, fried lentil balls are soaked in the warm water to remove the oil. Then they are soaked in dahi (curd) for 3-4 hours so the vadas absorb the yogurt ( dahi) . It is a delicious and healthy chaat item popular all over India. Dahi vadas can be served as a chaat item or it can also be served with the main course. Moongdal dahi vadas are light in compare to urad dal dahivadas that's the reason it is made more often in my family. Try this moongdal dahi vade recipe and please do share your valuable commente. Happy cooking, Shuchi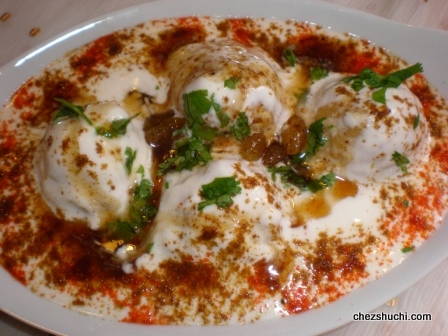 Preparation Time: 10 minutes
Cooking time: 30 minutes
Approximately 80 calories in each serving
Ingredients (makes 16-20)
Moong dal ¾ cup    
Oil to deep fry  
Ingredients To serve:
Method of preparation
Clean and wash the lentil (moong dal). Soak the lentils in 3 cups of water for about 4 hours.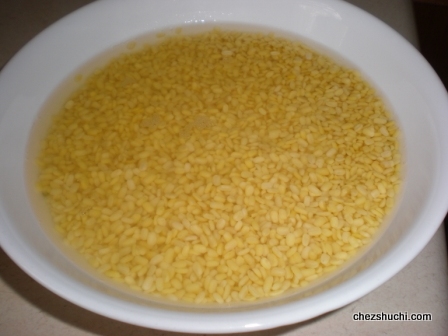 Grind the lentils in the grinder with a little water to make smooth lentip paste.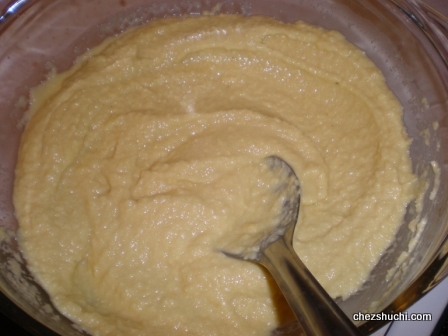 Beat the batter thoroughly till it becomes light. Mix in well the batter.
Heat oil in a wok on medium heat. Pour about 1 table spoon of the lentil batter in the oil one at a time, to make vadas. Pour five or six vadas in oil. Deep fry the vadas on medium heat till they get golden red. It takes about 7-8 mins to deep fry each round.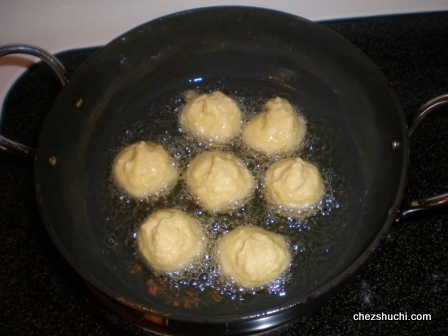 vadas just after pouring in the oil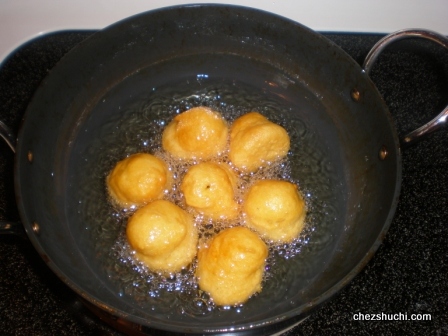 vadas almost done
Take the vadas out on the kitchen paper.
Repeat the process with the remaining batter.
Now soak the vadas in warm water. Add 1 tea spoon salt in the water and let the vadas get soft. Vadas will leave all the extra oil in the water and will soak the water. Take out the vadas from the water by pressing gently between your palms. Keep aside.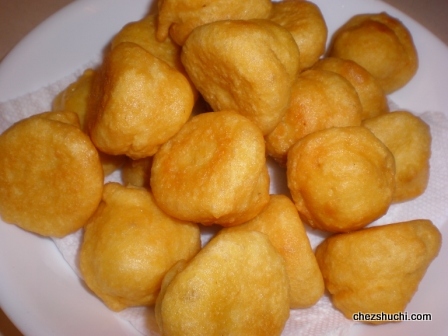 fried vadas
vadas soaked in the saline water
Whisk the yogurt in a bowl. (Add milk only if yogurt (dahi) is very thick) Add a little bit of salt, and sugar in the yogurt. Mix well.
Soak the squeezed vadas in this yogurt for about an hour. Vadas should be dipped in the yogurt completely.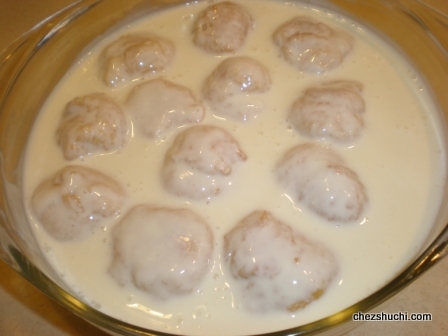 vadas soaked in yougrt (dahi)
At the time of serving, garnish the vadas with roasted and ground cumin, red chili powder, add some salt, and chopped coriander leaves.
Pour some tamarind chutney on top of the Dahi Vadas. Delicious light, fluffy and dahi soaked vadas are ready to serve.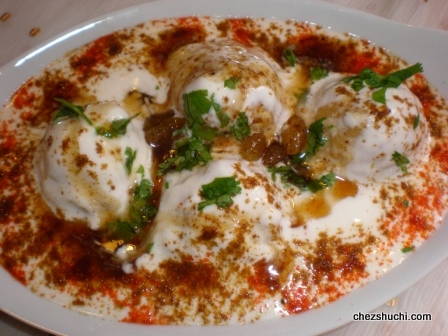 Some Tip/ Suggestions
Make sure to whisk the dal paste well in one direction, that way vadas will be absolutely light after deep frying.
Deep fry vadas on medium heat so they get cooked from inside also.
If yogurt (dahi) is thick add water or milk in the yogurt. Do not add milk or water if yogurt is alredy thin.
You can also sprinkle some pmegranate seeds on top of dahi vadas at the time of serving.
You can deep fry vadas in advance and store it for a few days in fridge and for a month in the freezer. When you are ready to make dahi vada, soak vadas in hot water, and follow the method to soak in dahi and serving.
---