Curd Rice
हिन्दी में पढ़ें
Curd is an Indian word for yogurt. This is a very popular delicacy from South of India. It is a complete dish and makes a very light meal. Curd rice has calcium, protein and carbohydrates in it . Make this very healthy yet delicious dish…..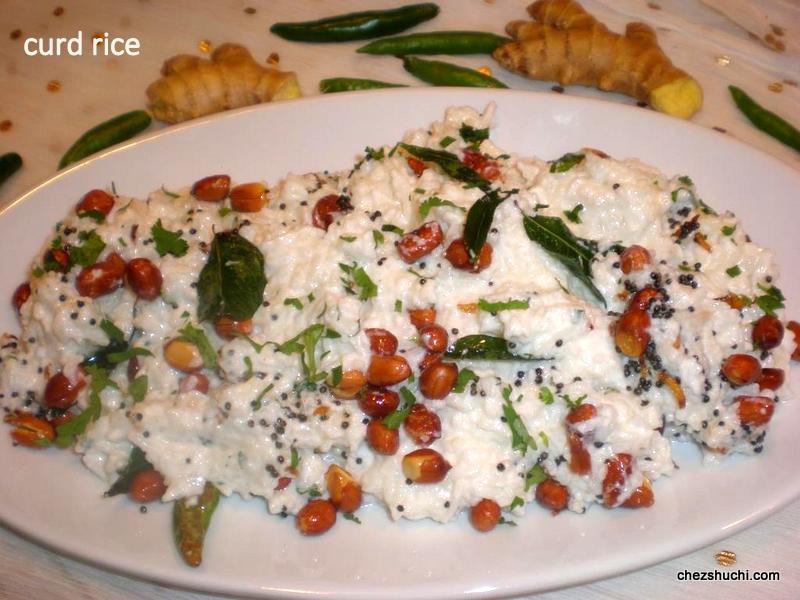 Ingredients

(serves 4)
Boiled Rice 4 cups
Yogurt 3 cups
Milk 1/2 cups
Water 1/2 cups (optional)
Green chilies   2
Ginger 2 inches piece
Salt 1½tsp or to taste 
For Seasoning
Peanuts ¼ cups
Mustard seeds 2 tsp
Curry leaves 7-8
Chopped coriander leaves 1 tbsp
Ghee(clarified butter) 1 tbsp
Method of preparation
Remove the stem, wash and finely chop the green chilies.

Peel off, wash and finely cut the ginger.
Mash the boiled rice a little. For this recipe, slightly overcooked rice will be ideal.
Beat the curd / yogurt, add in milk and mix well again.
Now add cooked and mashed rice in the curd and mix well. Add salt, ginger, and, green chilies and mix well again. Add water to adjust the required consistency. Leave for 10 minutes.
For Seasoning
Heat ghee in a pan, add mustard seeds. When seeds crackle, add curry leaves, fry for a few seconds and add peanuts. Fry peanuts on medium heat till they are dark red in color and a nice aroma comes out. Takes about 4 minutes. Turn off the heat.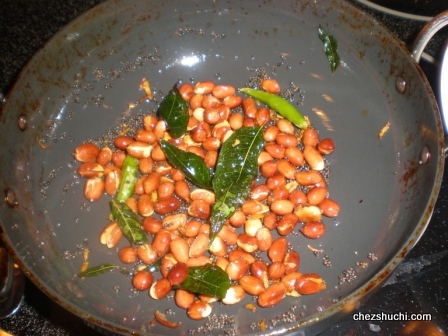 Now pour the seasoning onto the curd rice. Curd rice is ready to serve.
Garnish the curd rice with chopped coriander leaves.
Serve with ginger pickle.
Some Tips/ Suggestions:
If you are making curd rice as a single meal this quantity is fine but if you are planning to make other dishes along with curd rice cut the recipe to half.
If you like spicy food add more chilies to your curd rice.
---