Papdi Chaat
हिन्दी में पढ़ें
Papri Chaat is also called as sev poori in some parts of India. This is an easy to make chaat delicacy. Papdi or Papri is a crispy deep fried round snack made with wheat flour. Small papdis are topped with boiled potatoes andcooked chickpeas and seasoned with chutneys and spices for papri chaat. Papdis are easily available in India, and can be easily found in Indian stores outside India also. I have written the whole recipe of papdi making at home here in case they are not available in your part of world. Try out this tangy chaat from Northern India. It is a mouthwatering Indian street food that can be easily made and served. It can be a wonderful item for big parties. Enjoy this and please do share your comments …..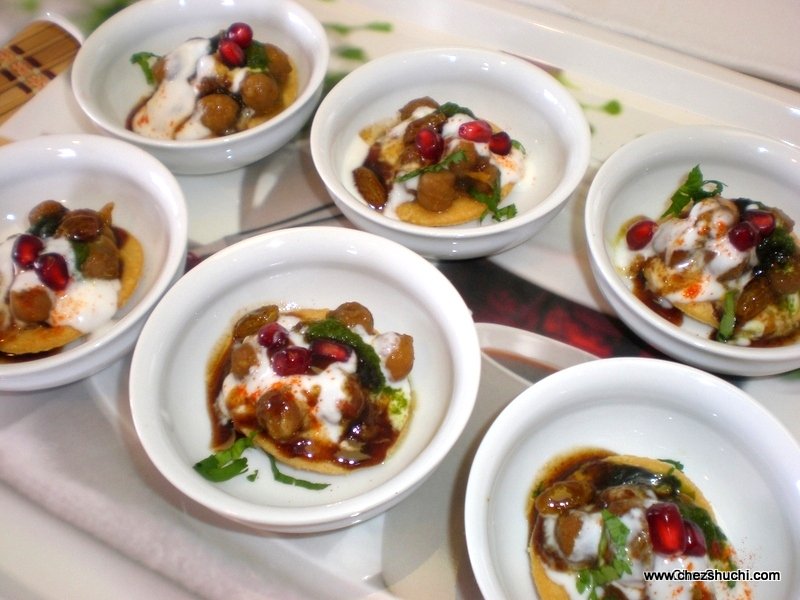 Preparation Time: 10 minutes
cooking time: 20 minutes
Approximately 40 calories in each papdi chaat
Ingredients For Papdis(For 26 Papdis)
Refined flour 1 cup
Semolina ½ cup
Wheat flour ½ cup
Salt 1 tsp 
Carom seeds (ajwain) ½ tsp
Vegetable oil /ghee 4 tbsp for dough
Oil for deep frying
Water for dough around ¾ cup
Ingredients to Serve Papdi Chaat
---
Method of preparation For Papdis:
In a big mixing bowl, mix the refined flour, wheat flour, semolina, oil, carom seeds and salt. Mix well.
Add a little water (it will take around ¾ cup of water) at a time and knead a stiff dough. Cover the dough with a damp cloth and set aside for about 15 minutes.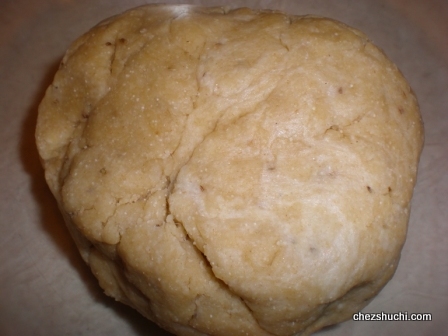 Divide the dough into 26 small rounds.
Press them between the palms and roll them into semi thick rounds of 2 inches diameter.
Heat oil in a wok on medium heat. Drop some rolled papdis in the oil. Deep fry the papdis on medium to low heat until they are golden in colour.  The deep frying take about 15 minutes.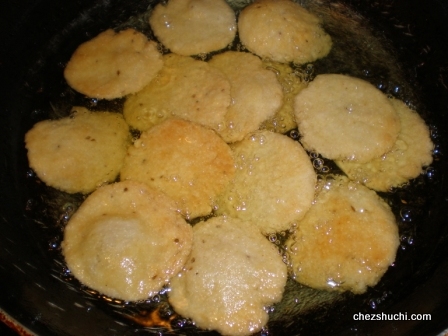 Take out the papdis onto a kitchen paper. Allow them to cool completely.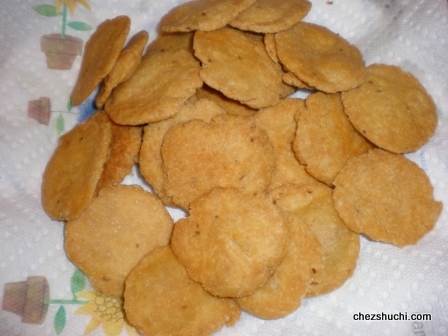 Make remaining papdis the same way.
Papdis are ready to use. You can also store them in an air tight container.
Serving Suggestions:
Mash or finely chop the potatoes.
Whisk the yogurt thoroughly.
In a serving dish place the papdis. Slightly crush the top puffed layer of the papdi if any.
Put about 1 tsp chole on the papdis. Put a layer of chopped potatoes evenly. Now pour around 1 tbsp yogurt and 1 tbsp meethi chutney, and a little bit of cilantro chutney on top of potato layer.
Sprinkle a little bit of salt, red chili powder, and roasted and ground cumin.
Sprinkle a little bit of sev/bhujiya.
Garnish with chopped coriander leaves.
Papdi chaat is ready to serve.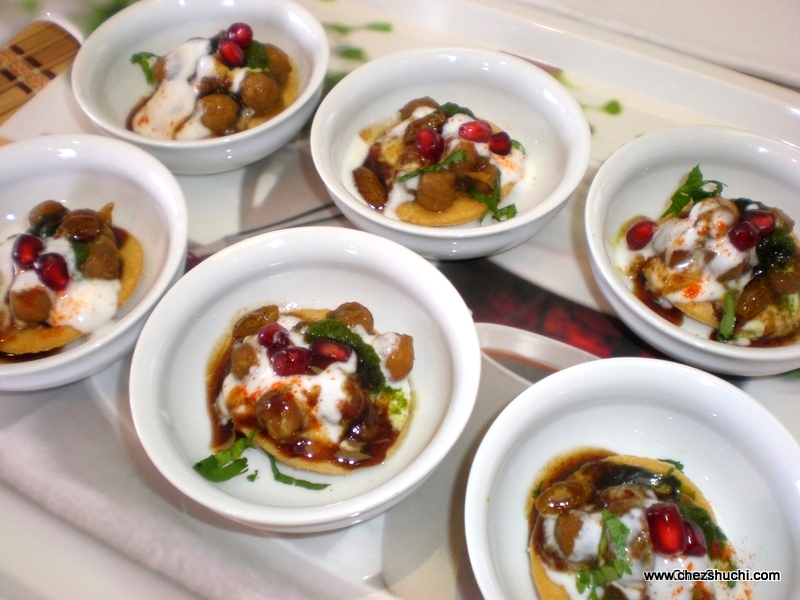 Some Tips/ Suggestions:
Mathris can also be used in place of papris if you want to. The only difference between papris and mathris is that papris are not poked and they are thiner. You can also buy papris readymade - these are easily available in Indian stores
Tamarind chutney can also be used instead of instant meethi chutney.
Chole (cooked chickpeas) enhance the flavor of Papdi chaat. So I suggest making papdi chaat with them.
---