Chole | Chana Masala | Chickpea Curry
हिन्दी में पढ़ें
Chole are also known as Chickpeas, Kabuli Chana, or Garbanzo beans. Cooked chole dish is also known as Chana Masala in the Western world. There are many different recipes to make chole. Some people like to add turmeric and make chickpeas in yellow curry, while some like to make dark brown curry. I am sharing my favorite recipe.
Chole contains good amounts of protein and dietary fibers and are also rich in Vitamin B-6, magnesium, iron etc. This is a vegan dish and it does not have any gluten.
Chole are often served with a deep-fried Indian bread known as Bhatura/ Bhature. Chola Bhatura is the most popular Indian combo not only in India, but also all over the world. Please do try this recipe and as always do not forget to share your comments. Happy and helthy cooking, Shuchi ...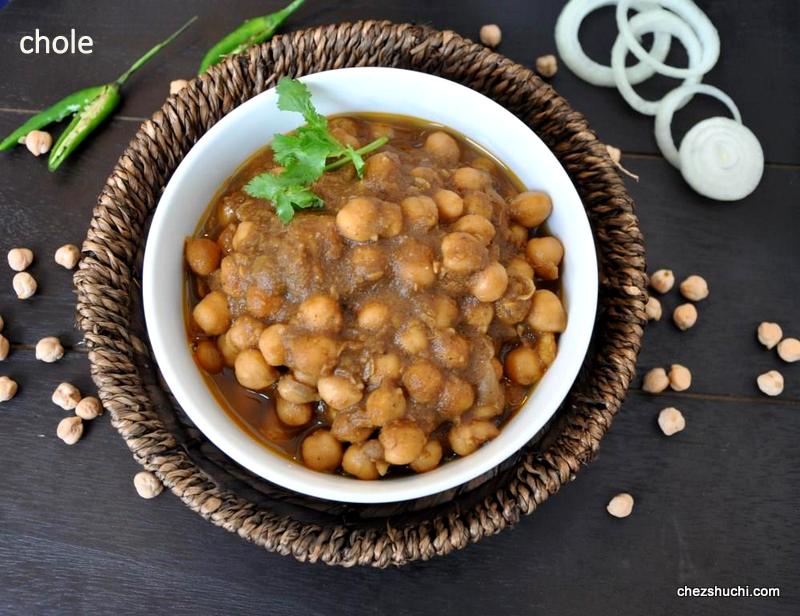 Preparation Time: 5 minutes
cooking time: 30 minutes
350 calories in each serving
Ingredients (serves 4-5)
Chickpea (Chole)  1½ cups
Tea bag   1
Salt  2 tsp or to taste  
Bay-leaves (tej patta)   2
Black cardamoms (badi ilaychi)   2
Onion     1 medium
Tomato 1 medium/li>
Ginger    1 ½ inch
Green chili    1
Black pepper crushed ¼ tsp
Cloves 3-4 crushed ¼ tsp
Coriander powder  2 tsp  
Garam masala 1 tsp
Chole masala 1 tbsp
Amchur powder ½-1 tsp
Oil/butter  3-4 tbsp
Chopped coriander leaves 2 tbsp
Method of preparation
Clean and wash  the chickpeas(chole. Soak chole in  4-5 cups of water overnight.
Boil the chole with 1 tea bag, 2 bay leaves, 2 black cardamoms, and 1 tea spoon salt in the pressure cooker on medium/low heat. (It takes around 15 minutes to get them tender). Take 2 whistle. You can also cook chickpeas in instant pot or in slow cooker.
Peel, wash and roughly chop the onion. Peel, and wash the ginger. Cut ginger into pieces. Remove the stem of the green chili and wash the chili. Keep aside
Wash tomato and cut it into 4 pieces. Keep aside.
In a grinder make a fine paste of ginger, green chili and onion in the blender.
Remove the onion paste from the grinder. Now make a fine paste of tomato.
In a pan heat oil. Add onion paste and saute it until it becomes golden brown.
Add tomato puree, mix well. Add garam masala, coriander powder, chola masala, black pepper, crushed cloves, dry mango powder, and remaining 1 tsp salt. Fry for a couple of minutes. And cook until masala leaves the side of the pan.
Remove the tea bag from the boiled chole and add boiled chole in the fried masala. Check the consistency. Add a little water if required. Cook for about 10 minutes.
You can taste and check the spice level.
Delicious Chole is ready. Garnish with coriander leaves. Serve chole with bhature or with rice.
You can also serve chole with roti, poori or naan or the Indian bread of your choice.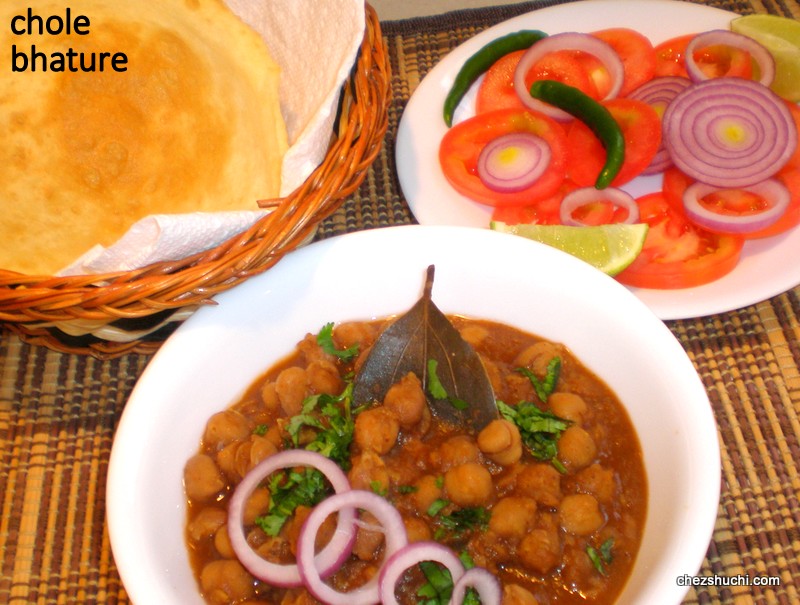 Some Tips/ Suggestions for beginners:
I have used a tea bag to give a nice brown color to chole. I have also used black cardamoms in chole cooking as it helps with digestion.
If you do not have time to boil chickpeas, you can use 3 cans of 15 Oz chole/chick peas for this recipe.
If you do not have all these spices, you can use 2-3 tbsp of store bought chana masala or Chole masala instead of all these spices for mixing in the fried onion tomato mix.
Usually vegetables taste best when they are made fresh but exceptionally chole taste more delicious after a couple of hours of cooking when they absorb the spices.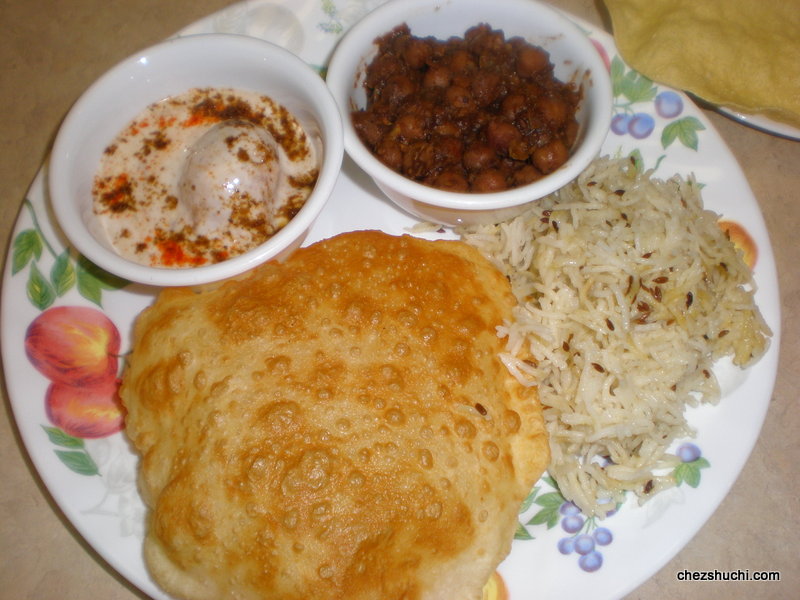 Some other Chickpea Recipes
Quinoa Chickpeas Salad

Quinoa grain is very popular for its health benefits. It is a member of the Amaranthaceae family, same like amaranth (रामदाना). Quinoa is very high in protein, vitamin B, minerals (zinc, iron, magnesium etc.), and amino acids and is also a good source of dietary fiber. It is also a good source of Omega 3,...

Chola Chaat

Chole/ Kabuli Chane, also known as Chickpeas / Garbanzo beans, are a very good source of protein. In this preparation, I have also added cucumber, tomato, red onions, and red bell peppers along with a lot of lime juice to enhance the flavor of this healthy salad. This is a popular street food in India and can be easily made at home...
---