Quinoa Chickpeas Salad
हिन्दी में पढ़ें
Quinoa grain is very popular for its health benefits. It is a member of the Amaranthaceae family, same like amaranth (रामदाना). Quinoa is very high in protein, vitamin B, minerals (zinc, iron, magnesium etc.), and amino acids and is also a good source of dietary fiber. It is also a good source of Omega 3, an essential fatty acid. Omega 3 is usually found in a different variety of fish. There are a very few vegetarian foods which are rich in Omega 3.
I buy quinoa from local organic stores. I am not sure what quinoa is called in India. Since quinoa grows in dry and warm climates so it should be available in tropical climate of India. In case if you do not find quinoa in your part of world use other healthy grains like amaranth, cracked wheat, cracked buckwheat, and cracked oats.  
Here we are making quinoa chickpeas salad. This is a very easy, delicious, and healthy way to incorporate quinoa in daily meals. As always please do share your thoughts . Shuchi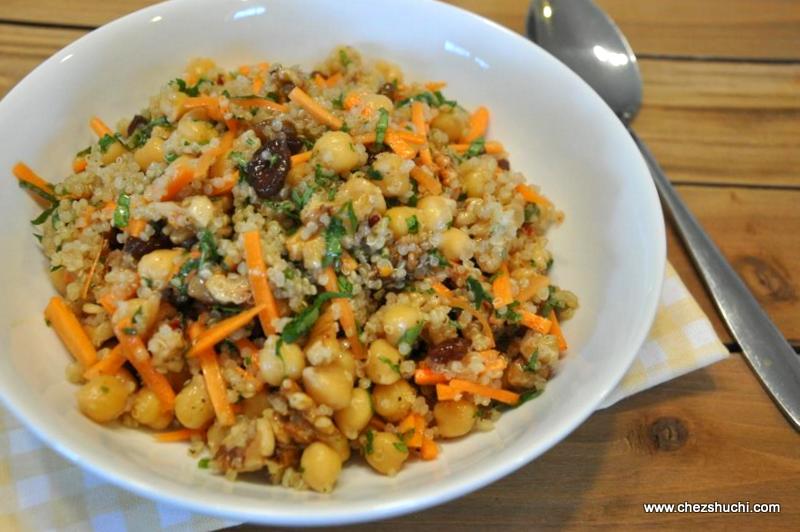 Preparation Time: 5 minutes
Cooking time: 12 minutes
Approximately 200 calories in each serving
Ingredients (Serves 4)
½ cup quinoa
½ cup chickpeas, soaked overnight
1 carrot, cut into 1 inch long juliennes
¼ cup finely chopped green cilantro/coriander leves
4 tbsp chopped walnuts
2-3 tbsp raisins
Ingredients for Lemon honey Dressing
2 tbsp brown sugar/ honey
3 tbsp lemon juice
1 tsp salt or to taste
freshly ground black pepper as per taste
red chili flakes as per taste
¼ cup olive oil
Method of preparation:
Following is a picture of all the ingredients for this delicious salad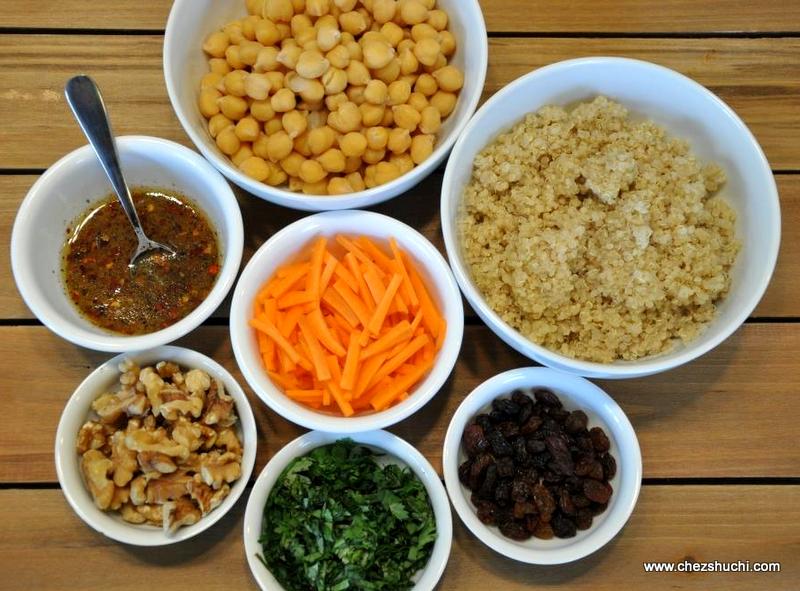 Following is a picture of quinoa grains..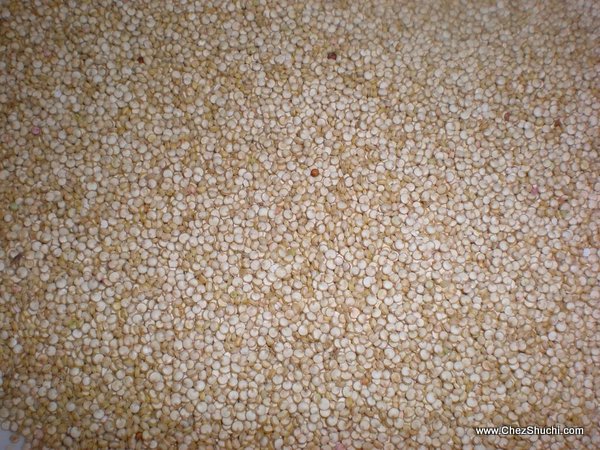 Wash the quinoa grains and cook them in one and ¼ cup water.
After the first boil, reduce the heat and let them cook until water is absorbed and quinoa is tender.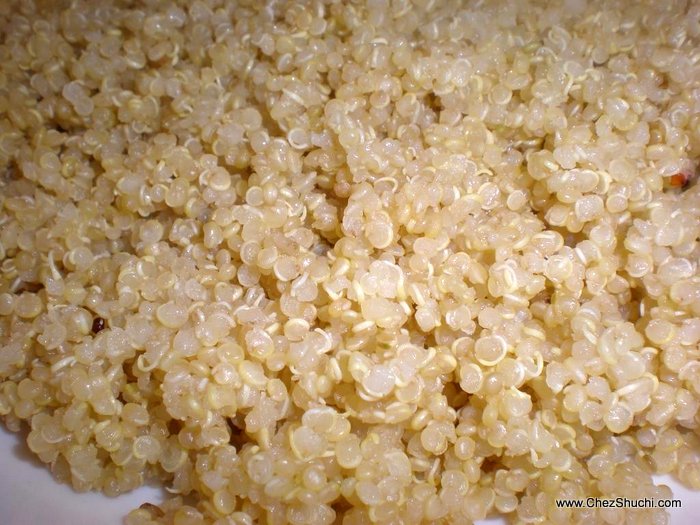 Now let the quinoa cool a bit.
Boil soaked chickpeas. Add half tea spoon water and cook the chickpeas until tender. You can take a couple of whistle in pressure cooker or can boil it in regular pan.
Let chickpeas cool. Strain the water of cooked chickpeas. Keep chickpeas aside.
Separate the cooked quinoa grains with fork.
Method of preparation for Honey Lemon Dressing:
In a bowl take honey, lemon juice, olive oil, salt, black pepper, and red chili flakes. Whisk all the ingredients until mixed well.
Making Quinoa Chickpeas Salad:
In a big bowl take cooked quinoa, cooked chickpeas, carrots, chopped coriander (cilantro) leaves, walnuts, and raisins. Add honey lemon dressing on top and mix well.
Taste and adjust the seasoning.
Keep the salad in the refrigerator and let it cool for an hour.
Delicious quinoa chickpeas salad is ready to serve.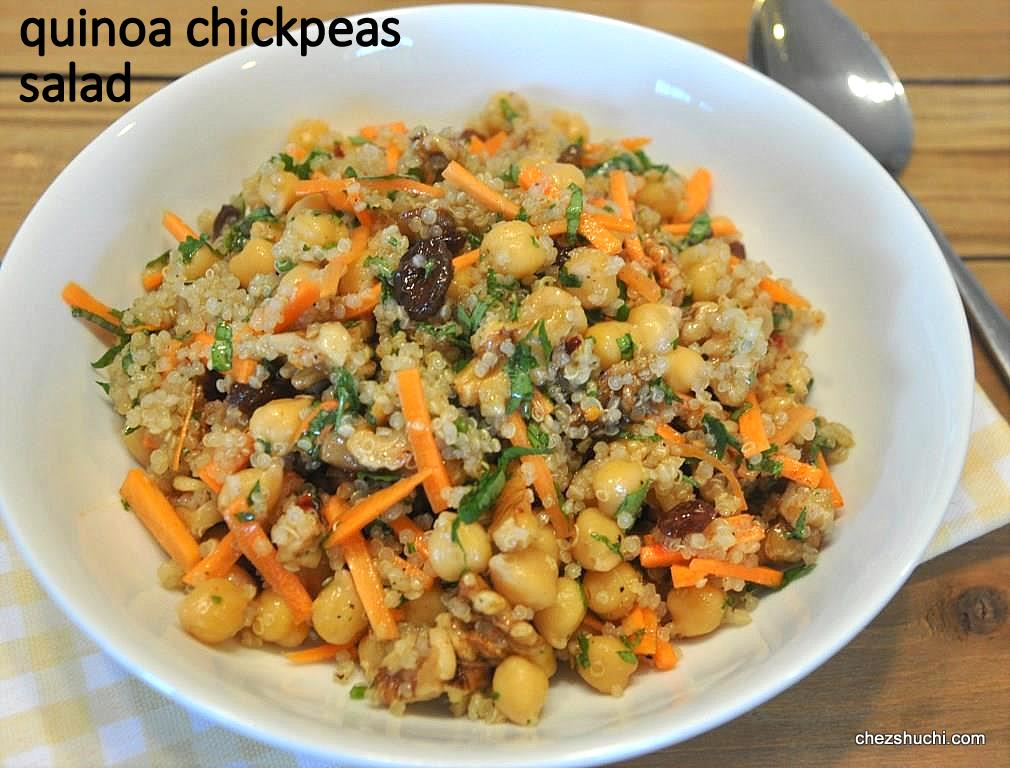 Some Tips/ Suggestions:
You can also add some more stuff like avacado, cucumber etc .
Instead of walnuts you can also add some other nuts like slivered almonds, pecans etc.
In place of raisins you can also add dried cranberries or fresh berries to give this salad a twist.
You can also add seasonigs as per taste. For example, you can add some green chutney to enhance the flavor of this salad.
You can also use other herbs such as parsely and mint in this quinoa chickpeas salad preparation.
If you do not want to soak and cook chivkpeas at home replace it with 1 can of 15 oz of chickpeas for this recipe.
---
---