Mix Green Salad With Vinaigrette Dressing
हरा भरा सलाद सिरके की ड्रेसिंग के साथ
इस व्यंजन को हिन्दी में पढ़ें
Mix Green Salad With Vinaigrette Dressing is made with a variety of salad leaves. These are rich in vitamin A, Vitamin C, dietary fibers and also in minerals like iron and calcium. I have used organic spring mix. Health nutritionist say that darker leaves have more nutrients that just regular iceberg salad. In case if you do not find spring mix in your part of world, use whatever greens are available.
In my salad preparation, to get nutrients with nice flavor and crunch I like to add greens+ veggies+ fruits+nuts+berries along with dressing. The selection of these ingredients and combinations depends on the season and availability. For example in summers I use fresh strawberries but in winters I add dried berries.
You can make your own salad as per your taste and availability of ingredients. You can also easily grow green salad leaves in your kitchen garden.
Try out this Mix green salad with vinaigrette dressing recipe and please do share your valuable comments. Happy cooking, shuchi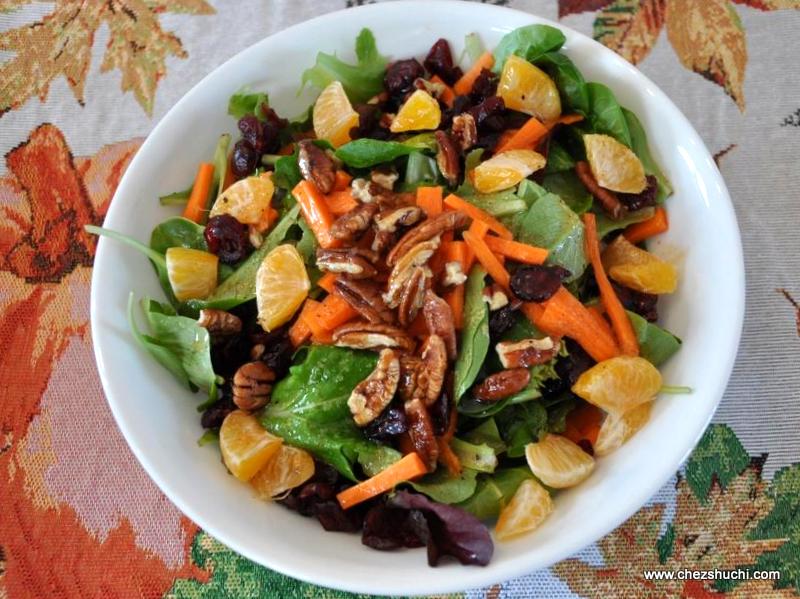 Ingredients (Serves 4)
4 cups spring mix salad leaves
1 small cucumber
1 medium carrot
1 clementines/ orange
handful of nuts of your taste. I have used pecans
3-4 tbsp dried berries. I have used dried cranberries
Ingredients for Vinaigrette Dressing
3 tbsp olive oil
1½ tbsp fruit vinegar
1½ tsp brown sugar/ honey
1 tbsp water
salt to taste
¼ tsp/ to taste freshly grounded black pepper
red chili flakes to taste
Method of preparation:
Wash salad leaves thoroughly. Pat dry them on kitchen towel.
Peel cucumber, wash and cut into half inch squares.
Peel, wash and cut carrots into juliennes.
Peel clementine/orange . Separate the slices. Remove white threads. Cut each slice into 2 pieces.
In a big salad bowl take salad leaves, cucumber, carrots, clementines, nuts and berries.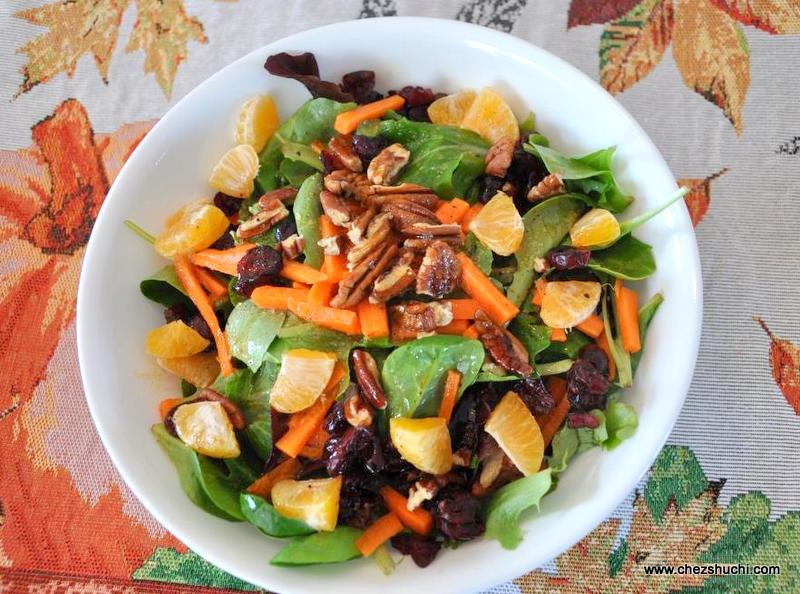 In a small bowl take 1½ tsp brown sugar and 1 tbsp water. Mix sugar thoroughly in the water.
Add salt, black pepper, red chili powder or red chili flakes, vinegar, and oli oil. Mix well the vinaigrette.
Vinaigrette dressing is ready.
Pour this dressing in the salad mix. Toss thoroughly.
Delicious mix green salad with vinaigrette dressing is ready to serve.
You can serve this salad with french bread, baguette or Italian bread as a starter or with the main meal for Indian dinner.
Some Tips/ Suggestions:
We like pecans but you can also use slivered almonds, walnuts, roasted peanuts etc. in place of pecans.
In season use fresh berries instead of dried berries. You can also use grapes or raisins in this salad to give it a twist.
You can also use olives in this salad preparation.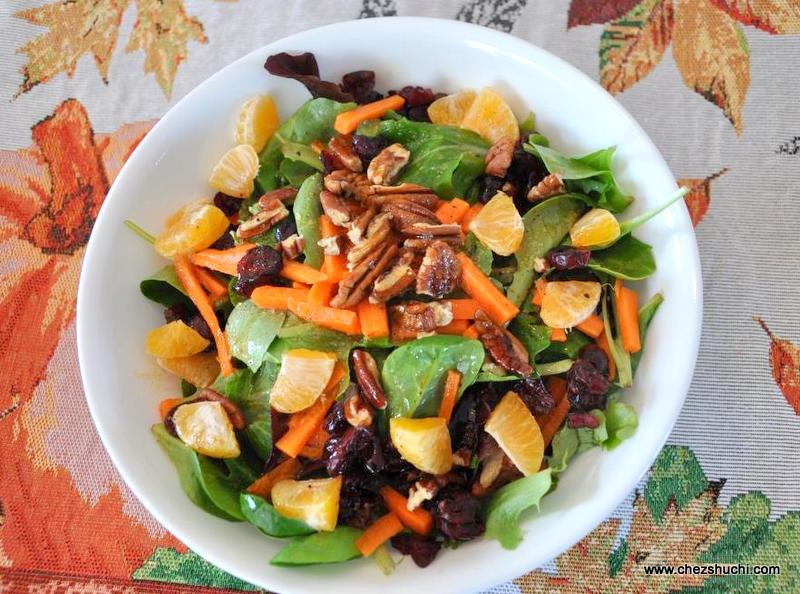 Mix Green Salad With Vinaigrette Dressing
---
Quinoa Chickpeas Salad

Quinoa grain is very popular for its health benefits. It is a member of the Amaranthaceae family, same like amaranth (रामदाना). Quinoa is very high in protein, vitamin B, minerals (zinc, iron, magnesium etc.), and amino acids and is also a good source of dietary fiber. It is also a good source of Omega 3,...

cucumber salad with sweet chili dressing and roasted peanuts

Cucumbers are a good source of vitamins and minerals. Super coolant cucumber can be easily found in the farmers market and supermarkets, and can also be easily grown in home garden, in containers in the balcony, sun room etc. This cucumber salad is not only very easy and...
---