हिन्दी में पढ़ें
Cucumber salad with sweet chili dressing and roasted peanuts
Cucumbers are a good source of vitamins and minerals. Super coolant cucumber can be easily found in the farmers market and supermarkets, and can also be easily grown in home garden, in containers in the balcony, sun room etc. This cucumber salad is not only very easy and quick to make but also very nutritional and delicious also. Home roasted and ground peanuts enhance the flavor of this salad …Try out this salad and as always please do share your comments….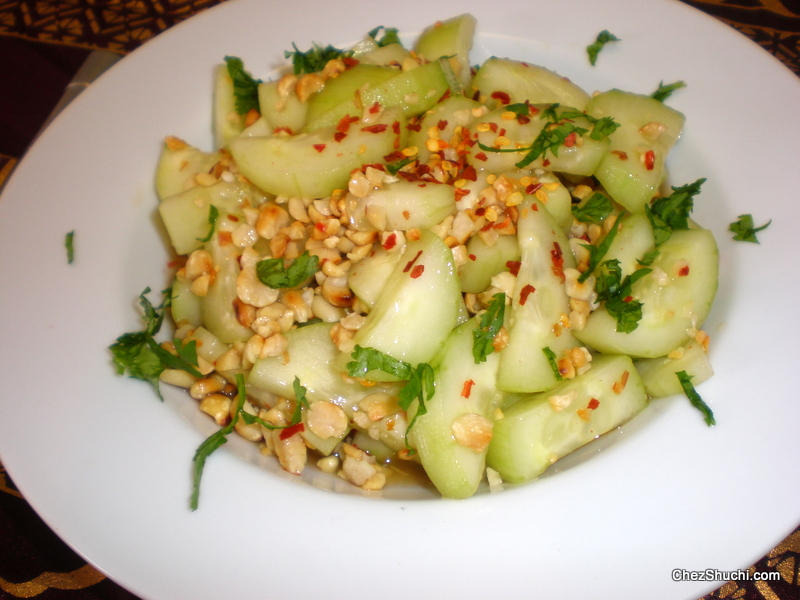 Ingredients
(Serves 4)
4 cucumbers ( 4 cups cut cucumber)
¼ cup roasted and ground (broken) peanuts
1 tbsp water
3 tbsp brown sugar
2 tbsp distilled vinegar
½ tsp salt or to taste
1 tsp red chili flakes
2 tbsp finely chopped cilantro
Method of preparation:
In a small bowl, take brown sugar and water. Stir until sugar is completely dissolved. Add vinegar and mix well. Add salt and red chili flakes. Mix well. Keep aside.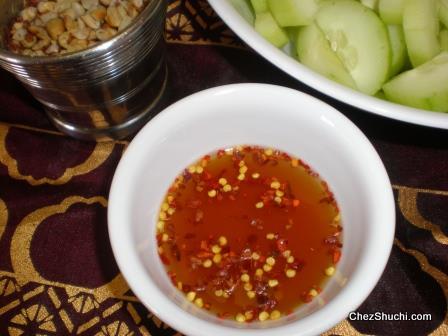 Sweet Chili dressing for cucumber salad
Dry roast peanuts over medium heat until aromatic and brown. Turn off the heat. Coarsely ground the peanuts in mortar with pestel. Remove the skin. Keep ground peanuts aside.
Peel cucumbers and wash them thoroughly. Cut the cucumber in desired shape.
In a glass bowl take cucumber pieces. Pour sweet chili dressing and coat the cucumber pieces with dressing. Add roasted peanuts and chopped coriander leaves..
Delicious salad is ready to serve.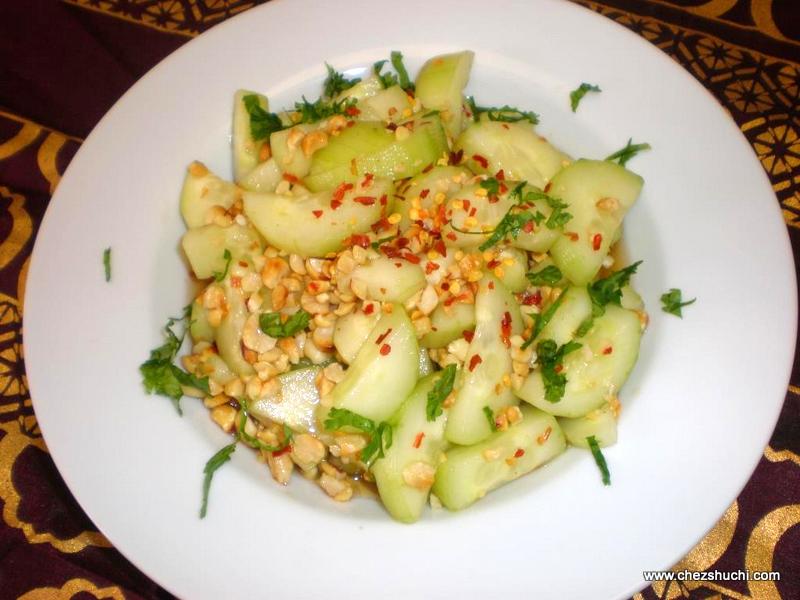 Some Tips/ Suggestions:
You can also use some shredded colored bell pepper, red onions etc in this salad preparation.
If you like spicy food add a chopped green chili in this salad.
---
---