Bhatura
हिन्दी में पढ़ें
Bhaturas are deep fried variety of Indian bread served with Chole(Kabuli Chane).It is originally from Punjab but now one can find this delicious combo all across India.You will get Chole-Bhature from *****(5star) hotels to road side stalls. They are different than puri - Bhaturas are made from leavened dough of all purpose flour.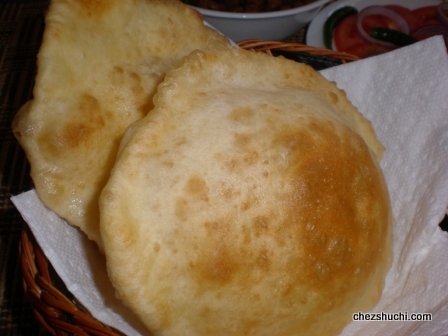 Ingredients

(makes 10 Bhaturas)
All purpose flour (maida) 1½cup
Yogurt          3 tbsp

Salt    ½ tsp
Sugar    1 tsp
Oil       1 tbsp
Sodium bicarbonate (Baking soda)  ¼ tsp
Water about 2 tbsp     to make dough
Others:
Method of preparation
Take flour, salt, sugar,baking soda, and 1 tbsp oil, mix them well . Add yogurt and mix well again. Now add little water at a time and make a stiff dough. Cover the dough and leave it for 3-4 hours in a warm place for rising.
After 3-4 hours, make 10  round balls of the dough . Now roll the balls gently  with the help of little oil in around 5 inch diameter, not very thick not very thin. 

Heat oil in a wok and deep fry the bhaturas on the medium flame from both the sides. Take them out onto  kitchen paper.
Repeat the process with all the balls.
Serve hot baturas with Chole.
Tip :If you live in a cold place like I do, keep the bhatura dough close to the heating duct/radiator for fermentation.
---