Bajre ka Cheela
हिन्दी में पढ़ें
Bajra also known as pearl millet, is rich in carbohydrates and protein. It also has minerals like calcium and phosphorus. Bajra is a winter crop grown extensively in the states of Gujarat and Rajasthan.
Cheela is a Hindi word for fine pan cakes made with lentil paste or flours. This dish can be served for the breakfast or even as a brunch. I have added some vegetables in this preparation to make it healthier and tastier. This is a vaishnav and vegan dish. Try out this easy to make recipe and please do share your valuable comments. Happy cooking, Shuchi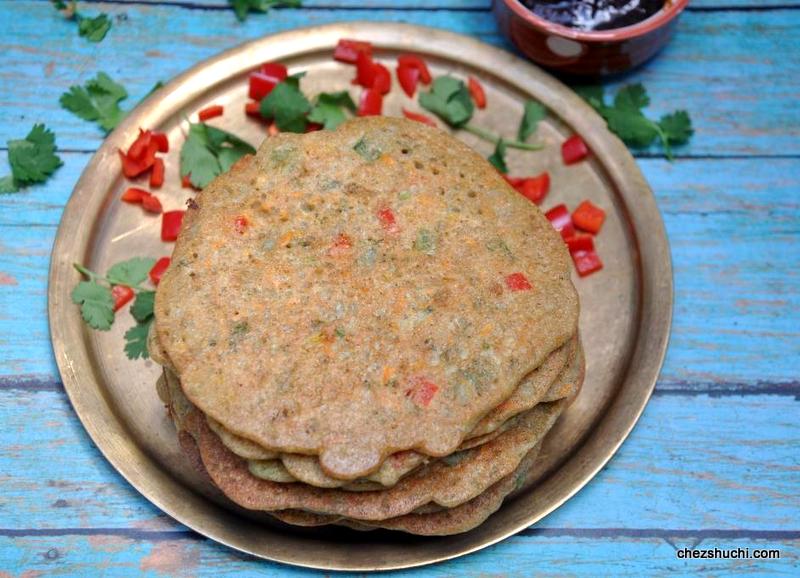 Ingredients

(makes 16 mini cheelas)
Bajra flour (pearl millet flour)   1 cup
Salt   1 tsp
Green chili   2

Chopped coriander leaves  3 tbsp
Chopped bell pepper (shimla mirch/capscium) 1/2 cup
grated carrots 1/2 cup
Oil    2 tbsp for cooking

Method of preparation
In a mixing bowl take bajra flour. Add salt. Add water a little by little to make a smooth paste. Whisk well.
Add chopped green chilies, coriander leaves, chopped bell pepper, and grated carrot in the bajra flour paste. Mix well.
Add a little more water if needed to get a smoothly running consistency.
Heat the griddle. It may be easier to make cheela in a non stick griddle. Grease the griddle. Take a ladle of batter and spread it into a small ~3 inch circle. I use a 12 inch griddle and make 6 cheelas at a time.
Sprinkle a little oil, and cook it from both sides.
Delicious cheela is ready to serve. Serve hot cheela with chutney of your choice.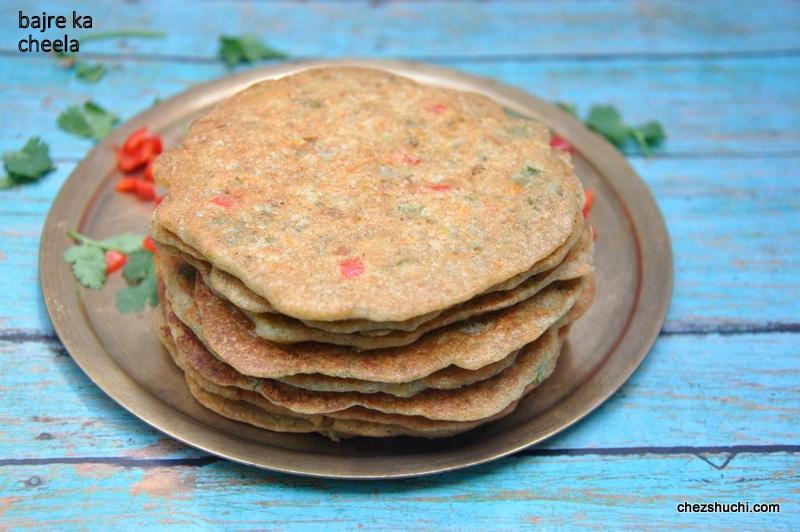 Some Tips/ Suggestions:
Chopped onions can also be added in this preparation.
Some other similar delicacies
---