Paneer Cheela
हिन्दी में पढ़ें
Cheela is a Hindi word for pancakes made with lentils or with flour paste. This is a delicious Paneer preparation (Indian cottage cheese). Paneer cheelas are rich in calcium, protein, and also in carbohydrate. It is a good, substantial option for kids' lunch boxes. Paneer cheela can be made in different ways.....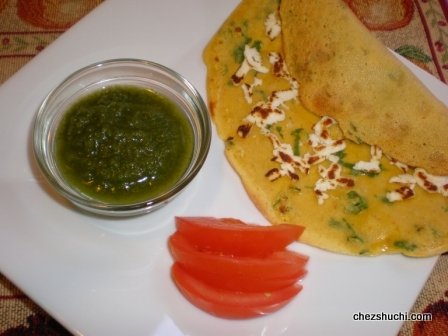 Ingredients

(makes 8-10)
Besan 2 cup
Salt  1½ tsp
Chaat masala 1 tsp
Green chilies 2-4
Chopped coriander leaves 3 tbsp
Paneer grated/ diced 1½ cup/ 150 gms
Water about 3/4 cup
Oil    2 tbsp
To serve:
Method of preparation (First Way)
Remove the stem of the green chili, and coriander leaves, wash and chop them finely.
Grate the paneer. Use thick grater. Keep aside.
In a bowl take besan, chopped green chilies, chopped coriander leaves, salt, and chaat masala. Mix well. Add very little water at a time to get the perfect batter.
Gram flour, salt, green chili and coriander batter for cheela
Heat the griddle (flat tawa), take half bowl of batter and spread it into a circle of around 6 inch diameter.
Now spread out a handful of grated paneer on top of cheela. Sprinkle some chaat masala. Press the paneer with a flat spatula so that the grated pieces get stuck in the cheela.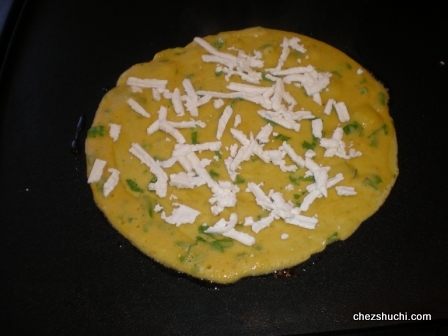 Sprinkle a little oil, and flip the cheela carefully. Now cook the cheela from the other side too.
Serve hot paneer cheela with chutney of your choice.
Method of preparation (Second Way)
Add diced paneer in the batter. Mix the batter well.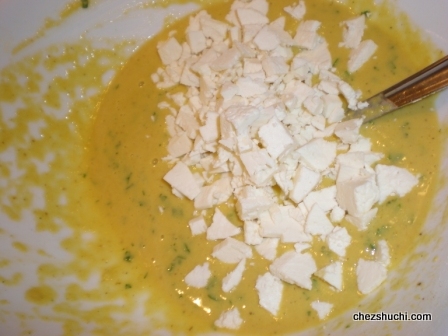 Diced paneer added in the gram flour batter
Take half bowl of batter and spread it into a circle of around 5 inch diameter. Now this cheela will be thicker than the plain one.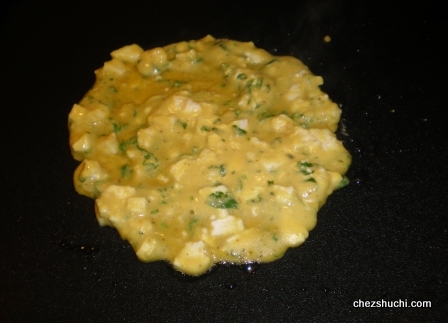 Paneer cheela spread on the griddle
Sprinkle a little oil and cook the paneer cheela from both the sides.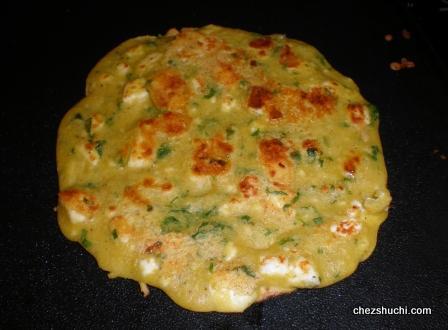 cooked Paneer cheela
Some Tips / Suggestions
You can also add some chopped onions along with paneer.
Increase or decrease the amount of green chili as per taste.
You can also add paneer bhajiya instead of plain paneer in this paneer cheela preparation.
Suggestions For Kid's Lunch box:
Paneer is a good source of proteins, carbohydrates and calcium. Paneer Cheela is a healthy lunch option for kids lunch box. It is easy to make and also it is easy to eat for young kids. I add grated paneer in Moong dal paste with some spices and chopped coriander leaves and make cheelas. With paneer cheela there are clementine and Petha ( a North Indian sweet made from a fruit).... ! You can also put some other fruits and sweet as per your child's tates...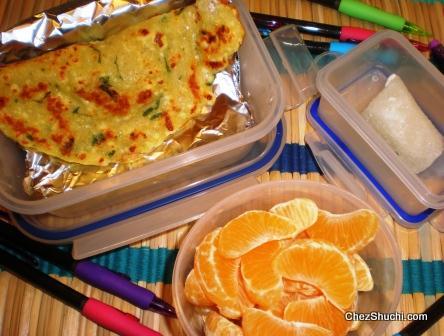 ---